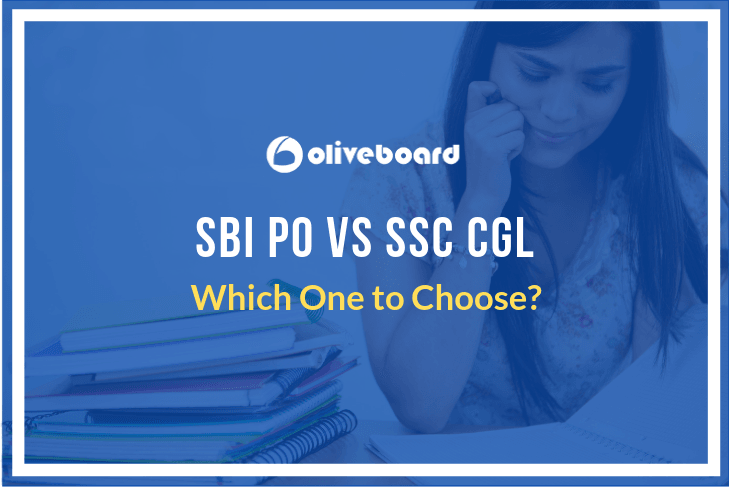 Adopting the right career path, and thus choice of the suitable courses and appearing for the right examinations are crucial decisions that bear the potential to change our lives. We have observed a handful number of students and other professionals pondering and contemplating over the choice of examinations. If you are a government job aspirant, then thought of comparing SBI PO vs SSC CGL must have crossed your mind. We, at Oliveboard are here to help you with the same.
Although both the examinations have almost equally bright prospects, and the choice of the same depends completely on what you want do in your professional life and which career lures and captivates you the most, a clear conception about both the examinations would help in the decision making.
For a brief comparative study of SBI PO vs SSC CGL, we would look into a couple of crucial factors. They are broadly classified as:
SELECTION PROCESS
JOB PROFILE
SALARY STRUCTURE
CAREER GROWTH
WORK PRESSURE
POSTING/TRANSFER
BOND
SBI PO vs SSC CGL – Quick Look
| | | |
| --- | --- | --- |
| CATEGORY: |  SBI PO | SSC CGL |
| JOB PROFILE | Public Dealing | On site inspection/Documentation |
| POSTING | Urban/Rural | Urban |
| PROMOTIONS | After 2-3 Years | Usually After 4-6 years |
| TRANSFER | Frequent | Usually After 4-6 years |
| EXAMINATION TYPE | Online: Prelims + Main | Online : Tier 1, 2, 3 and 4 |
| BOND | Rs. 2 lac; 3 Years | No bond. |
SBI PO vs SSC CGL – SELECTION PROCEDURE:
SBI PO
SSC-CGL
SBI PO is an Objective type of examination with a Descriptive Test in the Main Exam

It consists of around 2 stages of selection procedure. They are:

a) Preliminary Examination

b) Main Examination + Descriptive Test

c) Personal Interview

SSC CGL is an Objective type of examination (Tier I ,Tier II) and Descriptive (Tier III)

It consists of :

a)Tier 1(Objective, Online)

b) Tier 2 (Objective, Online)

C) Tier 3 (Descriptive Test for Hindi/English)

D) Tier 4- Data Entry Speed test and Computer Proficiency Test
 A detailed idea is as follows:
SBI PO Preliminary Exam
| | | | |
| --- | --- | --- | --- |
| Serial Number | Name of section | Number of questions in the section | Marks allotted for the section |
| 1 | English Language | 30 | 30 |
| 2 | Quantitative Aptitude | 35 | 35 |
| 3 | Reasoning Ability | 35 | 35 |
| | Total | 100 | 100 |
SBI PO Main Exam
Descriptive Test: The descriptive test is after the completion of the objective test. The test is held online and candidates are required to answer by typing on the computer. The test is allotted a total of 30 minutes and 50 marks. Candidates are tested for English Language (Letter writing & essay) and are required to qualify by obtaining passing marks, to be decided by the bank.
SSC CGL:
Tier 1 is as follows:
Tier 2 is as follows:
SUBJECT
No. OF QUESTIONS:
MAXIMUM MARKS:
NEGATIVE MARKING/INCORRECT ANSWER
 

DURATION(in hours):

QUANTITATIVE APTITUDE
100
200
0.5
2
ENGLISH
200
200
0.5
2
STATISTICS

(For Statistical Investigator and Compiler)

100
200
0.5
2
GENERAL STUDIES

(For Asst. Audit Officer Post)

100
200
Shall be announced shortly
2
Tier III-
Descriptive Test for English/Hindi
Essay Writng/Letter Writing/Application Writing
Can choose between English/Hindi
Marks- 100
60 minutes
Tier IV
Data Entry Speed test (DEST) and Computer Proficiency Test (CPT)
Only for few positions
45 minutes
SBI PO vs SSC CGL – JOB PROFILE :
SBI PO
SSC CGL

Working upon daily customer transactions, passing a cheque, draft issuance, cash management etc.
Working as a public relations officer, handle customer complaints and address various customer related issues
Supervision of clerical work, taking decisions for the benefit of the bank, managing cash balance
Verifying all the work done by bank clerk. Taking care of the loan related documents and performs on site visit of the loan taking parties as and when required.
Issuing of ATM cards, cheque books, Demand Drafts etc.

Desk Jobs:

a) Appointed as Upper Division Clerks, Assistants, Auditors, Tax-Assistants, etc.

Field Jobs:

a) Candidates opting for such jobs will be appointed as Inspectors (preventive officers, examiners, excise and income tax), CBI and narcotics officers, etc.

b) SSC demands physical standards for some of these jobs.

c) As they involve travelling, inspections, raids and surveillance, such jobs are well-suited for those who can cope well with arduous responsibilities.
SBI PO vs SSC CGL – SALARY STRUCTURE:
Salary is believed to be one of the most vital factors in determination of career path. Although there isn't a large bandwidth between the salaries of the two, yet salaries of the entire bank POs will be made equal to the salaries of Central Government Group officers from December 2014 as per 10th Bipartite Agreement. This means around 40,000-50,000 will be the new salary of all the Bank POs raised from 30,000 to 36,000 per month, which is rather more than that of SSC CGL. Also the salary of SSC CGL is subject to revision under 7th Pay commission.
SBI PO
 SSC CGL
According to the official notification, the salary of an SBI PO will be Rs. 7.55 Lakhs (minimum) to Rs. 12.93 lakhs (maximum) per annum. Also, the salary of Bank employees are revised after every 5 years.

Following are the perks provided with SBI PO Salary -:

Contribution Pension Scheme/New Pension Scheme
Medical Aid for self (100%) and for family (75%)
LTC
Home Travel Concession/ Leave Fare Concession
Concessional interest rates for Housing/Car/Personal Loans

The salary of SSC CGL varies according to grade pays.

Grade Pay:   Salary:

a) 1800     (INR 13,113)

b) 1900     (INR 14,389)

c) 2400     (INR 19,920)

d) 2800     (INR 22,454)

e)4200       (INR 26,095)

f)4600       (INR 32,328)

g)4800        (INR 34,033)
SBI PO vs SSC CGL – CAREER GROWTH & EXPOSURE:
Career growth is another vital factor to be kept in mind in the long run. Promotions are very fast paced in Bank Jobs (2-3 years) and chances are very high, that given that you work hard for it, you can become a Manager within 6-7 years.
SBI PO
 SSC CGL
Sincere efforts and hard work can lead you to the topmost positions of the organization.

Citing a few examples, Mr S Mundhra, DG, RBI  and  Mr Yogesh Agarwal, Former Chairman, Pension Fund Regulatory and Development Authority started their career as Probationary Officers

Getting promoted to the top positions of the organization would be rather challenging and difficult.
Also, Bank PO provides higher exposure in terms of wider spectrum of clients to deal with.
SBI PO vs SSC CGL – WORK PRESSURE :
"With great power, comes great responsibilities"
| | |
| --- | --- |
| SBI PO | SSC CGL |
| A demanding job with more responsibilities and work stress. Also the work pressure increases due to 'Profit Motive' | Comparatively lower work pressure and hence, higher peace of mind. |
Employees of Bank PO's face frequent transfers after a period of time. You might end up getting posted in your dream city or might be posted to a rural area.
And posting rate is comparatively low in case of SSC, making the job more stable. Also, chances of rural posting are negligible.
SBI PO
SSC CGL
There is a Bond of 3 years for SBI PO.

The selected candidates, at the time of joining, will have to execute a Bond for a

value of Rs 2.00 lac (Rs Two lac only) to serve the Bank for a minimum period of
three years.

No bond
Lastly, examinations and career paths are entirely defined by your expectations from work and life. We hope you end up with your dream job soon. Team Oliveboard wishes you all the best!
Click to take a FREE Mock Test for SBI PO and SSC CGL
That is all from us in this blog – "SBI PO vs SSC CGL – Which One to Choose?" As per the above info, we believe both the posts have their own advantages and a very few disadvantages. In the end, it is upto the candidate, as in what are his/her preferences.
All the best for your Exam preparation.