NIACL AO interview 2021: NIACL AO Phase 2 was conducted on 4 December 2021. Candidates who are confident of getting selected for the interview must be preparing for the interview. To help you in your preparation we have come out with a blog to help you ace the NIACL AO interview.
What to expect in NIACL AO interview?
NIACL AO interview is similar to other interview processes. Although, there could be one person interviewing you or there could be more than one. NIACL AO usually conducts a 'Panel Interview' (i.e. many interviewers).
Your forms and previous scores will be present with the panel and you are not allowed to carry anything to the interview room.
You would be asked questions from different areas such as your field of graduation, puzzles, current affairs, banking (basic terminology), etc.
Some of these questions may be as absurd as 'Did you read today's newspaper?', but the important thing to keep in mind is the fact that the interviewer is looking for a level-headed person who can handle unexpected situations at work.
There may be one person in the panel who doesn't say/ ask anything but will just keep sitting there. Don't think he/ she isn't doing anything. In fact, he is the one observing you most intently.
Thus, right from the way you dress to the way your hands move or don't move at all while you are talking, becomes important.
What to do before appearing for NIACL AO interview?
You have to be meticulous when preparing for an interview because every tiny detail matters!
The thing of utmost importance is, research, about:
Know about NIACL Better- Before appearing for an interview, you should make sure that you have a good knowledge of NIACL, of their work culture, and recent news related to it (if any).
Do thorough background research of the company and the job profile you're interviewing for. Out of all the questions asked by the interviewer, 2-3 will be related to their company and the job profile you're applying for.
For instance, "What do you think will be your responsibilities?" So before going for the interview, it's a good idea to take out some time to visit their website and read about theircompany and the services they offer to save you that embarrassment.
Know YOURSELF better- What we mean to say is that you should know what your strengths and weaknesses are. You should be able to come up with real-life stories that are indicative of those strengths. You should know why did you make certain career decisions. Hence, introspection is a must!
Know your RESUME better– Your resume is like your marketing tool. You will definitely be asked questions from your resume. Know everything you have written in your resume and be prepared for the questions.
For instance, What responsibilities did you handle in your organisation and what did you learn from it?. Go through everything in your resume thoroughly and how best you can present it.
Brush up your KNOWLEDGE – You will mostly be asked questions related to banks, banking, insurance and current affairs. Make sure to revise your topics and keep yourself updated on the current happenings.
What factors matter during an interview?
Consider the following image: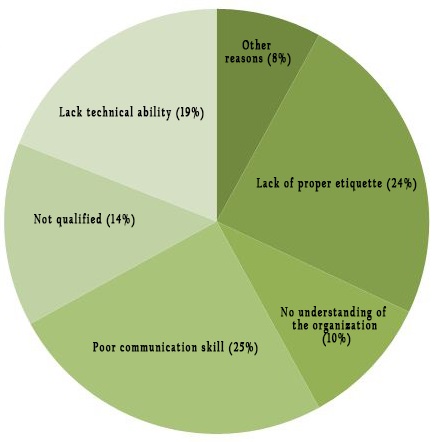 As you can see from the picture, poor communication skills, and improper body language are major reasons why candidates are rejected in an interview. Hence, your ability to clearly express your thoughts is critical.
Important etiquttes to keep in mind
Reach on time
It goes without saying that you should never be late for your interview. Employers in a company are very particular about their employees being punctual, so it is wise to reach at least 15-20 minutes before the time of your appointment. This will also give you enough time to calm yourself down and relax.
Switch off your cellphone
Make sure to switch your cellphone off or keep it in silent mode before entering your interviewer's cabin.
What to do during NIACL AO interview?
Dress appropriately
Avoid casual clothes at any cost. Your attire determines the kind of first impression you will give your employers. Most companies require their employees to be dressed in neat formals. It's a good idea to wear smart formals to your interview.
Some options:
Women can wear a plain and light-colored cotton saree or salwar kameez with a plain dupatta or a blazer with a light-colored blouse and trousers. Use minimum jewelry and makeup.
Men can go for a plain light-colored shirt and dark-colored trousers and a plain tie. A blazer would be good during the winter season. Make sure your shoes are polished, you are clean-shaven and your hair is neat.
Be polite
Greet the interviewer(s) after entering with a firm handshake and do not sit until you have been asked to take a seat. A 'Hello' and 'How do you do?' would suffice, do not indulge in small talk with the interviewer(s).
Pay attention to your body language
Sit comfortably and maintain a proper and consistent posture throughout your interview. Nod when required and maintain strong eye contact with the interviewer(s) and smile. This will make you appear confident and relaxed.
Do not indulge yourself in nail-biting, fidgeting, shaking legs, playing with your resume/pen/hair, etc.
Don't bad-mouth your previous employer
Never say bad things about your previous employer. This will make the interviewer think that you held a bad opinion about them and might just do the same with them.
Thank the interviewer
Last but not the least; do not leave the room without thanking the interviewer(s) for giving you his/her/their time.
What to do when you are faced with a difficult question?
Don't answer with an "I don't know"
If you don't know how to answer a particular question, do not right away answer with an "I don't know". Instead borrow some time from the interviewer to work out an answer using the two techniques mentioned here: How To Respond To Questions You Don't Know The Answer To.
Most importantly remain calm, composed, and confident in your preparation and efforts!
We wish you All the Best in your interview!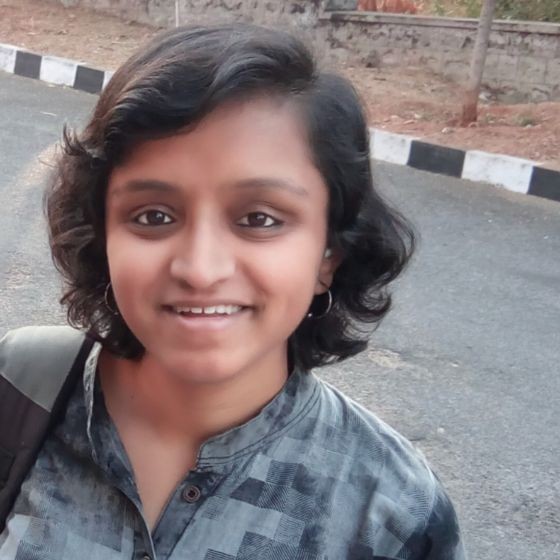 I have been creating exam related content for 3 years now. Having appeared for UPSC, SSC, Railway and Banking Exams myself, I understand and create relevant content, important from exams point of view. I am currently creating content for SSC, Railway, J&K and Law entrance exams. During my free time, I love bingewatching shows or read novels.