If you have been reading the Economy & Finance section of the newspaper, you would have surely come across the term "V-shaped recovery". It must have puzzled you as to what does it actually means. Well, let us know about the Shapes of Economic Recovery in this blog post so that the next time when you come across these terms in the newspaper, you are able to relate and understand what the newspaper article is trying to convey. Let us get started.
Shapes of Economic Recovery – Know All About It
About the Shapes of Economic Recovery
The rolling lockdowns due to COVID-19 have sent the economy into a tailspin. Growth in India and indeed much of the world is set to fall off a cliff in FY21.

The Indian economy was slowing down even before COVID hit, and the trouble has now been amplified manifold because of the lockdowns.

Experts predict a fall of up to 5 percent in the GDP in FY-21.

This is clearly a crisis situation, and our getting out of the hole will depend a great deal on the shape of the economic recovery that will hopefully follow.

A Z- or at least V-shaped recovery would be the most preferable. If not, we should at least have a U-shaped recovery or a Swoosh to get back on our feet in a couple of years.

A W-shape will bring in much pain before the eventual gain, while an L-shape or the Inverted-square root will make a wreck of the growth train.
The shape of economic recovery is determined by both the speed and direction of GDP prints.
This depends on multiple factors including fiscal and monetary measures, consumer incomes, and sentiment.
Various Shapes of Economic Recovery:
1) U-Shaped Recovery:
The economy, after falling, struggles and muddles around a low growth rate for some time, before rising gradually to usual levels.

U-shaped recoveries happen when a recession occurs and the economy does not immediately bounce back but tumbles along the bottom for a few quarters.

Examples of U-shaped recoveries are the 1973-75 Nixon recession and the 1990-91 recession following the S&L crisis.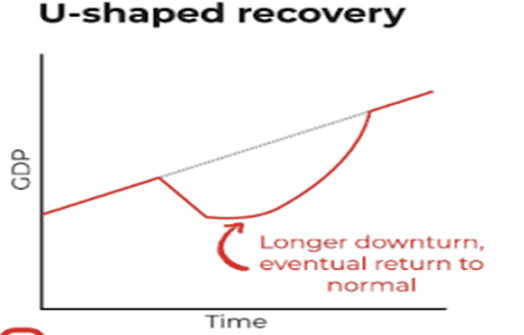 2) V-Shaped Recovery:
A V-shaped recovery is characterized by a quick and sustained recovery in measures of economic performance after a sharp economic decline.

Because of the speed of economic adjustment and recovery in macroeconomic performance, a V-shaped recovery is a best-case scenario given the recession.

The recoveries that followed the recessions of 1920-21 and 1953 in the U.S. are examples of V-shaped recoveries.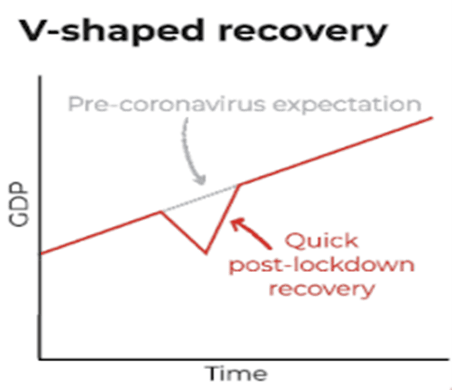 3) W-Shaped Recovery:
A W-shaped recovery is when an economy passes through a recession into recovery and then immediately turns down into another recession.

W-shaped recessions can be particularly painful because the brief recovery that occurs can trick investors into getting back in too early.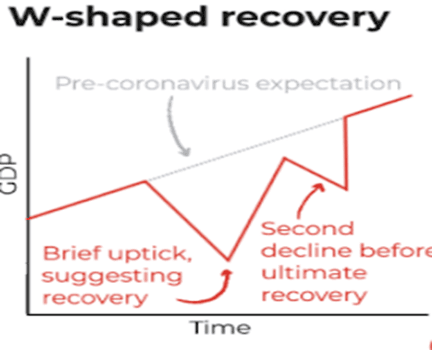 4) Z-Shaped Recovery:
The Z-shaped recovery is the most-optimistic scenario in which the economy quickly rises like a phoenix after a crash.

It more than makes up for lost ground (think revenge-buying after the lockdowns are lifted) before settling back to the normal trend-line, thus forming a Z-shaped chart.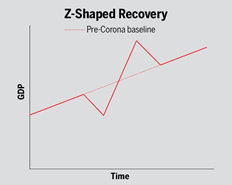 5) L- Shaped Recovery:
An L-shaped recovery is when, after a steep recession, the economy experiences a slow rate of recovery, which resembles the shape of the letter "L" when charted as a line graph.

L-shaped recoveries are characterized by persistently high unemployment, a slow return of business investment activity, and a sluggish rate of growth in economic output, and are associated with some of the worst economic episodes through history.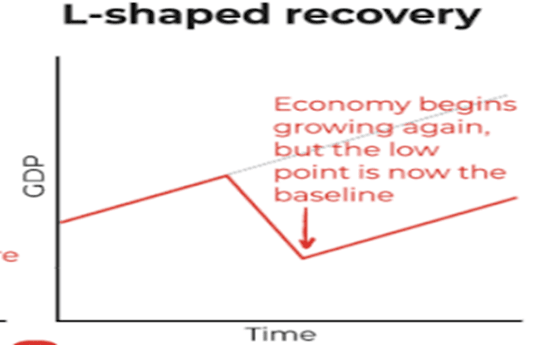 6) J-Shaped Recovery:
It is like an unrealistic scenario, in which growth rises sharply from the lows much higher than the trend-line and stays there.
7) Swoosh:
It is similar to the Nike logo i.e. in between the V-shape and the U-shape. Here, after falling, growth starts recovering quickly but then, slowed down by obstacles, moves gradually back to the trend-line.
8) Inverted Square root:
In this, there could a rebound from the bottom, the growth slows and settles a step-down.
We hope that you like the information provided above and now you understand what are the various shapes of economic recovery.
---
RBI Grade B 2020 Online Course 
Oliveboard has come up with RBI Grade B Online Cracker Course for RBI Grade B 2020 Exam. Oliveboard's RBI Grade B Online Course 2020 will be your one-stop destination for all your preparation needs
What all the course offers you:
1. Course Details
RBI Grade B Cracker is designed to cover the complete syllabus for the 3 most important subjects: GA for Phase 1 and ESI + F&M for Phase 2 exam. Not just that, it also includes Mock Tests & Live Strategy Sessions for English, Quant & Reasoning for Phase 1. The course aims to complete your preparation in time for the release of the official notification.

1.1. Features: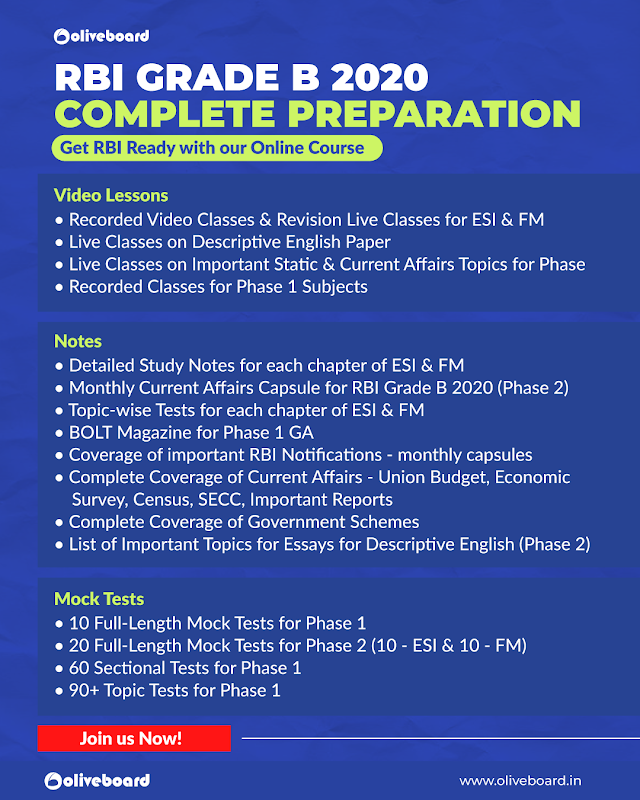 Use Coupon Code 'MY20' to avail a 20% discount on RBI Courses!
---
SEBI Grade A Online Course
For your Complete Phase 1 and Phase 2 Preparations
SEBI Grade A Cracker is a course designed to cover all the subjects under Phase I and Phase II exams.
For Paper 1 of the Phase I exam all essential subjects like Quantitative Aptitude, Reasoning, and English will be covered through video lectures.

For Paper 2 of both Phase 1 and Phase 2, the complete syllabus will be covered through video lessons, and notes.

The course will also have strategy sessions and past year paper discussions.

This course has been designed in such a way that it can be covered well before the examination.
Enroll for SEBI Grade A 2020 Online Course Here
Course Features