Relevance Of Population Control Policy
According to United Nations projections, India is about to surpass China as the most populous country by 2027, adding approximately 230 million by 2050, the majority of whom will be amongst the world's poorest. Ironically, India was one of the first countries to adopt a population control policy as early as 1952. Even so, the country's population has risen significantly in the past 6 decades. To understand the path the policy has taken over the decades, its effects, and progressions, let us break down the policies into segments for easier understanding and retention.
Why Should We Understand Population Control?
India with only 2.4 percent of the world's surface area had 16.7 percent of the world's population as in 2001. The inclusion of policies has resulted in a decline in the death rate below 8 per thousand; on the other hand, the birth rate continues to be around 18 per thousand. The frightening rise in population aggravates problems like poverty, unemployment, inequalities, basic health, social security, etc. Population outweighs the existing resources which strain the pool available for the society to rely on, adding pressure on the environment and other natural resources to an extent of depletion and exploitation. 
With an understanding of such potential problems due to high demand (larger population with limited resources), India had adopted a population policy. Let us understand its course over the decades step by step and what have been the impacts of the same.
Indian Population Policy Over The Decades
The primary objective of population control is to facilitate sustainable economic growth, social development, and environmental protection. Indian population control policies have seen several changes over different Five – Year plans by the Government of India. 
First Five-Year Plan (1951-56)
In a report by India's lead urban demographer, R.A Gopalswami, it was estimated that India's population would grow by 5,00,000 every year, which caught the attention of the Indian Government, and the National family planning program was launched (the first country to undertake such a policy). Some of the key strategies were:
Encouraging households to have only two children and spacing the birth of these children over two years.
Rural areas were the primary target and a door-to-door campaign was initiated.
Motivating families to adopt these families by monetary incentives.
Spreading awareness of family planning via radio, television and newspaper.
Second Five-Year Plan (1956-61)
The idea was strengthened that high population growth would affect economic advancements and living standards per capita. The imbalance of availability of land and capital to population further deepened the idea that population growth has to be curbed to alleviate incomes and levels of living.
Along with the natural (Gandhian) approach, the clinical approach gained momentum in 1956. The report by Gopalswami suggested that mass sterilization was the best approach as it required a minor surgery without prolonged hospital visits. Some key strategies were:
Voluntary sterilization facilities were created
Contraceptive distribution was facilitated through primary health centres.
They were either provided free or prices were reduced for low-income families.
The 1961 census indicated that both approaches turned out to be ineffective since people did not find it necessary, men had misconceptions about losing sexual drive, losing weight, and death. 
DOWNLOAD THE OLIVEBOARD APP FOR ON-THE-GO EXAM PREPARATION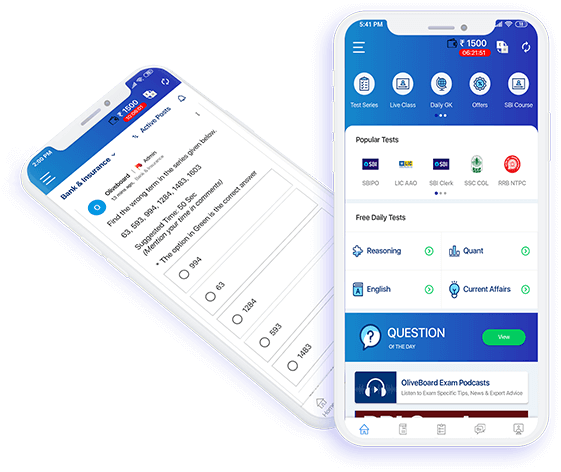 Video Lessons, Textual Lessons & Notes
Topic Tests covering all topics with detailed solutions
Sectional Tests for QA, DI, EL, LR
All India Mock Tests for performance analysis and all India percentile
General Knowledge (GK) Tests
Free videos, free mock tests, and free GK tests to evaluate course content before signing up!
Third Five-Year Plan (1961-66)
After 1962, the Indian Population control policy became an aggressive and imperative approach, as a high birth rate was perceived as the greatest obstacle to economic development. Some key strategies were:
A separate department of Family planning was set up to set a goal of reducing the birth rate to 2.5% by 1972.
State and district wise family planning goals were set.
Increased the number of clinics five fold.
As opposed to earlier approaches, a more extensive approach was adopted, to educate and impart knowledge by appointing a large number of educators.
Fourth Five-Year Plan (1969-74)
The purview of population control extended from economic development to that of social change. The importance of population control was recognized as unavoidable as equality and dignity of a man lies on both factors- economic growth and low rate of population growth.
A new target was set to reduce the birth rate to 3.9% by 1974.
A cafeteria approach was devised – all methods of contraception were made available.
It included condoms, diaphragms, jelly, creams, foam tablets; the use of the intrauterine contraceptive device (IUCD) for couples with one or two children; sterilization for couples who do not want more children.
Sterilization became one of the main strategies for family planning.
Medical Termination of Pregnancy Act was adopted to allow abortion performed by a medical practitioner with some exceptions.
IUCD acceptance declined as bleeding and rumours spread.
Mass vasectomy camps were organized and incentives were introduced to boost sterilization. The total number of acceptors reached 5.9 million by 1972-1973.
Fifth Five-Year Plan (1974-79)
Policymakers strongly believed that family size largely impacted general development strategy, as a result, a new target was set to reduce the birth rate from 3 % to 2.5 % by 1984.
Key strategies involved were:
The minimum age of marriage was raised from 15-18 years for females and 18-21 years for males.
Enacted compulsory sterilization and specific incentives and disincentives to family planning.
Education about population problems became a part of the school curriculum.
Female health workers were given financial incentives to meet yearly quotas.
Sixth Five-Year Plan (1980-85)
The government changed the name of the program from family planning into family welfare after the stringent and coercive policies aided to vote Gandhi out of power post Emergency.
Maternal and child health services and nutrition became a part of the population control strategy.
After the political fallout, more emphasis was put on providing incentives to attract people to understand and accept family planning.
Long-term policies were set, as a result, targets were reduced.
Seventh Five-Year Plan (1985-90)
The policy was divided into long and short term goals. Former being to fix the net reproduction rate and latter focused on female age at marriage and the practice of contraception.
The focus was set on increasing the literacy rate, especially of women and increasing their employment opportunities.
Implemented All-India Hospitals postpartum Program at district and sub-district level hospitals.
Reorganized primary health care facilities in urban slum areas.
Reservation of a specified number of hospital beds for tubal ligation operations.
Remodelling of IUCD rooms in rural family welfare centres.
Despite such remarkable initiatives, the 1991 census showed that India still had one of the most rapid population growths globally.
Eighth Five-Year Plan (1992-97)
In 1996, the Government of India introduced a new population policy that focused on areas like employment, education, public health, human development as indirect measures to curb population growth.
Shifted emphasis from couple protection rate to birth lowering rate.
Involved non-government organizations and voluntary agencies in programs.
Improving the status of women through training and infrastructure.
Reducing the default preference of a male child of a family with one or two daughters by providing social security measures.
Central government employees were given incentives for accepting the two children norm.
Ninth Five-Year Plan (1997-2002)
The National Commission on Population introduced a new plan called National Population Policy 2000 (NPP 2000). This new policy focused on areas like contraception, reproductive health care and health care infrastructure.
Increased emphasis on spacing methods like IUCD.
Fixed day static services at all facilities available.
Established quality assurance committees to provide quality care in family planning services.
Providing insurance for deaths, complications and failures caused by sterilization.
Tenth Five-Year Plan (2002-07)
There were several shifts from the ninth to the tenth plan:
Demographic goals to focus on enabling couples to achieve their reproductive goals.
Method specific targets to fulfil all unmet needs for contraception to reduce unplanned pregnancies.
Women centred program to the health care needs of the family with involvement of men in Planned Parenthood.
Supply driven service delivery to the need and demand-driven service and providing service provisions as per the convenience of the couple.
Implementation of a program for health care for women and children, to reduce infant mortality and reduce high desired fertility.
Eleventh Five-Year Plan (2007-11)
The government extended more services, including delivery of contraceptives at the doorsteps, providing counseling for newly married couples, and compensation for sterilization. Since the shift in the approaches from quota-oriented to voluntary measures, India witnessed the effective implementation of strategies.
Advocated fertility regulation through voluntary and informed consent.
Addressed special health care needs of the elderly, especially those who are socially and economically vulnerable.
Reduce infant mortality rate to 28 and maternal mortality rate 0 to 1 per 1000 births.
Provide clean drinking water for all by 2009.
Reduce anaemia among women and girls by 50% by the end of the plan.
Ensure that at least 33% of the direct and indirect beneficiaries of all government schemes are women and girl children.
An overview of the Indian population control policy.
| | | |
| --- | --- | --- |
| 1952-61 | Service providing period | Focused on providing information and services to potential consumers, goals were not defined, less demand for services supplied by healthcare institutions. |
| 1962-1977 | Target-oriented period | Specific targets introduced, coercive measures taken to reach targets, shift from promotion of contraception to sterilization, coercive measures backfired and changed the political arena along with affecting the effectiveness of the policy. |
| 1977 | Voluntary/Target free policy | Adopted indirect population control measures such as health care, social development, and family planning services. More suitable and flexible for the Indian demographic. |
| 1980-2010 | | 10-year population increase rate decreased from 25.9% between 1970-80 to 16.8% between 2000-2010 |
The reduction of the population could also be attributed to the accelerated socio-economic development since 1991. However, the Indian population control policies are not effective in comparison to the other countries in the world. India's percentage of the world's total population increased from about 15.7% in 1980 to about 17.8% in 2010, which means that the population growth rate in India was greater than the average growth rate in the world. India's population may overtake China and become the most populous country in the world.
The lack of effectiveness of the policies can be attributed to the below:
Policies are not well defined and change constantly.
Implementation measures of strategies lack focus and shift periodically.
Targets are not achieved and have to be revised frequently.
A variety of reasons contribute to such inadequacies. Diversity is one of them.
Other factors – 66% of the population lives in rural areas, 40% of women are illiterate, gender bias, the caste system still prevails, communal tension exists.
Due to the interplay of such multifaceted factors, population control can be promoted not forced or implemented effectively.
Poverty is another reason, as population spike has occurred mostly among the poorest population or poorer states. Comprehensive socio-economic development is required to tackle this aspect.
When socio-economic conditions improve, the birth rate will be lower and overpopulation would significantly decrease.
The answer to all these aspects is development. It may encompass the achievement of equal status for women as well as lower caste people, improvement of education, development of the economy, modernization of society, and urbanization.

Oliveboard is a learning & practice platform for premier entrance exams. We have helped over 1 crore users since 2012 with their Bank, SSC, Railways, Insurance, Teaching and other competitive Exams preparation.