Financial Inclusion (FI) is a very important topic for Bank & Government Exams. You can expect questions from Financial Inclusion under the Banking Awareness section of these exams.
In the following article, we have provided the meaning, objectives, and measures taken to achieve Financial Inclusion. We suggest you save it as a PDF and use it as a handy guide for your Banking Awareness preparation.
Financial Inclusion: Download Free eBook Here
For all Banking exams & other exams like RBI Grade B, SEBI Grade A & NABARD Grade A/B.


1. What is Financial Inclusion?
Financial Inclusion, as the name suggests, is the pursuit of delivering financial services, including payments, savings, credit, etc., to people of low-income and disadvantaged sections of the society at affordable costs. It is also called 'Inclusive Financing'.
Financial Inclusion's main objective is to address constraints that exclude people from participating in the financial sector & make financial services available to them to meet their specific needs without any kind of discrimination.
---
2. Why do we need Financial Inclusion?
A large section of the society still remains unbanked. Unbanked people are people who only have basic transaction bank accounts. These are people who have secured the traditional tools for conducting transactions but aren't privy enough to digital incorporation of the same.
This has led to a lot of financial instability and pauperism among the people of the lower-income group who do not have access to financial services and products. There are so few banks, especially in rural areas, that these unbanked users carry out transactions either in cash or cheques, making them vulnerable to theft and fraud.
This is why we need Financial Inclusion.
---
3. What are some of the measures taken to achieve greater Financial Inclusion?
In India, the term Financial inclusion was used for the first time in April 2005 by the then Governor of RBI: Y Venugopal Reddy. There are several measures taken to achieve greater Financial Inclusion, especially by the Government, World Bank, and the Reserve Bank of India, such as facilitating no-frills accounts and GCCs. Here are some of the initiatives were taken:
i. Opening BSBD (Basic Savings Bank Deposit) accounts
The Reserve Bank has advised all the banks to open a basic account with facilities such as no minimum balance, receipt or credit of money through electronic payment channels, ATM cards facilities, deposit and withdrawal of cash at bank branches as well as the ATM.
ii. Relaxation on know-your-customer (KYC) norms
To make the opening of bank accounts easy especially accounts with low balance such as not exceeding 50,000 and aggregate credits in the accounts not exceeding rupees 1 lakh a year. Banks are also allowed to use Aadhar card as proof of address and identity.
Domestic Scheduled Commercial Banks (SCBs) are permitted to open branches in Tier-2 to Tier-6 centers with a population under 1 lakh under general permission subject to reporting, to address the issue of uneven spread of bank branches. In North-eastern states and Sikkim, the domestic SCBs can open branches without permission from the RBI.
iii. Opening branches in unbanked rural areas
RBI has directed banks to allocate at least 25% of their branches to be opened in Tier-5 and Tier-6 centers during the year.
iv. Licensing of new banks
The business models aimed at furthering financial inclusion would be looked into closely in processing applications for bank licensing.
The RBI also urged banks to review their existing objectives and practices in order to align them with the objectives of Financial Inclusion. It also permitted banks to use NGOs and SHGs,  microfinance institutions, and civil society organizations as intermediaries to facilitate financial and banking services.
RBIs vision for 2020 is to open nearly 600 million new customers' accounts and service them through a variety of channels by leveraging on IT.
v. What are some other measures taken?
Thanks to the use of technology in the Finance industry, the void of inaccessibility to Financial services has been filled.
Mangalam in Puducherry became the first village in India where all the households were provided with facilities of Banking.
General Credit Cards (GCCs) were issued to the poor, low-income group and disadvantaged to help them access easy credit.
A 100% Financial Inclusion campaign was launched by commercial banks in different regions. This resulted in states or UTs like Puducherry, Kerala, and Himachal Pradesh announcing a 100% financial inclusion in their districts.
Many startups were launched to work towards increasing Financial Inclusion. For instance, Fintech is working to create mobile payment and micro-lending facilities for financially underbanked users.
There are many online payments and mobile payment services to facilitate the ease with which unbanked people can immerse themselves in the digital economy, like AliPay and Paytm, and foster financial inclusiveness.
These companies have also come up with innovations to promote transparency in their dealings with customers to gain their trust.
We hope the above gives you a fair idea about Financial Inclusion, why it is needed, and what are the measures taken to achieve it. Save this as a PDF to use it as a handy guide for your Banking Awareness preparation for Bank and Government exams.
For more topics, questions, and lessons on Banking Awareness click here: Banking Awareness for Bank and Government Exams.
---
RBI Grade B 2020 Online Course by Oliveboard 
Oliveboard has come up with RBI Grade B Online Cracker Course for RBI Grade B 2020 Exam. Oliveboard's RBI Grade B Online Course 2020 will be your one-stop destination for all your preparation needs
What all the course offers you:
1. Course Details
RBI Grade B Cracker is designed to cover the complete syllabus for the 3 most important subjects: GA for Phase 1 and ESI + F&M for Phase 2 exam. Not just that, it also includes Mock Tests & Live Strategy Sessions for English, Quant & Reasoning for Phase 1. The course aims to complete your preparation in time for the release of the official notification.

1.1. Features: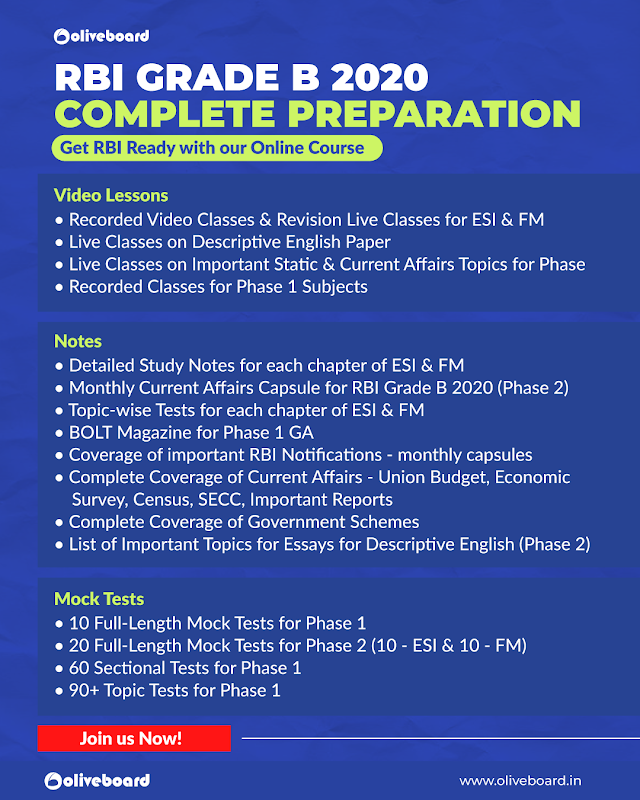 Use Coupon Code 'MY20' to avail 20% discount on RBI Courses!
---
SEBI Grade A Online Course
For your Complete Phase 1 and Phase 2 Preparations
SEBI Grade A Cracker is a course designed to cover all the subjects under Phase I and Phase II exams.
For Paper 1 of the Phase I exam all essential subjects like Quantitative Aptitude, Reasoning, and English will be covered through video lectures.

For Paper 2 of both Phase 1 and Phase 2, the complete syllabus will be covered through video lessons, and notes.

The course will also have strategy sessions and past year paper discussions.

This course has been designed in such a way that it can be covered well before the examination.
Enroll for SEBI Grade A 2020 Online Course Here
1. Course Features