We are fairly positive that after the surprises in SBI PO Mains 2017 exam, most of you must be gearing up for the IBPS PO exam 2017. In this article we would be talking about how taking mock tests and analyzing them properly would help you get better prepared for any surprises ( or even otherwise ) that come your way. We are sure that most of you would be practicing mock tests on a regular basis, to strengthen your preparation. But, do you also properly analyze your mock tests?

Taking sectional tests, full length mock tests is an integral part of exam preparation. However, there's one caveat here: Quantity does not compensate for quality. Many aspirants feel that if they give a high number of mocks, they will do well in the exam. However, it is not the number of tests taken, but what is done in between taking two tests that decides an aspirants success factor in the exam.
Read on to find out how to get the maximum benefits out of your mocks:
How will mock tests benefit your IBPS PO 2017 Exam preparation?
It will help you devise ways to adapt your strategy based on the paper. The SBI PO 2017 Mains Exam is a very good example to state here. The exam threw many surprises at the candidates, be it difficulty level or new question types introduced. Now, one who would have spent a good amount of time analyzing which sections were time savers, which were time consumers and refined his / her test taking strategy, would have fared well in this exam compared to someone who had just taken a high number of mocks.
Taking mock tests also helps you decide which topics to concentrate on and thus makes your preparation more targeted and effective.
Taking mock tests will also help you gauge your preparation level as compared to others'. (All India Ranks)
In the present day scenario, exam preparation is as much about SMART work as it is about HARD work. And mock test analysis is just a way to do that. In the following section, we will be looking at how to properly analyze mock tests.
How OliveBoard mocks will help you prepare better?
Our study plan creates a personalized study schedule based on syllabus, important topics and time available. You can also track your progress and upcoming tasks here.
OliveBoard's platform gives your All India Standing ( AIR ). Also, by using this platform you can reduce your study time as it identifies your weak areas and provides remedial practice tests for the same.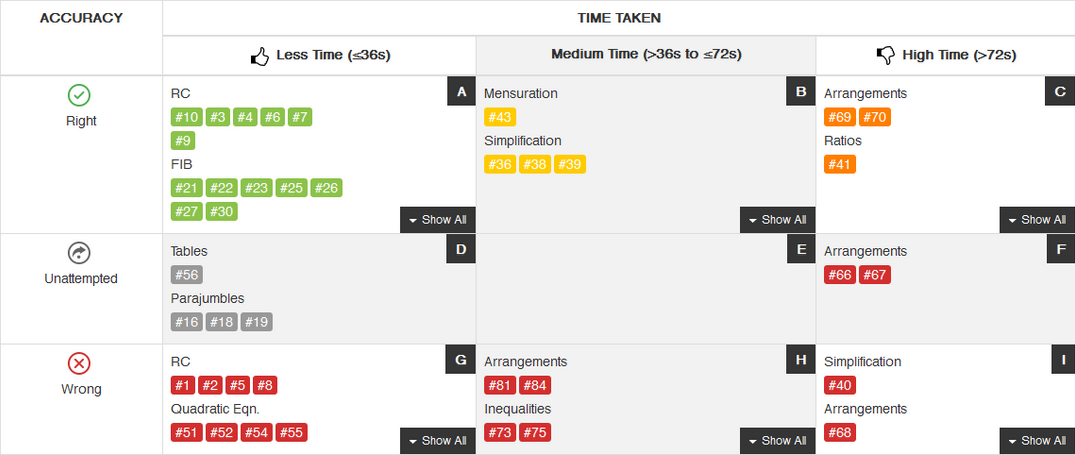 To save you from the getting into a monotonous preparation routine, Oliveboard also has group study sessions wherein you can collaborate and compete with friends in a game-like environment.
How to properly analyze mock tests?
Divide each section into areas, sub-sections and sub-topics and check the trend in each area, sub-section and sub-topic. Analysis should be based on the same parameters (trends) as the overall test : Attempts and Accuracy. This done regularly over a period of time should give you a trend of your performance in each section.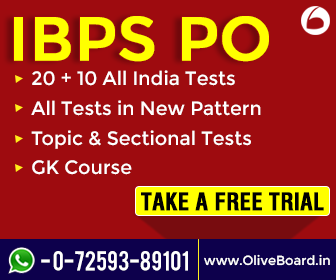 From the above trend analysis you can know your strengths and weakness. While there is no empirical evidence to prove that a score is good OR bad, you can categorize your strengths and weaknesses by analyzing your latest FIVE mock scores.
Strength: For a topic, if you have attempted around 8 out of 10 questions (say in the latest FIVE Mocks) and have got an accuracy of 75% or more, then you can safely say that that area is your strength.
Weakness: For any topic, if you have either not attempted or got less than 50% of accuracy from the number of questions given over the five marks.
All other areas/topics would fall under a 'Grey Area' where a little more effort can get that topic into a Strength area. The obvious solution is to spend time on the weak areas and improve upon the strong areas.
Immediately after writing a mock test check the following metrics:-
– Average time spent per questions attempted
– Average time spent on Correct Questions
– Average time spent on Incorrect Questions
– Average time spent on Questions that are left Un-attempted
Once the mock analysis is over, it is time to look ahead. Go back to the basics of the topics that you have decided to improve for the next mock. Practice questions ( take topic-wise sectional tests ) in those areas. For RC and vocab, continue to spend at least 30 minutes to improve your reading speeds.
The following picture gives a snapshot of the analysis, as displayed on the Oliveboard Dashboard :-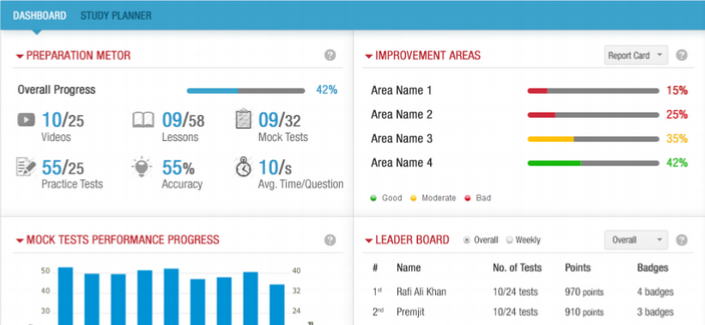 GET YOUR FREE MOCK ANALYSIS HERE.
Plan for the Next Mock : Check the strategy you used in the previous mock and decide whether you want to continue with it or modify it for the next mock. Stick to the new plan and post the exam, do the entire analysis of the next mock as well.
Hope this helps.
All the best!