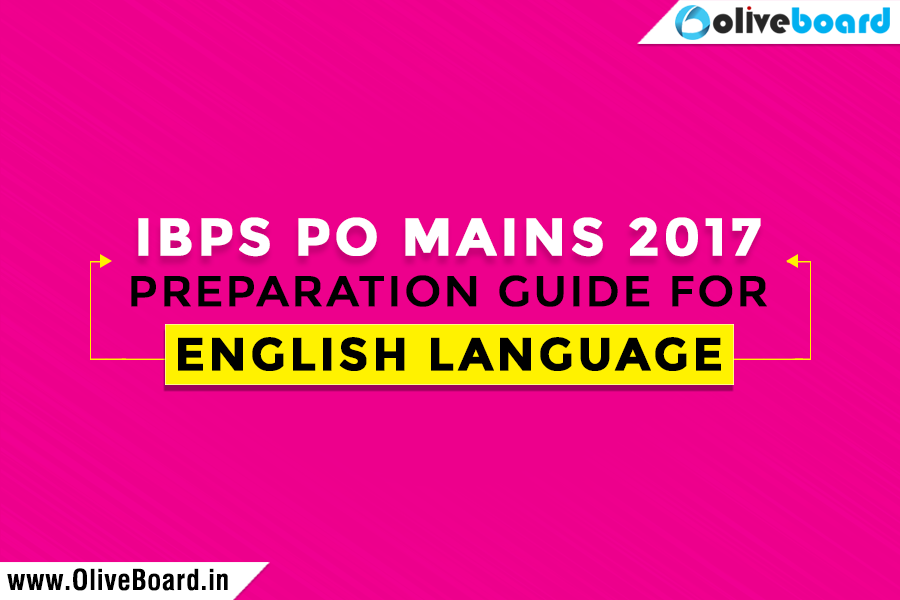 The IBPS PO prelims 2017 exams concluded yesterday. The prelims had a lot of changes especially in the English language section in terms of new question types which made the section tough. Similar changes can be expected in the IBPS PO Mains exam as well.
A well known fact about the IBPS PO exam is that it follows the pattern of SBI PO very closely. Just to remind you all, this year's SBI PO Mains paper, by popular opinion was : Difficult and Out of The Box. The question types were new, and aspirants were not able to name the question types.
Thus, it is better to assume that the IBPS PO Mains 2017 paper will also be on the tougher side. Since most aspirants find the English Language section extremely challenging, here is an article that you can use as a guide to prepare for IBPS PO Mains English Language section.
IBPS PO Mains English Language : What To Expect?
Given that so many new things are happening in all the banking exams this year, it is only natural for one to feel a tad clueless. But don't worry!
Following are a few things you can expect in this section of the IBPS PO Mains 2017 exam. Note that these pointers are based on SBI PO Mains 2017 and the recently concluded IBPS PO prelims.
This section can be expected to have a high difficulty quotient as it was case in both IBPS PO prelims as well as SBI PO Mains.
None of the questions in SBI PO Mains English section were in continuation format. For every single question, one had to go through the directions provided, as it might not be in continuation with the previous question's directions. It made the section time consuming. So one should be prepared for this section to be time consuming as well.

The SBI PO exam saw variations even in the traditional question types (RCs, double fillers, paraphrasing, etc). Thus, needless to say, have an open mind. 
Following table gives a brief analysis of the English Language section of the SBI PO Mains 2017.
| | | |
| --- | --- | --- |
| Topic | No. of Questions | Level |
| Reading Comprehension | 10 | Moderate-Difficult |
| Irrelevant Statements (Odd One Out) | 5 | Difficult |
| Antonyms / Synonyms | 5 | Easy-Moderate |
| Single Fillers (Statement Fillers) | 5 | Moderate |
| Statements Connection | 5 | Difficult |
| Relevant Statements (Which one would fit after the passage) | 5 | Difficult |
| Total | 35 | Difficult |
IBPS PO Mains English Language : What Should Be Your Preparation Strategy?
As we have mentioned, this year in IBPS PO Mains your preparation mantra should be : expect the unexpected.
The best preparation strategy for the paper would be to prepare for the highest difficulty levels and to have an open mind. We understand all this may be sounding quite intimidating. But trust us, it is NOT. In fact you just have to focus on basics and everything else will fall in into place.
Understand that if you've cleared the prelims you already have a good grip over your fundamentals. You just have to practice more and challenge yourself with questions you find difficult. Incessant practice is the key here. Do a few questions but do them every single day without fail!
IBPS PO Mains English Language : Topic-wise Preparation Strategy?
Grammar (Error Spotting, Phrase Replacement, Fill in the Blanks)
This isn't a question type as such in the exam, however it forms the basis of important question types such as : sentence re-arrangement, idioms & phrases, error spotting, sentence correction etc. So build on your grammar by referring to helpful books such as : Wren & Martin. You can also refer to custom made e-books such as : 100 important idioms. These help you with your preparation as they cover exactly what is covered in the exam.
Use the following tips as a guide to prepare for or to attempt RC questions:-
A good reading speed gives you an edge to score well in the exam, so make sure while preparing for RC you also work on your reading speed.
Strictly stick to what is given in the passage and assume NOTHING else; even if it is true in day today situations. Do NOT make any assumptions whatsoever.

It is essential to balance speed and accuracy to score well in any competitive exam. The best way in which you can gauge this is via practicing multiple mock tests. Mock tests not only condition you for the real time exam but also help you analyze your areas of strength and weaknesses.

RC passages can range from a variety of topics such as: Philosophy, Psychology, Economics, Politics or even Science. We never know what might come our way. Hence, it is important that we establish a level of comfort with all such genres by reading from multiple sources. Newspapers, especially the editorials and the weekend specials are a good place to start.

A major problem that all candidates face while solving RC questions is that they get confused between 2 options. This happens because we read to understand only what the statements say; whereas the RC questions demands our understanding of the writer's/author's perspective as well (this is known as reading between the lines).
Apart from this, just PRACTISE as much as you can. Because nothing beats that.
Vocabulary (Cloze Test, Fill in the Blanks, Error Spotting, Phrase Replacement)
Just as for grammar, vocabulary is tested both directly and indirectly in the exam. There might be difficult words in the passage that may make it difficult for you to understand what is being talked about (indirect testing of vocabulary). There maybe direct questions on synonyms, antonyms. Hence, reading from a variety of sources is a must. Make sure you add at least 10 new words everyday.
Verbal Ability (Para-jumbles, Odd Sentence, Miscellaneous New Question Types) 
As far as para-jumbles are concerned, one foolproof way of improving scores is by extensive reading. This will help you understand paragraph structures and thus will make it easy to form one out of a group of randomly placed sentences. Apart from this, some changes that were observed in the IBPS PO prelims 2017 in terms of question structure are as follows. It would be a good idea to prepare these questions types as well.
In the Odd Sentence Out type questions, the format of the options was changed and this took many of the candidates by surprise making them spend more time on these questions. Sample question is as follows: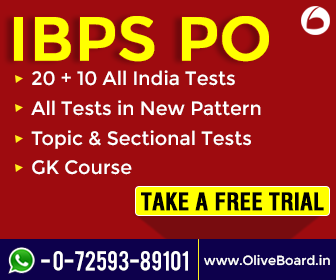 (A) And act judiciously to bring the economy back on track.
(B) The start-up ecosystem cannot progress in a disturbed business cycle.
(C) The economy appears to be in a shambles.
(D) Leaders in the government are failing to recognise the pessimism.
(E) And despite the gloomy forecasts for the future,
(a) DAEB
(b) BEDA
(c) CEDA
(d) None of these
(e) No correction required
The

Phrase Replacement

questions had a portion of the sentence as bold and one had to find a better replacement for the portion in bold. These were "more than one option type". The sample question is as follows:
Q. Every Open House we held since 2013 reaffirmed our belief that there is a need for human intervention to retain its trust and credibility over the age of anonymous communication.
(I)to retain trust and credibility in this age of
(II)to retaining trust and credibility ageing
(III)for retention of trust and credible age of
(a) Only (I) is correct
(b) Only (III) is correct
(c) Both (I) and (II) are correct
(d) Both (II) and (III) are correct
(e) No correction required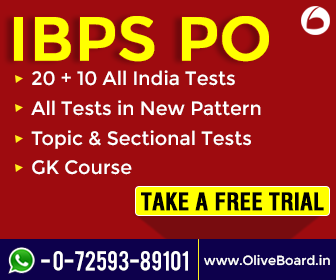 The error spotting questions were of a new type although the general method of solving was the same. Instead of the traditional type where one had to identify the part of the sentence that had an error, here, students had to choose the combination of sentences which did not have an error.
Oliveboard has added these New Type Error Detection Questions for FREE on the IBPS PO mock test page. Please login / register to attempt these.
We suggest the following preparation strategy for your English Language preparation for IBPS PO Mains 2017:
Build concepts -> Practice Questions -> Solve Previous year question papers -> Revise -> Take Full Mock Tests
  2. After learning each topic, take a sectional test for that topic to measure your progress. Continue learning and  practicing till you're thorough in that concept and then move on to the next one.
     3. Solving previous years papers will familiarize you with the question patterns and difficulty levels. 
4. Revision is important to retain the concepts learnt. Revise each concept 2-3 times before the exam. It's also important that you practice sectional tests after revising each topic to master it.
5. Take full-length mock tests after your preparation to measure your progress. Mock tests provide you instant feedback in the form of analytics, which will help you determine your speed & accuracy in solving English Language questions and identify your strong and weak areas. You can also use your performance analysis to fine-tune your preparation by practicing more questions from topics you're weak or slow at.
Hope this helps.
All the Best!!
  Oliveboard Live Courses & Mock Test Series