KYC/AML/CFT norms are among the various important topics included in Module B of the Principles and Practices of Banking Paper of the JAIIB Exam. Since, for getting the IIBF JAIIB certification, you need to score a high percentage of marks, you must be well-versed in all topics included in the syllabus. This guide provides all pertinent information regarding KYC/AML/CFT regulations, such as their significance, objectives, etc. We request our users to read this guide to have an understanding of the subject and take online mock tests to enhance their knowledge of KYC/AML/CFT norms.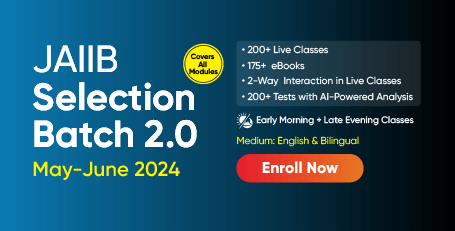 KYC/AML/CFT Norms: Overview
The Reserve Bank of India (RBI) issued a Master Circular on its official website (http://www.rbi.org.in) on 02nd July 2012, which consolidated instructions/guidelines issued to banks on KYC/AML/CFT norms/obligation of banks under PMLA, 2002, until 30th June 2012.
Purpose of KYC/AML/CFT Norms
RBI instructed banks to follow a specified customer identification procedure for account opening and to monitor suspicious transactions to report them to the competent authority. These Know Your Customer (KYC) rules have been revised in consideration of the Financial Action Task Force's (FATF) recommendations on Anti-Money Laundering (AML) practices and on Combating the Financing of Terrorism (CFT). The Master Circular was posted on the Reserve Bank of India's official website.
Detailed recommendations based on the guidelines of the Financial Action Task Force (FATF) and the document provided on Customer Due Diligence (CDD) for banks by the Basel Committee on Banking Supervision have been issued, together with illustrative suggestions, where deemed essential. Banks have been instructed to create and implement a comprehensive policy framework for Know Your Customer along with Anti-Money Laundering procedures with official permission.
The purpose of this Master Circular is to consolidate all instructions or guidelines issued by RBI on Know Your Customer (KYC) norms/Anti-Money Laundering (AML) standards/Combating Financing of Terrorism (CFT) standards/Obligations of banks under PMLA, 2002.
The purpose of the KYC/AML/CFT rules is to check criminal elements from using banks purposefully or unwittingly for money laundering or terrorism funding. By implementing KYC procedures, financial institutions or banks can better understand and manage risks by getting to know and understand their customers and their financial transactions.
What is KYC?
KYC stands for "Know your Customer" and refers to the identification of customers. It entails making sensible efforts to ascertain the true identity and beneficial ownership of accounts, the source of cash, the type of the customer's business, and the rationality of account transactions about the customer's business, etc. All of these allow banks to handle their risks prudently. The KYC criteria were designed to prevent criminals from using banks for money laundering, whether on purpose or unintentionally.
Definition of Customer
KYC policy defines a Customer as:
a person who maintains an account or/and a commercial relationship with the bank
someone who keeps an account for someone else's benefit (i.e. the beneficial owner)
a person who benefits from the transactions carried out by financial intermediaries, like CAs, Stock Brokers, Solicitors etc. as permitted by law
a person or entity who is directly or indirectly involved in a financial transaction that poses significant reputational or other risks to a bank, like making a wire transfer or issuing a large-value demand draught, etc.
KYC Policy
Banks should design their Know Your Customer (KYC) policies by incorporating the following four elements:
Customer Acceptance Policy (CAP)
Customer Identification Procedures (CIP)
Monitoring of Transactions
Risk Management
Legal Support for Confirming the Identification of Customers
Under Section 35A of the Banking Regulation Act, 1949 and Rule 7 of the Prevention of Money-Laundering Rules, 2005, the Reserve Bank of India has issued guidelines to banks regarding the Recordkeeping of the Nature and Value of Transactions, the Process and Method of Maintaining and Duration for Furnishing Information, and the Validation and Keeping of Records of the Identity of the Customers of the Financial Institutions, Banking Companies, and Intermediaries.
Features and Documents for Customer Verification
Depending on the type of customer, the following features must be validated, and documentation may be requested. Any document that satisfies the bank's requirements for customer information will work.
For Individual Accounts
Legal Name and Any Other Names Used
Passport
PAN card
Voters Identity Card
Driving License
Job Card given by NREGA and fully signed by a State Government official
The letter, having Aadhaar number, name, and address, given by the Unique Identification Authority of India (UIDAI)
Identity card (subject to the bank's satisfaction)
A letter from a recognised official authority or public servant confirming the customer's identity and residence to the bank's satisfaction
Correct Permanent Address
Telephone bill
Bank account statement
A letter from a recognised official authority
Electricity bill
Ration card
Letter from employer (subject to the bank's satisfaction)
For Business Account
Features:
Name of the Company
Principal Place of Business
Mailing Address of the Company
Telephone/Fax Number
Documents
Certificate of incorporation along with the Memorandum and Articles of Association
The decision of the Board of Directors to open a bank account and a list of people authorised to run the account
Granting authority to its management, executives, or workers to conduct business on its behalf
Copy of the letter of PAN allotment
Copy of the telephone bill
Take A Sneak Peek At the KYC/AML/CFT Norms eBook for JAIIB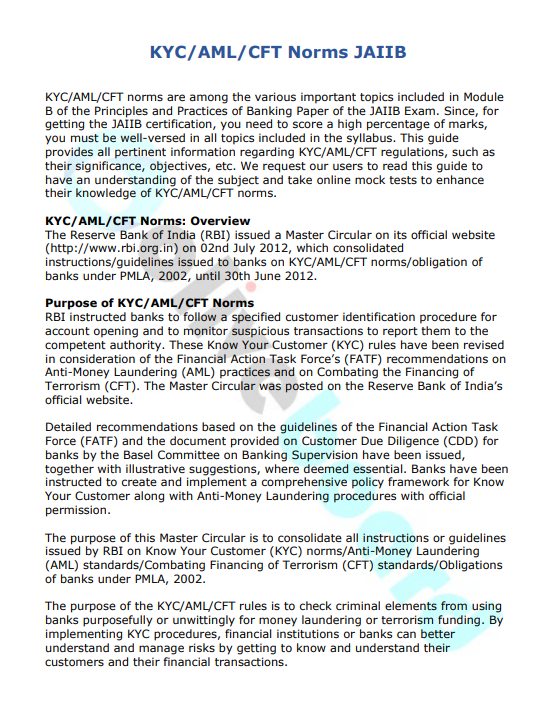 Download the KYC/AML/CFT Norms Free eBook for JAIIB
Download KYC/AML/CFT Norms Free E-book
How to Download KYC/AML/CFT Norms Free eBook for JAIIB?
Step 1: Click on the download link. You will be redirected to Oliveboard's FREE E-Books Page.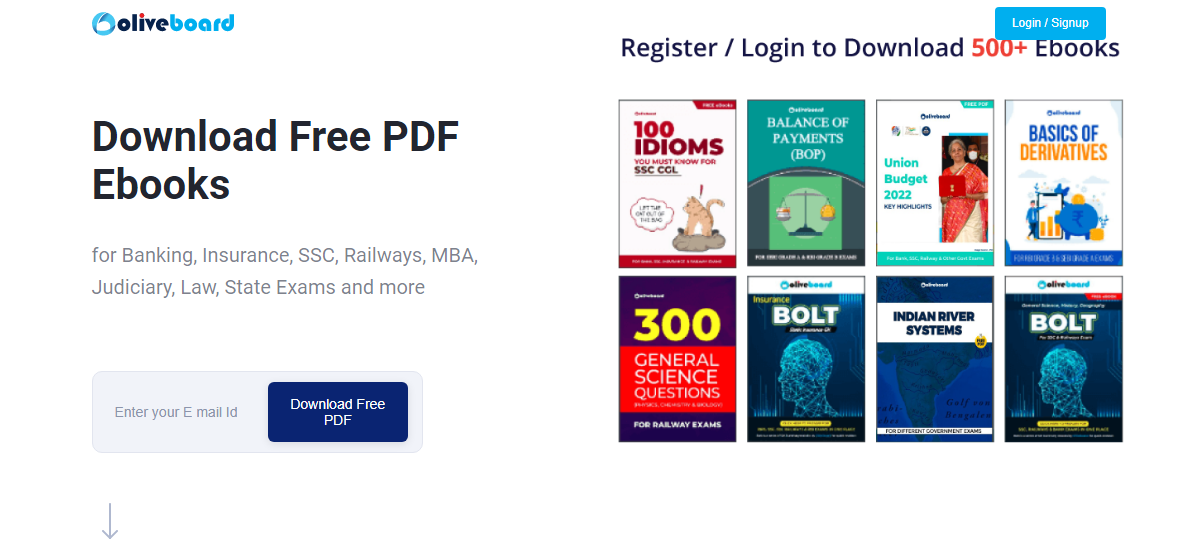 Step 2: Create a free Oliveboard account or login using your existing Oliveboard account details
Step 3: Download the book by clicking on the link presented on the page.
FAQs
Q. What is the full form of PMLA, 2002?
A. PMLA is an acronym for the Prevention of Money Laundering Act (PMLA).
Q. What do you mean by money laundering?
A. Money laundering is the hiding of the origins of unlawfully obtained funds, generally through transfers to foreign banks or legitimate enterprises.
Q. What is the objective of KYC?
A. The objective of KYC is to ensure Anti Money Laundering (ALM), Counter-Terrorism Financing (CTF), and Risk Management.
Q. What are the four elements of KYC Policy?
A. 1. Customer Acceptance Policy (CAP)
2. Customer Identification Procedures (CIP)
3. Monitoring of Transactions
4. Risk Management
Q. When should a bank request periodic KYC updates from its customers?
A. The frequency with which banks request updated Know Your Customer (KYC) documentation varies by customer based on their risk classification. The banks classify consumers as low-risk, medium-risk, or high-risk. According to the RBI, low-risk consumers should be required to update their KYC information every ten years, medium-risk customers every eight years, and high-risk customers every two years. This would require identification and address verification. Customers who are minors must submit a new photo upon reaching their majority.
JAIIB Study Material Compilation
Also Read:
Also Check:

Oliveboard is a learning & practice platform for premier entrance exams. We have helped over 1 crore users since 2012 with their Bank, SSC, Railways, Insurance, Teaching and other competitive Exams preparation.
  Oliveboard Live Courses & Mock Test Series