Modern History Questions for JKPSC : The Jammu and Kashmir Public Service Commission published the JKPSC KAS Recruitment 2022 Notification on its main site on the 19th of April, 2022. The Prelims exam will be conducted on 26 June 2022. History forms a part of Paper 1 of JKPSC KAS Prelims paper. Attempting more and more questions will help you be prepared for the exam. We have provided 100 Modern History Questions for JK exams for practice. Know where you stand by analysing the answer key given.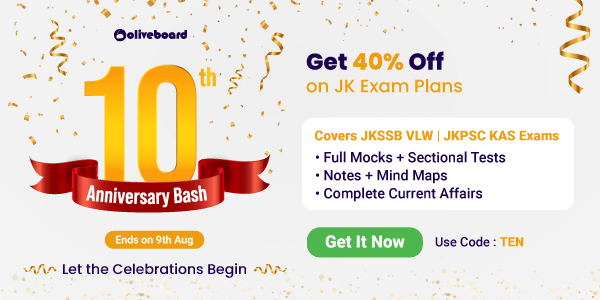 Modern History Questions for JKPSC | Download link
Click on the link given below to download the Free PDF.
How to download the Free PDF?
Click on the given download links given. You will be taken to Oliveboard's FREE Ebooks Page. Alternately, you can download the Oliveboard Android App to access these on your smartphone.
Register/Login to the Free E-Books Page of Oliveboard (It is 100% free, You just enter your valid email id and a password to be able to download the PDF).
Once you are logged in you'll see the message that says "Please click here to download the Free Ebook". Click on the message to download that particular ebook.
Modern History Questions for JKPSC | Highlights
1. Who gave the title of "Mahamana" to Madan Mohan Malviya?
Bal Gandadhar Tilak
Dada Bhai Naurozi
Gopal Krishna Gokhale
Mahatma Gandhi
Correct Answer: 4
2. Who was the Viceroy of the time of Quit India Movement?
Lord Irwin
Lord Mountbatten
Lord Wavell
Lord Lin Lithgow
Correct Answer: 4
3. Who was the other Congress leader who joined with Motilal Nehru to start the Swaraj Party in 1923?
G.K. Gokhale
B.G. Tilak
Chittaranjan Das
M.K. Gandhi
Correct Answer: 3
4. From which of the following banks did Madan Mohan Malaviya take loans for financing "The Hindustan Times"?
State Bank of India
Punjab National Bank
Bank of Maharashtra
Bank of Baroda
Correct Answer: 2
5. Where are the Todas found?
Madhya Pradesh
Tamil Nadu
Rajasthan
Aruncachal Pradesh
Correct Answer: 2
6. Rowlatt Act 1919 was enacted during the period of?
Lord Chelmford
Lord William
Lord Minto
Lord Bentinck
Correct Answer: 1
7. Panchayati Raj System was implemented first in the pair of states?
Andhra Pradesh and Rajasthan
Assam and Bihar
Arunachal Pradesh and Uttar Pradesh
Punjab and Chandigarh
Correct Answer: 1
8. Which of the following tribes is associated with the "Tana Bhagat" movement?
Uraon
Munda
Santhal
Kondadora
Correct Answer: 1
9. Who founded the Naujawan Bharat Sabha?
B. C. Pal
G. Subramania Iyer
Sardar Bhagat Singh
Rukmani Lakshmipathi
Correct Answer: 3
10. The Narendra Mandal or Chamber of Princes was inaugurated in 1921 by?
Lord Curzon
Lord Wellesley
Duke of Cannaught
Duke of Wellingdon
Correct Answer: 3
11. Pitts India Act of 1784 was a/an?
Ordinance
Resolution
White paper
Regulation Act
Correct Answer: 2
12. Which one of the following statements is not true in respect of A.O. Hume?
He founded the Indian National Congress.
He presided over the Congress Annual Sessions twice.
He was an ornithologist.
He was a member of the Indian Civil Service.
Correct Answer: 2
13. Which of the following movements saw the biggest peasant guerilla war on the eve of independence?
Punnapra Vayalar Movement
Telangana Movement
Noakhali Movement
Tebhaga Movement
Correct Answer: 2
14. Which General, who commanded the British forces against the Americans in their War of Independence later became Governor-General of India?
Dalhousie
William Bentinck
Wellesley
Cornwallis
Correct Answer: 2
15. Who established the Indian Civil Liberties Union in 1936?
Subhash Chandra Bose
Bal Gangadhar Tilak
Jawahar Lal Nehru
Rajendra Prasad
Correct Answer: 3
16. Which of the following was established first?
Banaras Hindu University
University of Bombay
Aligarh Muslim University
University of Allahabad
Correct Answer: 2
17. The first Indian Satellite Aryabhatta was launched in:
1972
1975
1977
1979
Correct Answer: 2
18. Where did Aurangzeb die?
Pune
Aurangabad
Ahmad Nagar
Mumbai
Correct Answer: 3
19. Who gave the title of "Sardar" to Vallabh Bhai Patel?
Mahatma Gandhi
Vinoba Bhave
Women of Bardoli
Peasants of Gujrat
Correct Answer: 1
20. What Satyagraha was held at Nagpur in 1923?
Salt Satyagraha
Individual Satyagraha
Ryots Satyagraha
Flag Satyagraha
Correct Answer: D
DOWNLOAD THE OLIVEBOARD APP FOR ON-THE-GO EXAM PREPARATION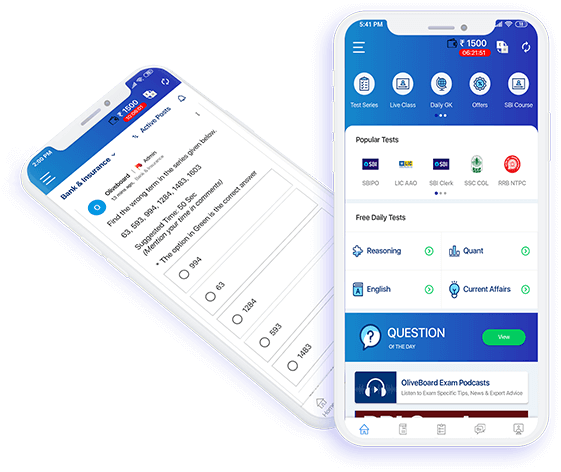 Video Lessons, Textual Lessons & Notes
Topic Tests covering all topics with detailed solutions
Sectional Tests for QA, DI, EL, LR
All India Mock Tests for performance analysis and all India percentile
General Knowledge (GK) Tests
Free videos, free mock tests, and free GK tests to evaluate course content before signing up!

Also Check:
Connect with us on
  Oliveboard Live Courses & Mock Test Series