Bihar Polity & Administration Notes: Before we look into the Polity of Bihar, let's have a quick overview of the state of Bihar. The state of Bihar is located in the Eastern Region of the country try. The state capital is Patna. Bihar shares its Northern border with the neighbouring country Nepal, the Eastern border with West Bengal, the Southern border with Jharkhand, and the western border with Uttar Pradesh.
Bihar has a strong economy as it is strategically placed and is close to the huge markets of Eastern and Northern India, it has easy access to the different ports such as in Haldia and Kolkata in West Bengal. The state also has access to sources of raw material to mineral reserves available from the nearby states. Some of the key industries in Bihar are dairy, textile, tobacco, leather, chemicals, transport equipment, rubber, plastics, and food & beverages.
Bihar's Gross State Domestic Product has increased from 1015-16 to 2019-20 at 13.2 per cent CAGR. There has been high growth in Bihar's per capita net state domestic product. Considering the present prices, the state's per capita NSDP has seen a growth of 13.41 per cent CAGR during the 2016 to 2021 period.
Bihar Polity & Administration Notes
Bihar has 9 divisions: Patna, Tirhut, Saran, Darbhanga, Kosi, Purnia, Munger, and Magadh. Bihar has 101 sub-divisions.
Bihar has 38 districts:
| | |
| --- | --- |
| District | |
| Patna | Bhojpur, Kaimur, Buxar, Patna, Nalanda, and Rohtas |
| Saran | Siwan, Saran, and Gopalganj |
| Tirhut | Muzzaffarpur, East and West Champaran, Sitamarhi, Shekhar, and Vaishali |
| Purnia | Kishanganj, Purnia, and Araria |
| Bhagalpur | Banka and Bhagalpur |
| Darbhanga | Darbhanga, Samastipur, and Madhubani |
| Kosi | Supaul, Madhepura, and Saharsa |
| Magadh | Aurangabad, Gaya, Arwal, Nawada, and Jehanabad |
| Munger | Begusarai, Khagaria, Jamui, Munger, Sheikpura, and Lakhisarai |
Education is suffering in Bihar and higher education is almost stagnant, has low enrollment, more so of girls, low completion, and the infrastructure in qualitative and quantitative terms is extremely low. On the Education Development Index, Bihar ranks at the bottom as far as India's major states are concerned. The situation is the same even on the basis of the Gender Parity Index for higher education, Collage Population Index, and Gross Enrollment ratio. at the basic level, the educational output is poor, implying that the delivery of the educational services themselves are poor. Collages for professional education and higher education in Bihar have seen a poor teacher-to-student ratio with 9,47,959 students and 240,99 teachers in the period 2009- 10.
Health in Bihar
Here are some key issues associated with health in Bihar:
As high as 51.5 per cent of girls are married before they are 18 years of age.
As high as 81 per cent of children are highly anaemic, 40.9 per cent of adolescent girls are highly anaemic, and 63.4 per cent of pregnant women are highly anaemic.
Between 0 to 6 years of age, 55.9 per cent of children suffer from moderate malnutrition and 24.5 per cent from severe malnutrition.
The couple protection rate stands at a low odd 34 per cent.
The fertility rate stands at a high of 4.2
For institutes for primary health care, there is a large gap in basic essentials, such as drugs, equipment consumables, and manpower.
Full immunization stands at a low of 33 per cent.
Just 23.2 per cent of deliveries are institutional.
The maternal death rate is 3.71 per 1000.
Only 25.6 per cent of people have HIV/AIDS awareness.
Salt iodisation coverage is very low at 25.2 per cent.
The sex ratio is 919: 1000.
There is a huge gap in community health centres and a wide gap in primary health centres and sub-centres.
Vitamin A coverage is very low at 10 per cent.
Some Famous Persons from Bihar
Kunwar Singh, at the age of 80 led guerrilla warfare against the British India Company during India's First War of Independence in 1857.
Rajendra Prasad Independent India's first President.
Jagjivan Ram was amongst the founders of the All India Depressed Classes League.
Shri Krishna Singh the first Chief Minister of Bihar and is considered amongst the architects of Bihar. He was the first to abolish the system of Zamindari.
Dr Anugrah Narayan Sinha first Deputy Chief Minister of Bihar.
Jayprakash Narayan lead the opposition to Indira Gandhi during the 1970s.
Yadunandan Sharma was a peasant who began a movement for tillers' rights.
Swami SahajanandSaraswati is the founder of the All India Kisan Sabha.
Baikuntha Shukla was hanged for the murder of PhanindraNath Gosh who approved the order to hang Bhagat Singh, Rajguru, and Sukhdev.
Satyendra Narayan Singh Bihar's former CM and leading person in the Complete Revolution of Jayprakash Narayan.
Karyanand Sharma was a peasant leader who was key to the Kisan Movement and the Non-Cooperation Movement.
Basawon Singh was among the founders of the Congress Socialist Party, part of the Indian Independence Movement, and raised his voice for the underprivileged's rights, and of the agricultural worker and labourers in industries.
Yogendra Shukla was amongst the founders of the Hindustan Socialist Republican Association of Congress Socialist party from Bihar.
SheelBhadraYajee was a peasant leader and activist, part of the Kisan Movement and of the Congress Socialist Party. He formed the All India Forward Bloc along with Subash Chandra Bose.
Bidhan Chandra Roy West Bengal's 2nd CM was a member of Brahma Samaj and active with it. He founded the cities of Habra, Durgapur, Ashokenagar, Bidhanagar, and Kalyani.
Famous Scholars of Bihar
Anand Kumar: The famous teacher depicted in the film Super-30 teacher.
HC VERMA, the former Professor and Dean at IIT Kanpur.
Vashishtha Narayan Singh, who challenged Einstein's famous formula e=mc2.
DOWNLOAD THE OLIVEBOARD APP FOR ON-THE-GO EXAM PREPARATION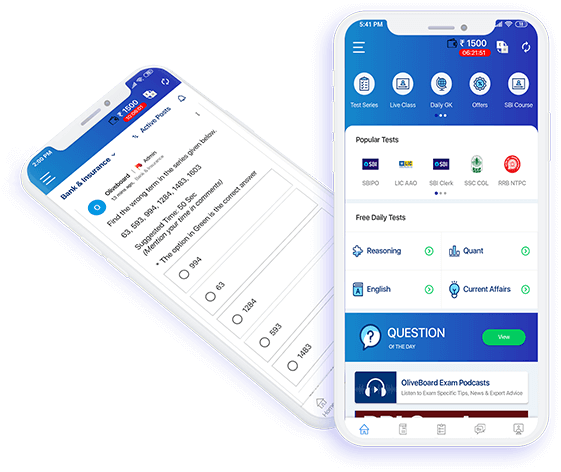 Video Lessons, Textual Lessons & Notes
Topic Tests covering all topics with detailed solutions
Sectional Tests for QA, DI, EL, LR
All India Mock Tests for performance analysis and all India percentile
General Knowledge (GK) Tests
Free videos, free mock tests and free GK tests to evaluate course content before signing up!

Famous Film Personalities from Bihar
Shatrughan Sinha
Sonakshi Sinha
ManojBajpayee
Imtiaz Ali
Sanjay Misra
Sushant Singh Rajput
Prakash Jha
Panchayati Raj
In 2006 when Bihar was split into Bihar and Jharkhand, the Bihar Panchayati Raj Act got enacted. In 2007 Bihar's Panchayati Raj Department began its functioning.
PRD interacts with the Ministry of Panchayati Raj and the Ministry of Rural Development, both at the Centre Level. It is a key department as it hands a huge amount of funds, has a direct bearing on poverty alleviation, and rural development. PRD is used to implement grassroots democracy and also power decentralization via PRIs.
Reservations:
In 2006, through the Bihar Panchayat Raj Adhinayam 50 per cent Reservation for women was brought in. Bihar was the first state to implement this. After this, when the elections for PRIs were held in 2006 the total ERs showed a higher percentage of women.
PRIs at different levels (Districts, Blocks, and Villages) are:
ZillaParishad (District Panchayat)
Panchayat Samiti (Intermediate Panchayat)
Gram Panchayat (Village Panchayat)
Gram Katchahary:
The state has another institution at the village level known as the Gram Katchahary. The katchahary aims to met out justice to the villagers. The Sarpanch is the head-on the Gram Katchahary. He is aided by the Gram Nayay Mitra in performing his duties.
Support Structure
There are standing committees at all the 3 levels of the 3 tier structure. They are the Panchayat support functionaries. There are 6 standing committees at the village level, whereas, the block and district levels have 7 standing committees each.
Village level Standing Committees:
Coordination, Planning and Finance Committee
Production Committee
Education Committee
Social- Justice Committee
Public Works committee
Public health & family welfare committee
District and Block level Standing Committee;
General Standing committee
Finance, statistics & planning committee
Production Committee
Education Committee
Social- Justice Committee
Public Health and family welfare and Rural Sanitation committee
Public Works committee
Besides the Standing committees, there are Govt. Functionaries who help the Panchayat in their planning and functioning
7 IT/ICT/ IT enabled structure
Bihar is connected through the Bihar State Wide Area Network. Internet connectivity and computers are available in blocks. About 6000 common service centres are functioning at the village level. A Helpline has been set up for the Panchayat system to function efficiently and smoothly. A two-way video conferencing facility is provided at the block level for this purpose.
Overall Structure of CB&T
CB&T is done for PRI representatives through the Bihar Institute of Public health and Rural development or directly through DPR. The training is given by-
Master Resource Persons
District Resource Persons
Recently the 9 extension training centres known as the MukhiaSarpanch Training Institutes were revived by the state. They are situated at:
Patna
Darbhanga
Muzaffarpur
Gaya
Munger
Saharsha
Purnia
Bhagalpur
Siwan
Programmes
The following programmes Re for Strengthening and capacity development of PRIs.:
The Bihar Panchayat Strengthening Programme
Shaktirupa
UNDP- capacity development of local Governance
Backward Region Grant Fund
Industries in Bihar
Both large scale industries and micro, small and medium enterprises (MSMEs) exist in Bihar.
Some of the agro-based industries in Bihar are food processing, tobacco, beverages, tea, dairy, vegetables, fruits, and sugar.
Some non-agro based industries in Bihar are handloom, power loom, sericulture, jute, leather, and Khadi and village industries.
Conclusion:
In this article, we have provided the details regarding the polity of Bihar. We hope you will get the information you need from this article.
FAQs: Frequently Asked Questions:
How many divisions does Bihar have? 
Bihar has 9 divisions: Patna, Tirhut, Saran, Darbhanga, Kosi, Purnia, Munger, and Magadh.
How many large scale industries were there set up or approved in 2014-15?
There were 16 large scale industries by 2012-13 and 3 more got approval in 2012-13 and 2 in 2014-15.
What are some of the non-agro-based industries in Bihar?
Some non-agro-based industries in Bihar are handloom, power loom, sericulture, jute, leather, and Khadi and village industries.
  Oliveboard Live Courses & Mock Test Series