NIACL AO 2021 notification was released on August 24, 2021. Last date to apply for the exam is on September 21, 2021. The prelims examination is tentatively scheduled to be held in October 2021. Aspirants appearing in the exam must be deeply engrossed with their preparations by now. At this stage, one of the most crucial steps is practicing your learned concepts. And, to help you with that we have brought this article "NIACL AO 2021 Quant Practice Questions" based on the syllabus of the examination.
Practice questions and compare answers with the answer key by downloading the free ebook from the below-mentioned link.
NIACL AO 2021 Quant Practice Questions
How To Download The Free ebook?
Click on the given download link. You will be taken to Oliveboard's FREE Ebooks Page. Alternately, you can download the Oliveboard Android App to access these on your smartphone.
Register/Login on to the Free E-Books Page of Oliveboard (It is 100% free, You just enter your valid email id and a password.
Once logged in you'll see the message "Please click here to download the Free Ebook". Click on the message to download that particular ebook.
You can also list of week-wise Weekly Current Affairs PDF.
Login or register here to download other 300+ free ebooks from your Oliveboard dashboard.
Sneak peek into the Free Ebook
Find the wrong term in the series given below.  
26, 82, 214, 398, 702, 1082
Options:
1. 398
2. 702
3. 82
4. 26
5. 214
Answer: 1. 398
2. Find the wrong term in the series given below.
244, 290, 340, 396, 452
Options:
1. 396
2. 452
3. 340
4. 244
5. 290
Answer: 1. 396
3.Find the next term in the series.
38, 51, 66, 83, 102, ?
Options:
1. 128
2. 115
3. 138
4. 123
5. 112
Answer: 4.123
4.The salaries of A, B and C are in the ratio 5:3:2. If the increments of 20% ,10% and 20% are allowed in their salaries, then what will be the new ratio of their salaries?
Options:
1. 22:11:9
2. 22:10:8
3. 20:11:8
4. 20:10:9
5. 21:11:9
Answer: 3. 20:11:8
5. A sum of money is to be distributed among P, Q, R and S in the proportion 2:5:6:7, If R get Rs.500 more than S. What is P's share?
Options:
500
700
3.1000
4.1200
5.800
Correct Answer: 3.1000
6.The sum of the three number is 68. If the ratio of the first to second is 3:2 and that of the second to the third is 5:3, then the second number is
Options:
1.21
2.22
3.23
4.24
5.25
Correct Answer: 2. 22
Glance of the Free Ebook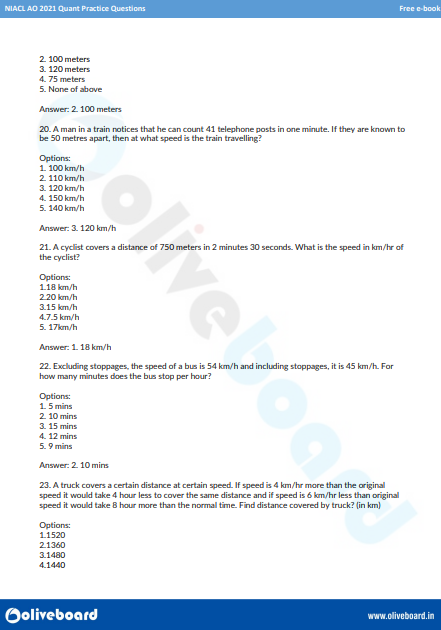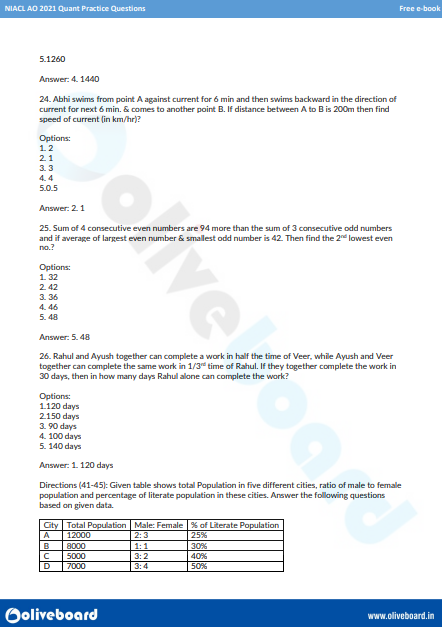 Jumpstart your Quant practice or check your preparation level with this Free Ebook. Find answer key and compare your answers.
NIACL AO 2021 Quant Practice Questions – FAQs
How do I download the NIACL AO 2021 Quant Practice questions Ebook?
A. Register from the link here and download the PDF.
2. What topics are included in the Ebook?
A. All the topics in the Quant syllabus of the exam are included in the Ebook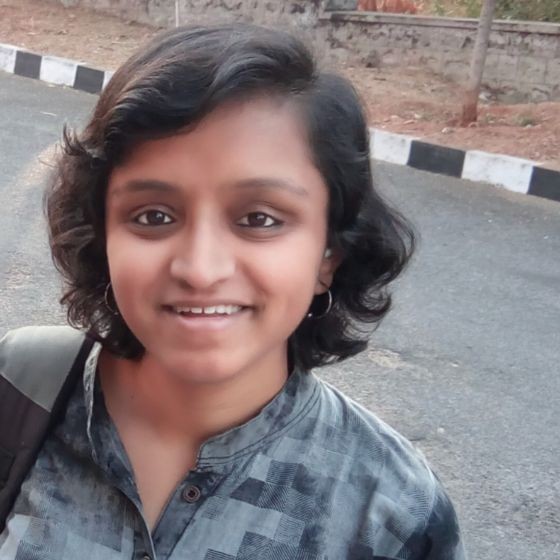 I have been creating exam related content for 3 years now. Having appeared for UPSC, SSC, Railway and Banking Exams myself, I understand and create relevant content, important from exams point of view. I am currently creating content for SSC, Railway, J&K and Law entrance exams. During my free time, I love bingewatching shows or read novels.
  Oliveboard Live Courses & Mock Test Series