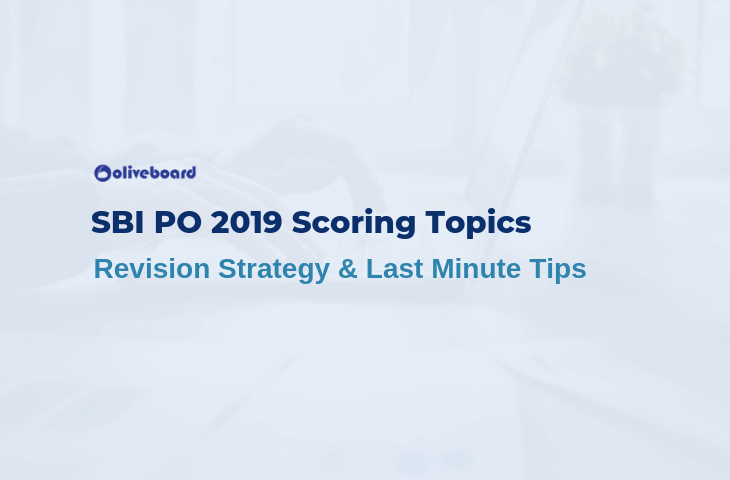 The Preliminary Exam of SBI PO 2019 is scheduled to happen on 8th, 9th 15th & 16th of June 2019. With just 10 days left for the SBI PO Prelims 2019 Exam, it is high time that revision is given its due importance.So start with the SBI PO 2019 scoring topics.
Revision is of utmost importance for an exam and for a competitive Exam like SBI PO, it is even more important to have your revision plan ready. The ability to recollect the right concept/ trick/ formula in the Examination Hall will aid you in answering the questions and ultimately increasing your marks.
Lakhs of aspirants will compete for a total of 2000 vacancies. And this sums up the need for the revision and attempt strategy as well as a list of section-wise scoring topics, Study Plan for these last 10 days and Time Management in the Exam. In this video, we discuss the SBI PO Prelims 2019 – Revision Strategy, Last Minute Tips along with scoring topics for the Quants, Reasoning & English sections.
SBI PO 2019 Scoring Topics | Revision Strategy & Last Minute Tips
Take SBI PO 2019 Free Mock Test
Wondering how you would perform in the real exam? Well, now you can check it right away! Attempt the Oliveboard Free All-India Mock Test that's been taken by thousands of aspirants already to see where you stand.
To receive preparation material along with other relevant helpful content for your banking and government examinations, subscribe to the Oliveboard's YouTube channel and you may click here to subscribe.
Alternatively, you can also download the Oliveboard Mobile App for free study material and other latest updates.
Happy Learning from Oliveboard!