Read the SEBI 2018 Success Story of Rajendran Sundar Raj, who even after getting failures in UPSC & RBI exams, scored AIR-1 in SEBI 2018. His journey clearly justifies this quote: "Failure after long perseverance is much grander than never to have a striving good enough to be called a failure."
SEBI 2018 Success Story of Rajendran Sundar Raj
A small introduction about Rajendran
I am Rajendran from Puducherry. I have completed my B.Tech (ECE) from Pondicherry Engg. College. After graduation, I prepared for the Civil Services examination but could not crack it. Then I took up a job as Upper Division Clerk in Govt. of Puducherry and was preparing for examinations like RBI/SEBI/NABARD. I cleared SEBI Grade 'A' 2018 examination and secured All India Rank 1 in the examination.
I had RBI as a backup plan when I started my civils preparation in 2012. But wasn't serious about it till 2017. I kept trying for UPSC till then. So my actual preparation for RBI started on Dec 17. But I committed a blunder of not touching phase 1 till 15 days prior to the exam though I was fully ready for phase 2. Ultimately I couldn't even clear phase 1 RBI 2018 and I missed the cut-off by a good 10 marks or so.
Preparation Strategy
Strategy for phase 1: Practice, practice, practice. I had attempted all the mock tests that I had subscribed to. I was slow in solving quants. So I placed my bets on GA and awareness of the securities market. Scored 70/80 in those two sections. Reasoning and Quants – reverse engineering from mock tests. Didn't prepare specifically for these sections.
Strategy for phase 2:
1- Securities Market and Laws
Securities Market – Economics notes from UPSC preparation and the notes from the courses I had subscribed to. I covered the important acts and regulations like the SEBI Act, SCRA 1956, depositories act, ICDR, and LODR from the original documents.
2- ESI and FM
To be honest, I couldn't do justice to this paper in 3 weeks' time. My UPSC preparation and preparation for RBI helped me. Just revised the important chapters in ESI and FM. I didn't skip problems in FM because I was competing with the best of the best in the unreserved category and I had to grab each and every mark on offer.
3- Mock Tests
I had subscribed to the Oliveboard Mock tests which proved very useful in my preparation. I attempted all the mock tests and didn't skip even one of them. I would have given around 25 mocks in total and revised all those questions well before the exam. The Mock test series of Oliveboard was very good and it helped to learn in-depth about some difficult areas like FOREX Market, Derivatives, etc.
4- Interview
I was anxious about the interview. So, I enrolled in an online Skype interview course and gave 3 mock interviews. It really helped me in fine-tuning answers for profile-based questions and be mentally prepared for any kind of question. We had a telegram group Moderated by Mr. Lavlesh Shukla (AIR-5) which helped us a lot. There was a lot of discussion on concepts, Current affairs, interview questions, etc. which was very useful.
Tips to Aspirants
If I can do it after 7 years, you too can do it. What this examination requires is the Right strategy, effort and perseverance. Have confidence in yourself. Don't lose hope and start doubting your abilities even if everything goes against you. Keep preparing well and everything will fall in place at the right time. There is always light at the end of the tunnel.
Mains (Phase-II) is the most important part of any competitive examination. It has an 85% weightage in the final merit list. So, try to score as much as possible in the Phase-II of the examination. Enroll in as many test series as possible and attempt the tests sincerely. If you are honest in your preparation, you'll definitely be rewarded. How did you prepare for Aptitude, English, Logical reasoning, GK/GA, Interview.
Role Of Oliveboard
I utilized the Oliveboard test series for my SEBI Grade 'A' Phase I and Phase II Preparation. As far as Phase I (Aptitude, English, Logical Reasoning, GK/GA) is concerned, it's the best in terms of Quality and Toughness. If a person can do well in the Oliveboard test series, he can definitely score well in the real examination. I found their Reasoning and Aptitude Questions way above the standard that SEBI requires.
It's better to practice tough questions rather than being surprised in the real examination. Their Phase-II test series (Securities markets, Economics and Social Issues (ESI), Finance and Management(FM)) was quite useful too. Specifically, the questions asked in the Mock tests were paras directly lifted from the standard newspapers. The same is being done by RBI and SEBI. Hence, the test series will train you for the actual examination.
Important Note For Aspirants:
Attempting a mock test doesn't end with clicking the submit button. Take 1 more hour to analyse your performance, read the explanatory notes given below. Most importantly, these test series are also a source of preparation. Any new topic or point which you come across must be noted down in your class notes/personal notes/textbook for future reading and reference. This is the best way to make use of a test series to increase your score in the actual examination.
Read more success stories.
---
SEBI Grade A 2020 Free Study Material PDF 
Download these eBooks for free. Just sign up or log in and download the PDF.
---
SEBI Grade A Preparation 2020
SEBI Grade A Online Course 2020
Are you preparing for the SEBI Grade A 2020 Exam and worried about the preparation of Paper 2 Subjects (Commerce & Accounting, Companies Act, Finance & Management & Economics)?
Well, we are here to help you with our video course, specially crafted notes, and All-India Mock Tests for Phase 1 & Phase 2 (Paper-1 & Paper-2).
Have a look at the complete course offerings below.
Get complete Video Lectures, Study Notes & Mock Tests for Phase 1 & Phase 2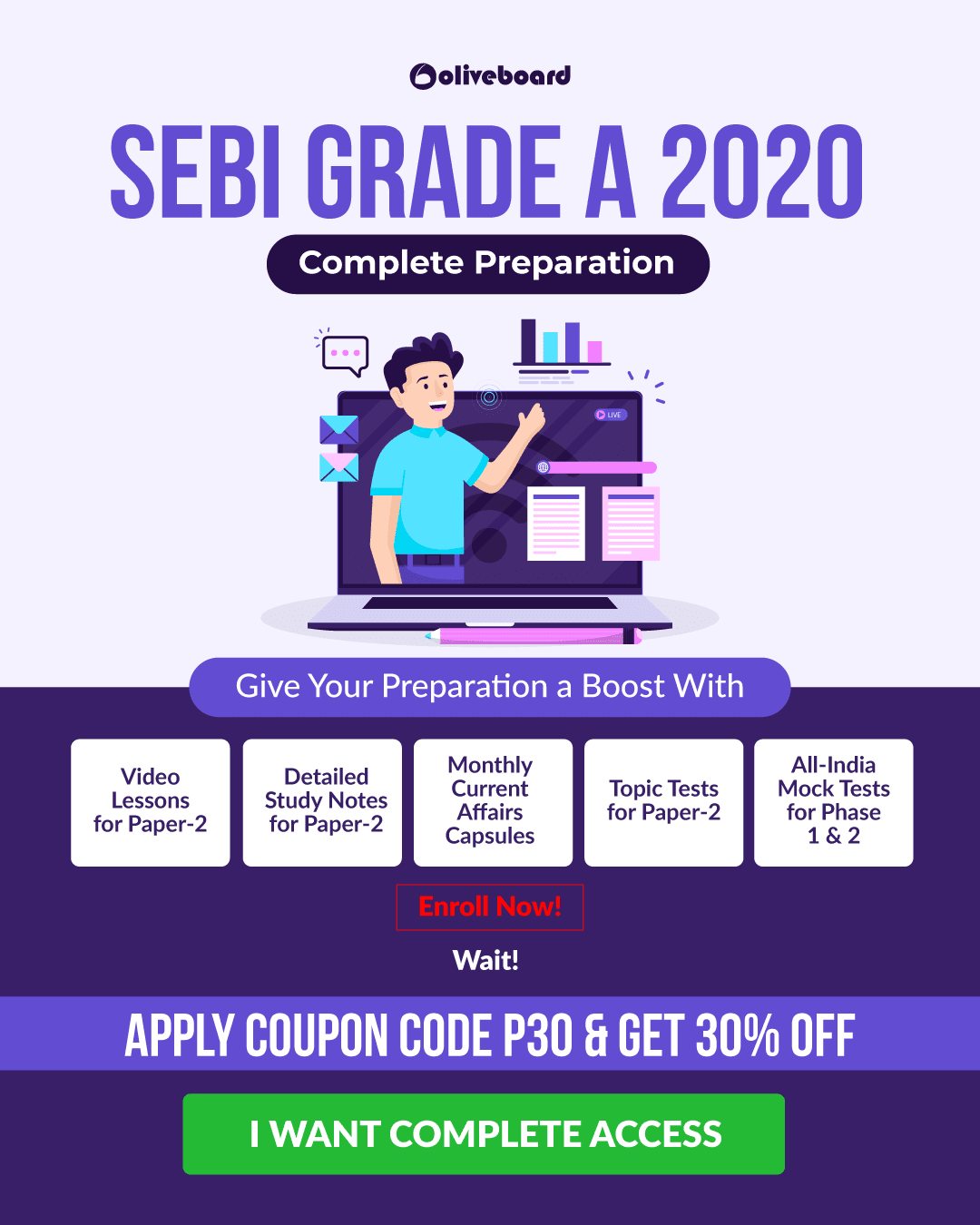 Use Coupon Code 'P30' to avail of a 30% discount on SEBI Courses!

The most comprehensive online preparation portal for MBA, Banking and Government exams. Explore a range of mock tests and study material at www.oliveboard.in
  Oliveboard Live Courses & Mock Test Series