With very little time in leaving 2019 behind, everyone is excited to welcome 2020 on a higher note. Everyone has their reasons for the excitement. As an aspirant, one of the things that crawls to the back of their mind is that new year means government authorities inducting new vacancies for the jobs that are most sought after in the industry. Candidates wait year and year to secure the job of their dreams and every new year has its own bag of surprises for each and every one. Oliveboard has always strived for the success of the aspirants. In its effort to make the exam easier and less stressful for the candidates we have continuously worked on to get interesting features that will make learning easier. English is no doubt one of the most scoring section but one thing that sets it apart is the vocabulary section. Vocabulary as we all know is not limited and it is very difficult to retain all the words. Vocabulary builder helps the aspirants in multiple ways.
We have introduced a new fun way to learn vocabulary with easy revision techniques. Let's start with the blog to further understand this new called for feature.
Attempt Free Mock Test For SSC CGL
SSC Flash Card – Vocabulary Builder
FlashCards are not new to many aspirants but its induction in the daily learning process will be a big plus. A fun way of learning always helps you retain things more thoroughly and precisely. We at Oliveboard have induced this way in order to boost people to learn more words daily and in a fun-way. Here is a preview of where you can find this new introduced feature: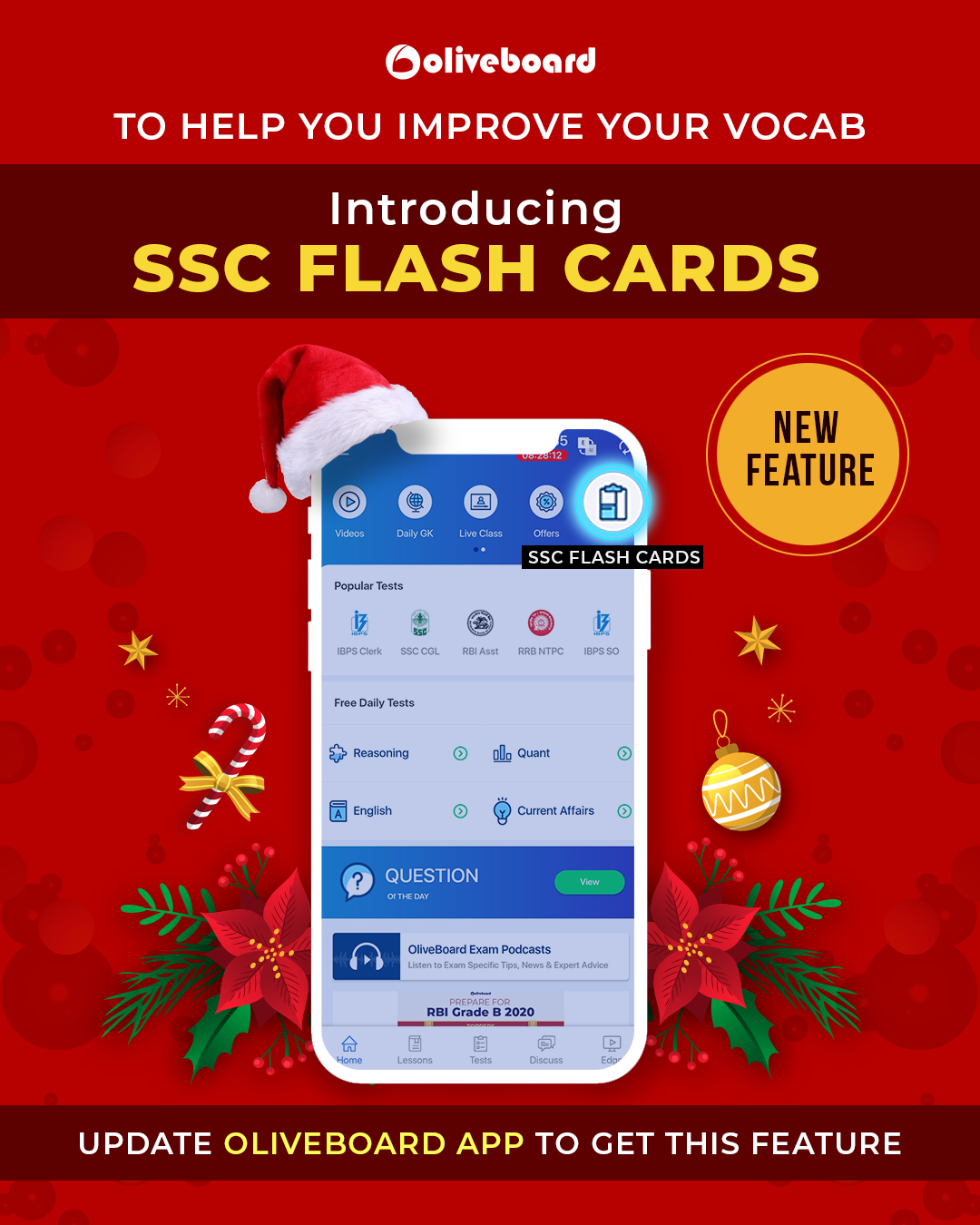 If You haven't updated the application yet, go to play store and update to access this new feature on Oliveboard App.
Vocabulary Builder – Features & Sample
Now one must be wondering what all is there in the cards that makes it all the more interesting, well to answer your question, here it is:
There will be a Word visible on the screen, you just have to tap the word and its description will appear on your screen. Find below the description of what all you will get:
Attempt Free Mock Test For SSC CGL
Here is the Sample of Today's FlashCards:
1.Agile
Meaning: Able To Move Quickly
Antonym: Clumsy, Stiff, Gawky
Synonyms: Nimble, Lithe, Spry, Supple
Example: Very Active and agile, the young ones move around the open area without fear.
2. Furore
Meaning: An outbreak of public anger
Antonyms: Calm, hush, peace, quietude
Synonyms: Commotion, uproar, outcry, hubbub
Example: They chose to keep mum then and now are raising a furore over bad roads.
3. Cessation
Meaning: ending or being brought to an end.
Antonyms: Start, resumption, continuance
Synonyms: Ending, halting, ceasing, abandonment
Example: dietary changes could either support or hinder smoking cessation.
4. Debasement
Meaning: reduction in the quality or value of something
Antonyms: Elevation, ennoblement, upliftment
Synonyms: depravation, deterioration, degradation
A discouraged, angry, and alienated lower class is directly related to a growing debasement of our popular culture.
5. An Olive Branch
Meaning: A peace request
Example: The government is holding out an olive branch to the demonstrators.
Attempt Free Mock Test For SSC CGL
That is all from us in this blog, vocabulary builder. Do explore this new feature on our application and make the full utilization of the feature. Keep checking the space for more updates and fresh exam-related contents.
Join our telegram page for receiving daily updates about class and relevant study materials for all the banking/ government/ insurance exam.
Also, Check: