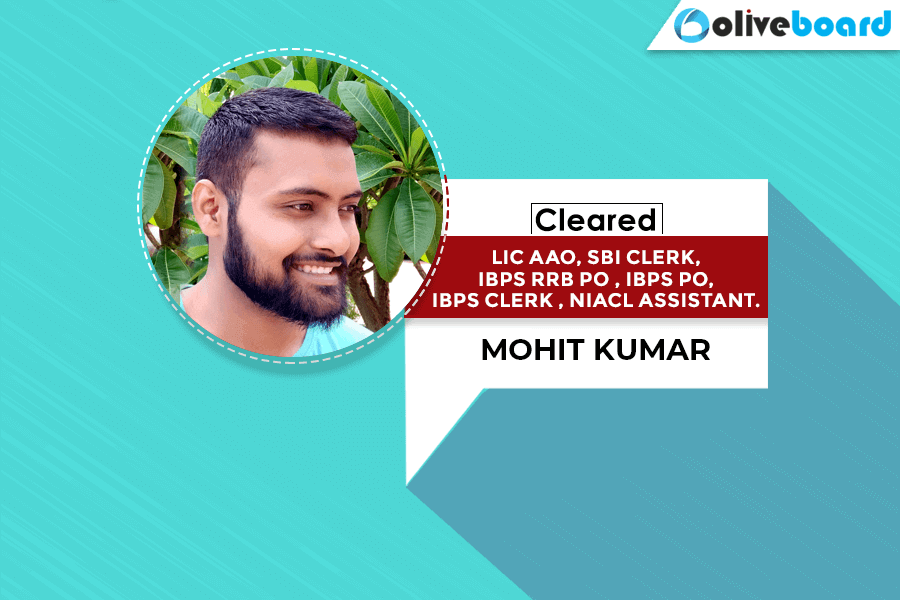 Read the success story of Mohit Kumar, an aspirant from a small village of Rajasthan, who initially failed in almost all the examinations he appeared for, but later went on to clear LIC AAO 2019, SBI CLERK 2018, IBPS RRB PO 2018, IBPS PO 2018 IBPS CLERK 2018, NIACL ASSISTANT 2018 with his hard work and dedication.
Here is his inspiring story:
Hello Everyone, I am Mohit Kumar from a small village of District Alwar, Rajasthan. I started preparing for banking exams after completing my Bachelor Degree in Engineering in 2016. I must tell you that this preparation is not limited to any exam or competition itself, it is itself the preparation for the challenging life ahead, to deal with situations and efficient decision making in life. The one thing that I learned during my exam preparation is PATIENCE. Patience is the key. 
I was not even able to qualify the IBPS RRB/PO/CLERK Prelims in 2016. In 2017, I qualified IBPS CLERK Prelims in the 2nd go but failed in Mains and this happened with IBPS PO too. I realized it was the implementation part in the real exam situation where I was lagging and this happens with all of us. We become nervous during the exam and to get over it and to be able to crack the exam, one must practice at home regularly by giving mock tests daily. Get into the habit of sitting daily for hours in front of the computer screen and be able to think in all directions to make your reasoning refined which will ultimately help in any exam. Then one can cheerfully clear the obstacles. Play with numbers in your mind, do all sorts of calculations, learn the tables, this will help in quantitative aptitude.
Read good quality English content online or go through newspapers and editorial and focus on the language. Remember that you are not required to attempt all the questions but focus on doing that part which you know the best and invest your precious time in doing it correctly to earn marks and again. This comes only by practising at home first. Keep your fears aside, attempt your best and take 'heart from failure". Be fearless and flamboyant.
Eventually, I got selected in LIC AAO 2019, SBI CLERK 2018, IBPS RRB PO 2018, IBPS PO 2018 IBPS CLERK 2018, & NIACL ASSISTANT 2018. Oliveboard Mock Test Series helped me a lot during my preparation by providing quality content for practice. Oliveboard Mock Test Series has set the standard high so that students get used to the situations even before appearing for the exam. Thank you so much Oliveboard from the depth of my heart. 
All the best to all aspirants.
Read more success stories.
Alternatively, you can also download the Oliveboard Mobile App for more success stories and free study material and other latest updates.