You must have heard about the Ways and Means Advances if you are regularly following Economy and Finance news. You surely must have wondered about what are these and who advances them and to whom. in this blog post, let us know all about the ins & outs of Ways and Means Advances and understand everything about them.
What are Ways and Means Advances?
Ways and Means Advances: 
It is a scheme that helps meet mismatches in receipts and payments of the government. Under this scheme government can avail itself of immediate cash from RBI.

The Reserve Bank of India (RBI) gives temporary loan facilities to the central and state governments. This loan facility is called Ways and Means Advances (WMA).

The Ways and Means Advances scheme was introduced in 1997.

The government can avail immediate cash from the RBI if required. But it has to return the amount within 90 days. Interest is charged at the existing repo rate.

If the WMA exceeds 90 days, it would be treated as an overdraft, which is not allowed beyond 10 consecutive working days (interest rate on overdrafts is 2 percentage points more than the repo rate).
WMA Scheme for State Governments
Under Section 17(5) of the RBI Act, 1934, the RBI provides Ways and Means Advances (WMA) to the States banking with it to help them to tide over temporary mismatches in the cash flow of their receipts and payments.

Under the WMA scheme for the State Governments, there are two types of
WMA – Special

Normal WMA.
Special WMA is extended against the collateral (mortgaging) of the government securities held by the State Government.
After the exhaustion of the special WMA limit, the State Government is provided a normal WMA. The normal WMA limits are based on a three-year average of actual revenue and capital expenditure of the state. The withdrawal above the WMA limit is considered an overdraft.

A State Government account can be in overdraft for a maximum of 14 consecutive working days with a limit of 36 days in a quarter.

The rate of interest in WMA is linked to the Repo Rate. Surplus balances of State Governments are invested in Government of India 14-day Intermediate Treasury bills in accordance with the instructions of the State Governments.
Latest Changes in Ways & Means Advances
The Reserve Bank of India (RBI), in consultation with the Government of India, has revised the limit for Ways and Means Advances (WMA) for the remaining part of the first half of FY21 (April 2020 to September 2020) to ₹2-lakh crore.

On March 31, the WMA limit for the first half of FY21 (April 2020 to September 2020) was upped to ₹1.20-lakh crore against ₹75,000 crores in the year-ago period.

The Reserve Bank of India (RBI) announced a 60% increase in the Ways and Means Advances (WMA) limit of state governments over and above the level as on March 31, with a view to enabling them "to undertake COVID-19 containment and mitigation efforts" and "to better plan their market borrowings.

For the states, the aggregate WMA limit was Rs 32,225 crore till March 31, 2020. On April 1, the RBI announced a 30% hike in this limit, which has now been enhanced to 60%, taking it to Rs 51,560 crore. The higher limit will be valid until September 30. The central bank, on April 7, also extended the period for which a state can be in overdraft from 14 to 21 consecutive working days, and from 36 to 50 working days during a quarter.
Source: Business Standard, Financial Express and Indian Express
Get RBI Grade B Current Affairs Here
---
We hope that now the term ways and means advances is well understood to you. Keep visiting Olivbeoard for more such informative content. 
Meanwhile, if you are someone who is preparing for exams like RBI Grade B or SEBI Grade A, then you have come to the right place. Oliveboard offers comprehensive online courses for both RBI Grade B & SEBI Grade A exams. Have a look at the offerings of these courses below.
RBI Grade B 2020 Online Course 
Oliveboard has come up with RBI Grade B Online Cracker Course for RBI Grade B 2020 Exam. Oliveboard's RBI Grade B Online Course 2020 will be your one-stop destination for all your preparation needs
What all the course offers you:
Course Details
RBI Grade B Cracker is designed to cover the complete syllabus for the 3 most important subjects: GA for Phase 1 and ESI + F&M for Phase 2 exam. Not just that, it also includes Mock Tests & Live Strategy Sessions for English, Quant & Reasoning for Phase 1. The course aims to complete your preparation in time for the release of the official notification.

Features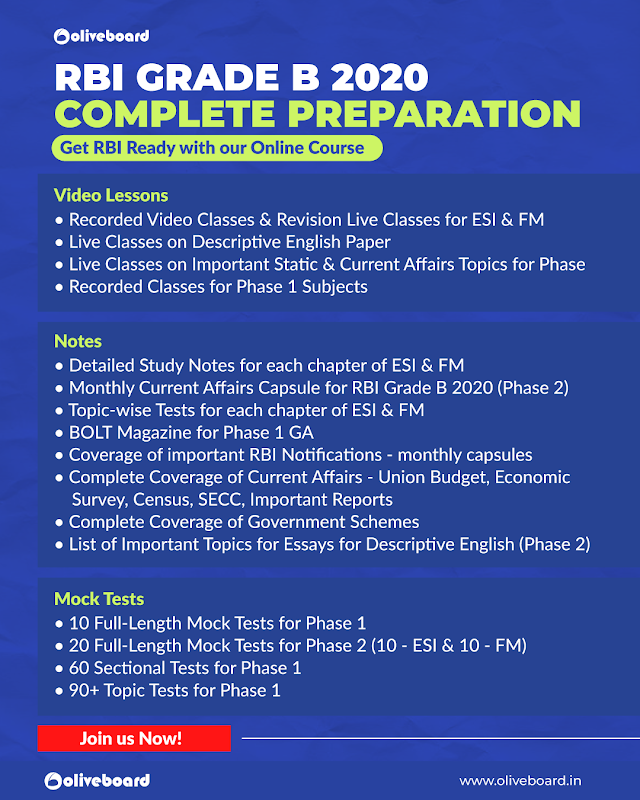 Use Coupon Code 'MY20' to avail 20% discount on RBI Courses!
---
SEBI Grade A Online Course
For your Complete Phase 1 and Phase 2 Preparations
SEBI Grade A Cracker is a course designed to cover all the subjects under Phase I and Phase II exams.
For Paper 1 of Phase I exam all essential subjects like Quantitative Aptitude, Reasoning, and English will be covered through video lectures.
For Paper 2 of both Phase 1 and Phase 2, the complete syllabus will be covered through video lessons, and notes.
The course will also have strategy sessions and past year paper discussions.
This course has been designed in such a way that it can be covered well before the examination.
Enroll for SEBI Grade A 2020 Online Course Here
Course Features