May 12 Atmanirbhar Package of Prime Minister Narendra Modi totaling Rs 20 lakh crore has been a big relief to the economy of our country.  The government also took this opportunity to re-package some of the old measures, and push some new reforms such as in agriculture, public sector enterprises, which has been pending for long.
Finance Minister Nirmala Sitharaman on 13 May 2020 gave details of a Rs 20-trillion package to support an economy to contain the coronavirus pandemic. In this article, we have brought you a free ebook on Atmanirbhar Bharat Abhiyan containing each and every detail regarding the economic relief package.
Download the Economic Relief Plan Package PDF here from the link provided below.
Want to solve GK Questions For Free? Take A Free Test
1. Atmanirbhar Bharat Abhiyan Package – Download Free Ebook Here


To Download More Free Ebooks Click Here & Register Yourself
2. Economic Relief Package – Pillars of "Atmanirbhar Bharat"
1. Economy- quantum jump not incremental change.
2. Infrastructure- for modern India.
3. System- technology-driven for the 21st century.
4. Demography- vibrant demography as the world's largest democracy.
5. Demand- optimize demand and supply chain in the economy.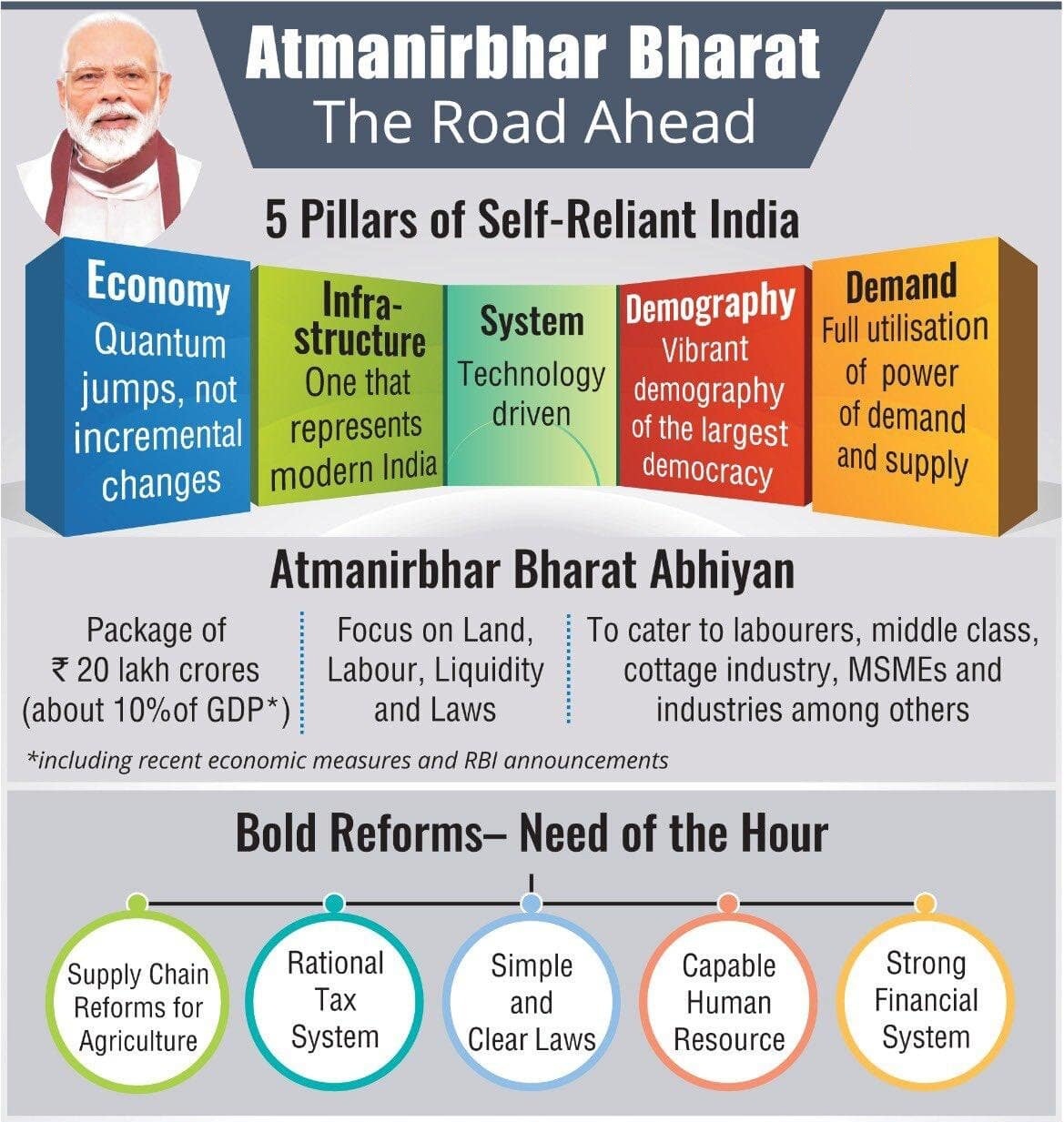 Check your all India standing with a free mock test
3. COVID-19 Economic Relief Package Announcements
Here are key highlights from what she said:
Last set of measures under "Atma Nirbhar Bharat" package
MNREGA
Health – rural and urban, including education
Businesses and coronavirus
Decriminalization of Companies Act
Ease Of Doing Business
Public Sector Enterprises
State governments and related resources
Soon after announcing lockdown, the government launched "Garib Kalyan" package to address the demand for food grain for the next 3 months
12 lakh EPFO members have benefited from non-refundable advance
As of May 16, 8.91 crore farmers have received the benefit of PM KISAN scheme

6.81 crore free cooking gas cylinders given under PM Ujjwala scheme

In the last two months:

Rs 15,000 crore support released to states for healthcare
Rs 15 lakh per person insurance cover rolled out
Online education has been taken up in a big way, schools now using technology; another 12 channels to be added

Timely action already is taken to reduce the compliance burden for corporates under the Companies Act
Various steps are taken to enhance the ease of doing business
MEGA: Government to allocate an additional Rs 40,000 crore for MGNREGS, over and above Budget Estimate of Rs 60,000 crore
Move to benefit migrant workers returning home
HEALTH: Government to increase public expenditure on health, public health labs to be set up
EDUCATION: Online education has been taken up in a big way; schools now using technology
Government to facilitate technology-driven education via DIKSHA under the e-Vidhya initiative
Government to launch one committed TV channel for each of the 12 classes
BUSINESSES: New Insolvency and Bankruptcy Code (IBC) proceedings suspended for one year; no fresh action for a year due to coronavirus
Debts related to coronavirus pandemic not to be included in default category under Insolvency and Bankruptcy Code for one year
The minimum threshold for initiating IBC proceedings already raised from Rs 1 lakh to Rs 1 crore
EASE OF DOING BUSINESS: All sectors to be opened to private companies
PUBLIC SECTOR ENTERPRISES: At least 1 public sector enterprise to be present in sectors, the private sector to be allowed to play its role
Policy to categorize strategic sectors, concerned public sector companies to be notified
STATE GOVERNMENTS: Borrowing limit for states raised to 5% from 3%
RBI already increased states' ways and means advances by 60%
Part of borrowing to be linked to specific reforms; a portion of additional limit for specific state-level reforms
The break-up of announcements made in each of five "Atma Nirbhar Bharat" package tranches:

First: Rs 5,94,550 crore
Second: Rs 3,10,000 crore
Third: Rs 1,50,000 crore
Fourth and fifth: Rs 48,100 crore

Earlier government measures including PM Garib Kalyan scheme: Rs 1,92,800 crore
RBI measures (actual): Rs 8,01,603 crore
Total: Rs 20,97,053 crore
Source: NDTV
Want To Attempt A Free Mock Test? Click Here & Register Yourself
This was all from us in this blog, Atmanirbhar Bharat Abhiyan Package free ebook. Download the free ebook here. Keep visiting this page to get more E-books on Static GK, Banking awareness, and Current Affairs for free.
Also, Check:
  Oliveboard Live Courses & Mock Test Series