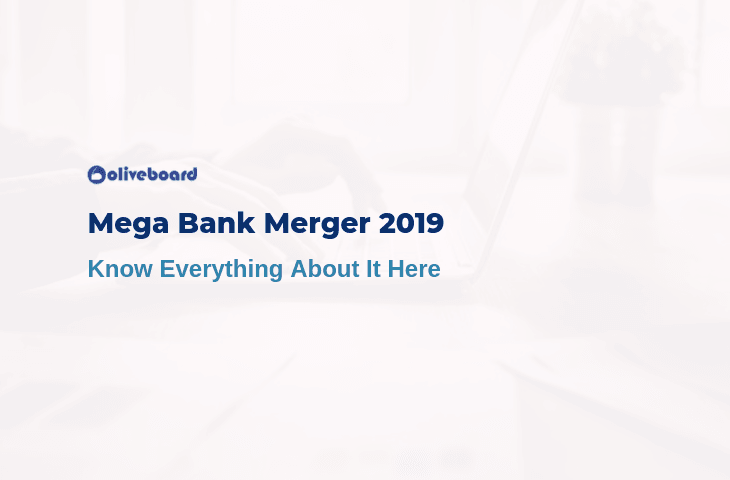 The recent decision of the Central Government regarding the merger of Public Sector Banks & Bank Merger List 2019 was a big news. This is an important development for the stressed and ailing Banking Sector of the country. Hence, it becomes even more important to study the ins and outs of the decision as this might be a topic that could be asked in the Descriptive section of the RBI Grade B and IBPS PO Mains Exams 2019. It will also give you information about the recent development in the Banking Sector which might again be asked in the Interviews of Banking Exams. So without further ado, let us learn about it in its entirety in this blog of "Mega Bank Merger List 2019". 
Mega Bank Merger 2019
Union Finance Minister Nirmala Sitharaman on 30th August 2019 announced the consolidation of state-owned banks (PSBs) in which 10 PSBs being merged to form 4 bigger lenders to strengthen the Banking sector struggling with a bad-loan. The move was aimed at clean up of the Bank Balance Sheets and creating lenders of global scale that can support the economy's surge to $5 trillion by 2024. 
"Having done two rounds of bank consolidation earlier, this is what we want to do for a robust banking system and a $5-trillion economy. We are trying to build next-generation banks, big banks with the capacity to enhance credit," FM Sitharaman said. The key factors for the mergers were: Technological platform, Customer reach, Cultural similarities, and Competitiveness, Finance Secretary Rajiv Kumar added.
Mega Bank Merger List 2019
In a merger, there is an anchor bank and an amalgamating bank or banks, where the latter gets merged with the former. 
Read the Bank Merger List 2019 below.
1. Punjab National Bank (PNB) will take over Oriental Bank of Commerce (OBC) and United Bank of India (UBI) to become the country's largest lender after State Bank of India (SBI) in terms of business.
2. Canara Bank will subsume Syndicate Bank;
3. Andhra Bank and Corporation Bank will merge with Union Bank of India; and 
4. Allahabad Bank will become part of Indian Bank.
Source – Economic Times
Reasons for Bank Merger
1. A key reason for the merger is the weight of mounting bad loans over the years.
2. Ostensibly aimed at improving operating efficiency, governance and accountability and facilitate effective monitoring.
3. Creating globally stronger banks, doing away with needless overlaps in operations and infrastructure, and ushering in economies of scale to bring down costs have always been at the heart of any consolidation drive.
4. The move was aimed at creating next-generation banks with a strong national presence and global outreach accompanied with enhanced capacity to increase credit to the various important sectors of the economy.
Challenges to be Faced in Way of Merger
Managing Cultural Differences,
Managing Manpower and
Branch Rationalisation
Technological Integration & 
Making Geographically Compatible Banks
Recapitalisation and Governance Reforms
1. The consolidation exercise will be accompanied by recapitalisation to the tune of Rs 55,000 crore (out of Rs 70,000 crore budgeted for 2019-20) capital infusion in public sector lenders as also governance reforms.
2. The biggest chunk of recapitalisation will go to PNB, at Rs 16,000 crore, followed by Union Bank at Rs 11,700 crore — the two anchor banks for merger. Bank of Baroda is set to get Rs 7,000 crore as capital and Canara Bank Rs 6,500 crore.
3. Punjab and Sind Bank will get Rs 7,050 crore; Central Bank of India will get Rs 3,300 crore; UCO Bank will get Rs 2,100 crore, and Bank of Baroda will get Rs 600 crore.
As part of the governance reforms, Sitharaman said non-official directors at state-run lenders will have to function like independent directors on company boards. Boards will be peer-reviewed. The number of executive directors has been raised to four and boards have been given the mandate to reduce and rationalise board committees. Public sector banks will also be able to appoint a chief risk offer at market rates.
The decision to merge banks is a good remedial measure, but continued focus on corporate governance and adherence would be of prime importance. 
How the Financials of Merged Bank Entities will change? 
Source – Economic Times & Hindu Business Line
1. Among the four mergers, the combined entity of Allahabad Bank and Indian Bank will have the lowest net NPA (non-performing assets), while boasting the highest provisioning coverage and strongest CASA (current account and savings account) franchise.
2. "Indian Bank's merger with Allahabad Bank will help it emerge as a strong entity with reach, improving provisioning coverage ratio (PCR) and strong CASA ratio," suggests Bumb. The merged entity also has the least branch overlap. However, this diversity in cultures may prove challenging during integration and may also lend no major cost benefits from the merger.
3. Further, Indian Bank will see deterioration in its asset quality owing to Allahabad Bank's unhealthy loan book.
4. Greater synergies are likely to accrue from the merger of Syndicate Bank with Canara Bank as both have similar cultures and geographical presence. The merged entity will become the fourth-largest lender in the country, with better provisioning and capital ratios post-merger.
5. The combined entity of Union Bank will see improved provisioning and capital ratio after merger with Andhra Bank and Corporation Bank. However, its asset quality position will take a hit, with the merged bank likely to report the highest gross NPA ratio among the four entities.
Source – Economic Times
Effect on Customers of Banks
Retail customers of the amalgamating banks are likely to get directly affected whereas customers of the anchor bank are not likely to face much change. However, shareholders of all banks involved in the mergers are bound to be impacted.
Effect on Manpower Hiring
Reduction in fresh recruitment will be a natural consequence of any merger as rationalisation of branches and staff will have to be worked out to optimise resources,'' a senior PNB official. It is likely to impact the overall job market scenario.
Core Banking Solutions of the Banks to be Merged
Source – Economic Times
This was all from us in this blog of Bank Merger List 2019. 
Also Read: RBI Grade B 2019 Preparation – Complete Phase 1 & Phase 2
Mission RBI Grade B 2019 – Enroll Now – Starts 30th Sep
If you are an aspirant and looking for the complete RBI Grade B Study Material for Phase 1 & Phase 2, here we are at your rescue. Join the Mission RBI Grade B 2019 Course and ace your RBI Grade B Exam 2019. Read what all the course offers you. 
Salient Features of the Course 
Mission

RBI Grade B 2019

is a 10-week course designed to help you clear the exam by ensuring comprehensive coverage of

Phase-1

GA and ESI, FM & Descriptive English for

Phase-2

.
The course is crafted in such a way that it will initially focus on Phase-1 by providing live classes and practice sessions for Reasoning, Quant and English. ESI & FM classes will continue side-by-side to ensure that your Phase-2 preparation is not neglected.
Since students tend to ignore

descriptive English

while preparing for Phase-2, therefore post Phase-1, there will be two sessions per week for descriptive English only.
Apart from this, it also includes

Mock tests for Phase-1 and Phase-2

.
Starting from September 30th, this course will help you clear the prestigious RBI Grade B Exam.
Read the Course Features: What all you get once you enrol for the course
| | | |
| --- | --- | --- |
|   | Phase 1 | Phase 2 |
| 1.         | 100 Video Lessons for GA, Reasoning, Quant and English | 11 Live Classes for ESI and F&M |
| 2.         | MCQ sessions for Current affairs of last 6 months | 8 Live Practice Sessions |
| 3.         | 10 Full-Length Mock Tests | 50+ Video Lectures for ESI and F&M |
| 4.         | Special Live Classes on Exam Pattern & Strategy for Quant, Reasoning and English. | Special Live Classes on Exam Pattern & Strategy |
| 5.         | Live Practice Sessions for Quant, Reasoning, English and GA. | Complete Notes for ESI and F&M |
| 6.         | | 25 full-length Mock Tests |
| 7.         | | 6 special classes for descriptive English |
Enroll for RBI Grade B 2019 Course Here
  Oliveboard Live Courses & Mock Test Series