Current Affairs being the part of the General Awareness section is asked in every government exam and is also important from the final interview. The General Awareness section can be the easiest section in all Government, Banking, SSC, Railways exams when followed regularly. Download weekly current affairs one liners PDF OR take online daily current affairs quiz and keep yourself updated with the latest events. You can also take online quiz on daily current affairs today on Oliveboard App and Website. In this blog, we cover weekly current affairs in form of a PDF and is very important for the upcoming Bank & Government Exams like NABARD, RBI Grade B, IBPS PO & Clerk, SBI PO & Clerk, IDBI Assistant Manager, CWC, FCI, SSC CGL, LIC AAO, LIC ADO & various other exams.
Aspirants preparing for different government exams can download weekly current affairs PDF here in this blog.
Weekly Current Affairs 19th – 25th July 2021 – Download PDF
Click on the link below to download the weekly current affairs PDF, 19th – 25th July 2021.
Scroll down for previous week current affairs.
Login or register here to download other 300+ free ebooks from your Oliveboard dashboard.
Sneak Peek Into The EBook
RBL Bank to issue Visa credit cards after RBI bans Mastercard
At $608.99 Billion, India Emerges As 5th Largest Forex Reserves Holder In The World
FDI limit in NPS fund managers hiked to 74%
UNESCO Strips Liverpool of Its World Heritage Status
Lewis Hamilton Wins British Grand Prix 2021
ICC welcomes Mongolia, Tajikistan and Switzerland as new members
AFC Women's Asian Cup 2022: Mumbai, Pune chosen as new venues, Bhubaneswar, Ahmedabad dropped
MoRTH's Secretary Aramane Giridhar gets additional charge as NHAI Chairman
Pedro Castillo declared president-elect of Peru
Shibaji Banerjee, who denied Pele a goal, to be conferred with Mohun Bagan Ratna posthumously
Odia poet Rajendra Kishore Panda bags Kuvempu Rashtriya Puraskar 2020
The Jawaharlal Nehru Centre For Advanced Scientific Research (JNCASR), Bengaluru hits Nature Index Top 50 for materials science
Fourth sero survey finds 67.6% have antibodies, 40 crore Indians still vulnerable
Central Board of Direct Taxes (CBDT) celebrate the 161st anniversary of Income Tax Day, July 24
US, Afghanistan, Pakistan and Uzbekistan to form new quad grouping
Astronomers Find One Group Of Appearing And Disappearing Stars
Indian Navy receives first two 24 MH-60R helicopters from US
Former RBI Governor, Duvvuri Subbarao Unveils Dr. C K Garyali's Book 'Bank With A Soul: Equitas'
Mukhtar Abbas Naqvi appointed deputy Leader of House in Rajya Sabha
Amazon rainforest now emitting more CO2 than it absorbs
Weekly Current Affairs – Previous Weeks' PDF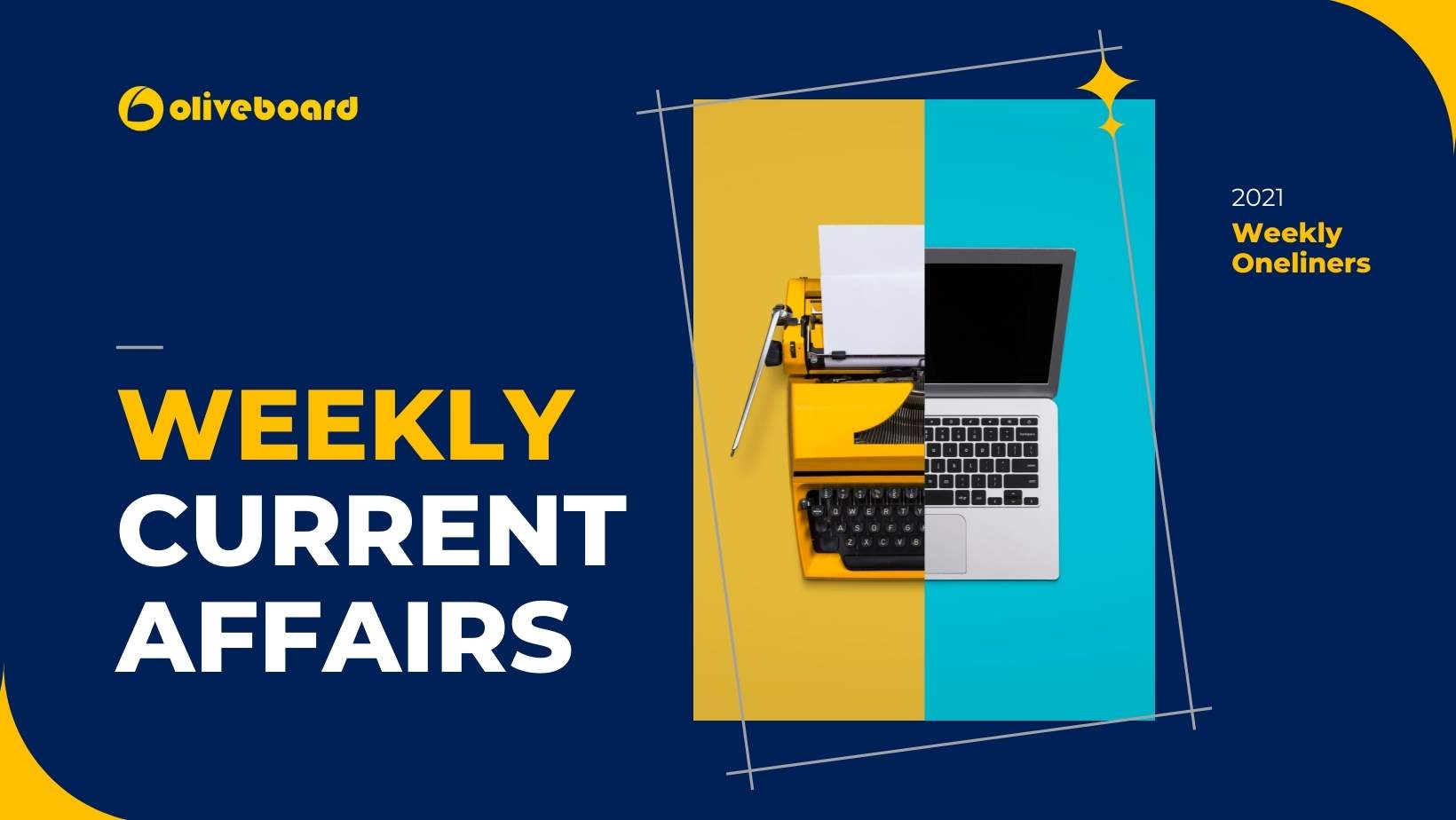 Use the links given below to download previous weekly current affairs questions PDF.
Importance of Current Affairs
Importance of current affairs is obvious for ardent aspirants of government exams. Current affairs questions feature in all government and banking exam but more than just those written exams, current affairs impacts the overall well-being of a government/PSU job aspirant. Let's take a look at the importance of current affairs in different types of government exams.
Knowing them is beneficial for the person reading it. Generally, if you miss an SBI recruitment notification and not apply for it, you are not getting that job.
Recruiting bodies seek for candidates aware of current affairs, be it banking or political awareness, aspirants aware of these events become the first choice.
Current affairs give you an exposure to the real world making your thoughts more practical and actionable.
But the importance of current affairs for specific exams is way more important. Here is how-
DOWNLOAD THE OLIVEBOARD APP FOR ON-THE-GO EXAM PREPARATION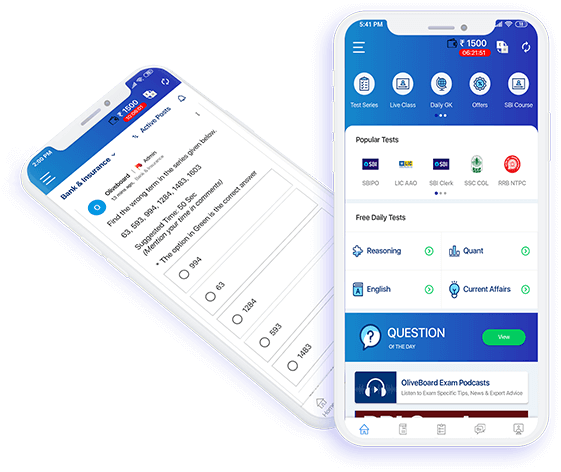 Video Lessons, Textual Lessons & Notes
Topic Tests covering all topics with detailed solutions
Sectional Tests for QA, DI, EL, LR
All India Mock Tests for performance analysis and all India percentile
General Knowledge (GK) Tests
Free videos, free mock tests and free GK tests to evaluate course content before signing up!

Weekly Current Affairs for Banking
Current affairs are both important and "difficult to tame" section of banking exams. Current affairs for Banking vividly deals with banking awareness and does follow a pattern. Regular reading of current affairs and a sound understanding of previous years banking awareness questions is always helpful. Here is why current affairs is important for banking exams:
Candidates need to get past a sectional cut-off in this section as well leaving them with no option but to study current affairs.
It is expected from a banking aspirant to be aware of economic and banking related events on a day-to-day basis.
Current affairs not only helps in mains examination but also helps in acing interview of banking exams.
The current affairs become even more relevant if the aspirant is willing to join India's Central bank RBI as an RBI Grade B Officer.
Current affairs fetch easy marks.
Download the Weekly Current Affairs PDF from Oliveboard website and stay on top of all banking awareness events each week.
Weekly Current Affairs for SSC
General Awareness of SSC can be tricky due to its vast syllabus and the uncertainty of the questions. Still, the current affair section feature up to 10
questions and can make a huge difference in your overall score. The current affairs PDF here is also important for SSC aspirants as to cover all major social, political, scientific, economical, sports, awards, and miscellaneous events in a single PDF. As current affairs questions are usually asked from events that happened 6 months before the exam, these PDFs will be handy during the last phase of your preparation.
So download the Weekly Current Affairs PDF from Oliveboard website and stay on top of all current affairs and related events regularly.
Weekly Current Affairs for Railways
Current affairs form a major part of the RRB NTPC exam. Whether we talk about (Computer Based Test) CBT-1 (1st round, screening) or CBT- 2 (2nd stage), to crack exam this exam, one needs to master the 'General Awareness' section. A very crucial part of this section is the current affairs section which according to the recent trends of the exams has become a major section of general awareness. These Current Affairs PDF by Oliveboard is a perfect mix of all important events happening of all fields and around the globe.
So, download our free Weekly Current Affairs PDF for all Govt Exams including railways. Just use the link given above and click on Weekly Current Affairs buttons to download or view the PDF.
Advantages of Current Affairs PDF
Weekly current affairs play an important role in preparation for GA section, which has a vast syllabus. Following good weekly PDF helps you in revising only important current events as these are hand-picked by former successful aspirants. As the time is less and candidates need to cover all the topics, these crisp weekly current affairs PDF help you prepare GA in a very less time as it contains a summary of all the important events as well.
Monthly Current Affairs PDF
In addition to weekly PDF, you can also download the monthly compilation of these one liners – Popularly Known as Oliveboard BOLT. These monthly current affairs PDF is available in both Hindi and English.
Ebooks
You can download 200+ ebooks important for SSC, Banking, Railway, Insurance, and other government exams here.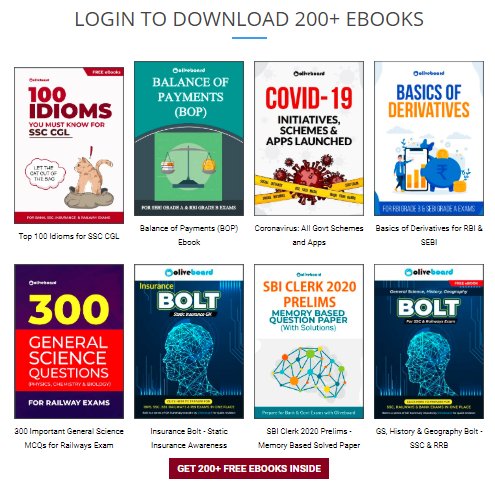 Oliveboard Bolt series E-books:
Free Static GK E-book – More Study Materials :
Weekly Current Affairs FAQs
How can I download Weekly Current Affairs PDF?
Register from the link here and download the weekly current affairs PDF.
Can I take online Weekly Current Affairs Quiz?
Yes you can take the weekly and daily current affairs quiz from your Oliveboard dashboard and your Oliveboard App.
What topics are included in the Weekly Current Affairs PDF?
Topics included are banking, finance, international news, internal affairs, defence, science and technology, sports, and more.
---
Recommended Free Downloads