Current Affairs being the part of the General Awareness section is asked in every government exam and is also important from the final interview. The General Awareness section can be the easiest section in all Government, Banking, SSC, Railways exams when followed regularly. Download weekly current affairs one liners PDF OR take online daily current affairs quiz and keep yourself updated with the latest events. You can also take online quiz on daily current affairs today on Oliveboard App and Website. In this blog, we cover weekly current affairs in form of a PDF and is very important for the upcoming Bank & Government Exams like NABARD, RBI Grade B, IBPS PO & Clerk, SBI PO & Clerk, IDBI Assistant Manager, CWC, FCI, SSC CGL, LIC AAO, LIC ADO & various other exams.
Aspirants preparing for different government exams can download weekly current affairs PDF here in this blog.
Weekly Current Affairs 04th Oct – 10th Oct 2021 — Download PDF
Click on the link below to download the weekly current affairs PDF or read it below.
Scroll down for previous week current affairs.
How to Download the Weekly Current Affairs PDF?
Click on the below-given download link. You will be taken to Oliveboard's FREE Ebooks Page. Alternately, you can download the Oliveboard Android App to access these on your smartphone.
Register/Login on to the Free E-Books Page of Oliveboard (It is 100% free, You just enter your valid email id and a password to be able to download the Monthly current affairs bolt).
Once logged in you'll see the message "Please click here to download the Free Ebook". Click on the message to download that particular ebook.
You can also list of week-wise Weekly Current Affairs PDF.
Login or register here to download other 300+ free ebooks from your Oliveboard dashboard.
Sneak Peek Into The EBook
Weekly Current Affairs 4th Oct – 10th Oct 2021
Rajneesh Sharma,ex-CGM BoB, appointed administrator of Srei firms; RBI to initiate insolvency proceedings
Reserve Bank of India grants licence to NARCL under Sarfaesi Act
What is Section 3 of the SARFAESI Act?
Kotak Mahindra Bank becomes 1st scheduled private sector bank to collect direct, indirect taxes
BSE Tech gets RBI in-principal nod to set up, operate Trade Receivables Discounting System
BharatPe Forays into Buy Now Pay Later (BNPL) Segment With Launch Of Postpe
Launch of I-Sprint'21: IFSCA's Global FinTech Hackathon Series 'Sprint01: BankTech'
IMPS daily transaction limit increased to '5 lakh from '2 lakh
RBI Retains FY22 GDP Growth Projection At 9.5%; CPI Pegged At 5.3%
Indian Banks' Association moves RBI seeking licence to set up Rs 6,000-cr bad bank
WTO estimates global merchandise trade volume growth at 10.8% in 2021
Fino Payments Bank gets SEBI nod to float Initial Public Offering (IPO)
Tata sons' SPV ' Talace Pvt Ltd – Wins Bid for Air India
Skill India organizes National Apprenticeship Mela to support the hiring of one lakh apprentices
World's largest Khadi National Flag unveiled in Leh
Centre organises 'Buddhist Circuit Train FAM Tour and Conference' to promote religious tourism
Union Minister Shri Giriraj Singh launches People's Plan Campaign 2021 and Vibrant Gram Sabha Dashboard
Expert group responsible for determining minimum wages reconstituted
World Bank retains India's GDP forecast at 8.3% for current fiscal
Weekly Current Affairs 27th Sep – 3rd Oct 2021
HDFC Bank partners with Paytm to launch co-branded credit cards
Exports of software services up 2.1% to $148.3 billion in 2020-21: RBI survey
Piyush Goyal launches National Single Window System for investors, businesses
World's highest electric vehicle charging station at 500 ft inaugurated in Himachal Pradesh.
Justin Trudeau's Liberal Party narrowly wins Canada elections but falls short of majority
China declares transactions involving cryptocurrencies illegal
Odisha to host the prestigious FIH Hockey Men's Junior World Cup 2021 in Bhubaneswar
India Post Payments Bank ties up with Tata AIG and Bajaj Allianz for Non-Life Insurance Products
Govt to train 50,000 youths in 3 years under Rail Kaushal Vikas Yojana
Centre approves Rs 1 lakh crore oil & gas projects for North Eastern Region
Raninder Singh re-elected National Rifle Association of India chief
RBI issues master circular on transfer of NPAs, securitisation of standard assets
Amit Shah addresses first National Cooperative Conference
6th edition of SCO Exercise Peaceful Mission 2021 commences in Russia
Defence ministry places order for 118 Arjun Mk-1A tanks worth '7,523 crore
The Long Game: How the Chinese Negotiate with India by Vijay Gokhale
Former England Footballer Jimmy Greaves Dies Aged 81
Pankaj Advani wins his 24th world title in Doha
Bangladesh govt to export 2080 MT Hilsa fish to India
Weekly Current Affairs – Previous Weeks' PDF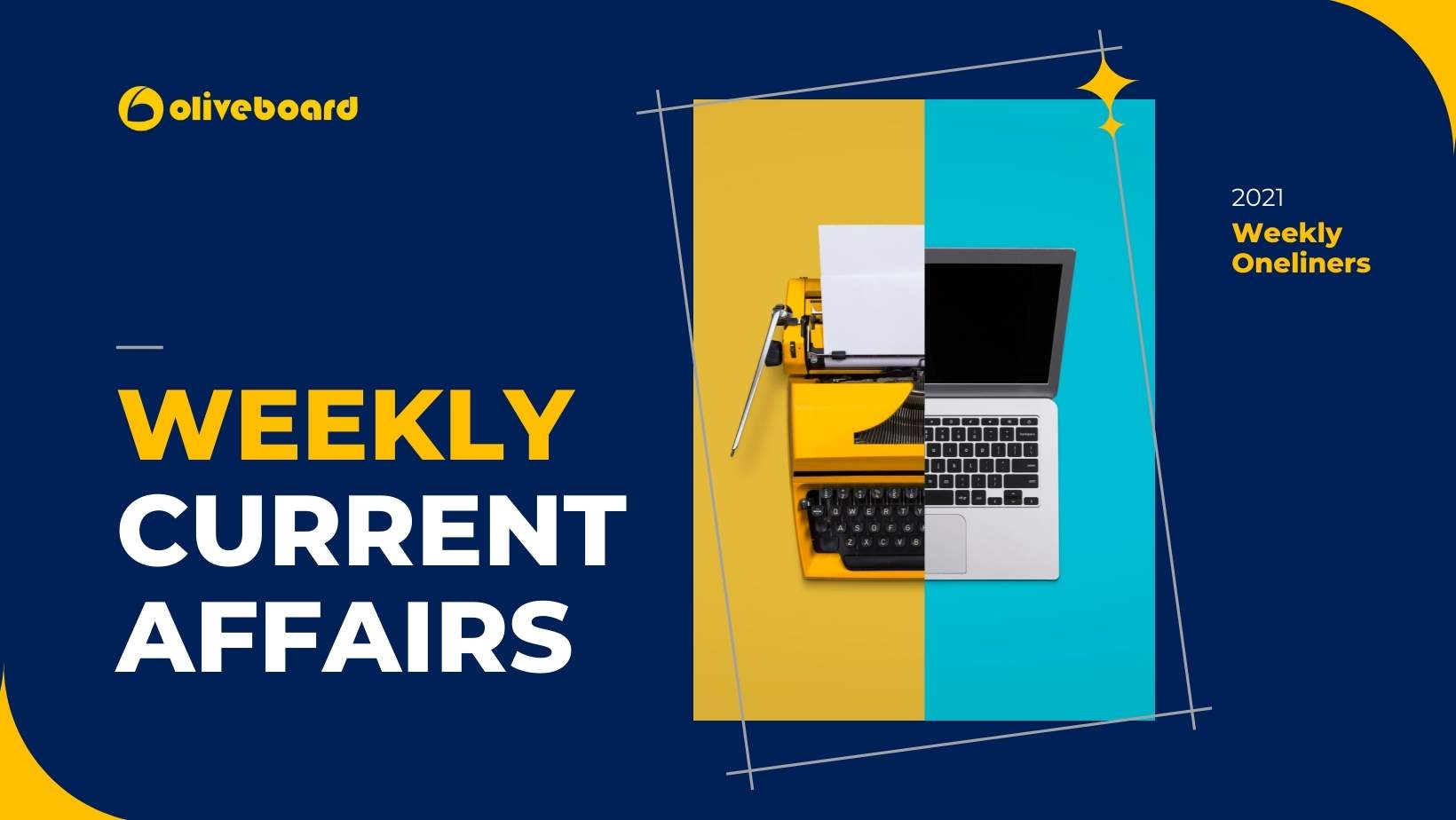 Use the links given below to download previous weekly current affairs questions PDF
Importance of Current Affairs
Importance of current affairs is obvious for ardent aspirants of government exams. Current affairs questions feature in all government and banking exam but more than just those written exams, current affairs impacts the overall well-being of a government/PSU job aspirant. Let's take a look at the importance of current affairs in different types of government exams.
Knowing them is beneficial for the person reading it. Generally, if you miss an SBI recruitment notification and not apply for it, you are not getting that job.
Recruiting bodies seek for candidates aware of current affairs, be it banking or political awareness, aspirants aware of these events become the first choice.
Current affairs give you an exposure to the real world making your thoughts more practical and actionable.
But the importance of current affairs for specific exams is way more important. Here is how-
DOWNLOAD THE OLIVEBOARD APP FOR ON-THE-GO EXAM PREPARATION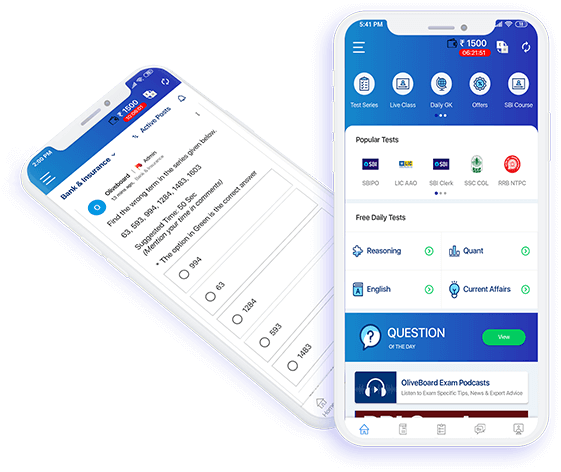 Video Lessons, Textual Lessons & Notes
Topic Tests covering all topics with detailed solutions
Sectional Tests for QA, DI, EL, LR
All India Mock Tests for performance analysis and all India percentile
General Knowledge (GK) Tests
Free videos, free mock tests and free GK tests to evaluate course content before signing up!

Weekly Current Affairs for Banking
Current affairs are both important and "difficult to tame" section of banking exams. Current affairs for Banking vividly deals with banking awareness and does follow a pattern. Regular reading of current affairs and a sound understanding of previous years banking awareness questions is always helpful. Here is why current affairs is important for banking exams:
Candidates need to get past a sectional cut-off in this section as well leaving them with no option but to study current affairs.
It is expected from a banking aspirant to be aware of economic and banking related events on a day-to-day basis.
Current affairs not only helps in mains examination but also helps in acing interview of banking exams.
The current affairs become even more relevant if the aspirant is willing to join India's Central bank RBI as an RBI Grade B Officer.
Current affairs fetch easy marks.
Download the Weekly Current Affairs PDF from Oliveboard website and stay on top of all banking awareness events each week.
Weekly Current Affairs for SSC
General Awareness of SSC can be tricky due to its vast syllabus and the uncertainty of the questions. Still, the current affair section feature up to 10
questions and can make a huge difference in your overall score. The current affairs PDF here is also important for SSC aspirants as to cover all major social, political, scientific, economical, sports, awards, and miscellaneous events in a single PDF. As current affairs questions are usually asked from events that happened 6 months before the exam, these PDFs will be handy during the last phase of your preparation.
So download the Weekly Current Affairs PDF from Oliveboard website and stay on top of all current affairs and related events regularly.
Weekly Current Affairs for Railways
Current affairs form a major part of the RRB NTPC exam. Whether we talk about (Computer Based Test) CBT-1 (1st round, screening) or CBT- 2 (2nd stage), to crack exam this exam, one needs to master the 'General Awareness' section. A very crucial part of this section is the current affairs section which according to the recent trends of the exams has become a major section of general awareness. These Current Affairs PDF by Oliveboard is a perfect mix of all important events happening of all fields and around the globe.
So, download our free Weekly Current Affairs PDF for all Govt Exams including railways. Just use the link given above and click on Weekly Current Affairs buttons to download or view the PDF.
Advantages of Current Affairs PDF
Weekly current affairs play an important role in preparation for GA section, which has a vast syllabus. Following good weekly PDF helps you in revising only important current events as these are hand-picked by former successful aspirants. As the time is less and candidates need to cover all the topics, these crisp weekly current affairs PDF help you prepare GA in a very less time as it contains a summary of all the important events as well.
Monthly Current Affairs PDF
In addition to weekly PDF, you can also download the monthly compilation of these one liners – Popularly Known as Oliveboard BOLT. These monthly current affairs PDF is available in both Hindi and English.
Ebooks
You can download 200+ ebooks important for SSC, Banking, Railway, Insurance, and other government exams here.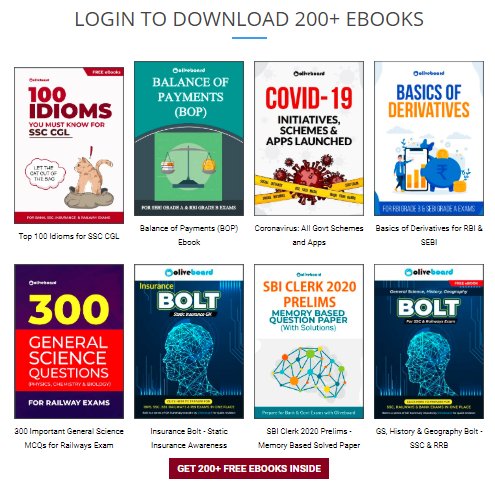 Oliveboard Bolt series E-books:
Free Static GK E-book – More Study Materials :
Weekly Current Affairs FAQs
How can I download Weekly Current Affairs PDF?
Register from the link here and download the weekly current affairs PDF.
Can I take online Weekly Current Affairs Quiz?
Yes you can take the weekly and daily current affairs quiz from your Oliveboard dashboard and your Oliveboard App.
What topics are included in the Weekly Current Affairs PDF?
Topics included are banking, finance, international news, internal affairs, defence, science and technology, sports, and more.
---
Recommended Free Downloads