The BPSC Combined Civil Services is divided into Preliminary and Mains Examinations. Post qualification in these two, the candidate stands chance to appear in the interview. Only on successful clearance of the interview round, will the candidate be considered eligible for the post. The BPSC AAO (Bihar Public Service Commission Assistant Audit Officer) is the post in the accounts and finance field of public administration services. Candidates must know the syllabus to prepare properly for the exam. Know more about the BPSC AAO Syllabus to kick-start your preparations.
BPSC AAO Syllabus For Prelims Exam
The BPSC Prelims Exam is conducted as an entry-level exam for recruitment in the BPSC Administration Selection Process. This will be a written exam which is an objective-type paper to be completed within 2 hours of total duration and carry a maximum of 150 marks.
The Subjects covered in the Exam are shown in below table:
| | | |
| --- | --- | --- |
| Subject | No. of Questions | Maximum Marks |
| General Studies | 50 | 50 |
| Mathematics | 50 | 50 |
| Mental Ability | 50 | 50 |
| Total | | 150 |
The BPSC AAO Syllabus contains the following subtopics mentioned here paper-wise.
A] General Studies
General Studies tests knowledge about all fields in general without much relevance of details and in-depth study. The following topics are tested over the disciplines mentioned along with.
Current Affairs of National and International relevance: All major events took place nationally and internationally that have affected the social, economic, political, or environmental aspects in general.
General Science: Includes study of the basic aspects of science covering Physics, Chemistry, and Biology. These are general observation studies that a well-educated person is expected to be aware of.
Indian and Bihar State History: Broad aspects of the Bihar History.
Indian Polity: Knowledge of the Nation's political system, the community planning and development in India and Bihar, and the Panchayati Raj system.
The Economy of India and Bihar and major changes post-independence: The economic aspects related to growth development, finance, money, banking, laws, and markets in India and Bihar are tested.
The Freedom struggle of India and the role of Bihar in it: The Indian National movement, Independence struggle, etc. are covered.
Geography of India and Bihar State, its Divisions, inclusive of Important Rivers: Questions covering agriculture, resources, physical, social and economic divisions of India and Bihar.
B] Mathematics
Sequence and Series
Relations and Functions
Simple and Complex Numbers
Logarithms
Differentiation
Quadratic Equations
Statistics
Three-dimensional Geometry
Matrices
Determinants
Integrals – Definite and Indefinite and Binomial Theory
Trigonometry
Sets and Set Theory
Limits and Continuity
Permutation and Combination
Exponential series and Logarithmic series
Derivatives
Probability
Straight Lines and Circles
Cartesian System and rectangular co-ordinates
Vectors and Conic Sections
C] Mental Ability
This paper tests on general mental ability and logical reasoning questions covering, human body, mathematics, statistics, time and sequence, directions, Venn diagrams, Arrangements, Blood Relations and ancestral study, Figurative classification, analogies, number series, non-verbal series, mathematical operations, coding, and decoding, etc.
DOWNLOAD THE OLIVEBOARD APP FOR ON-THE-GO EXAM PREPARATION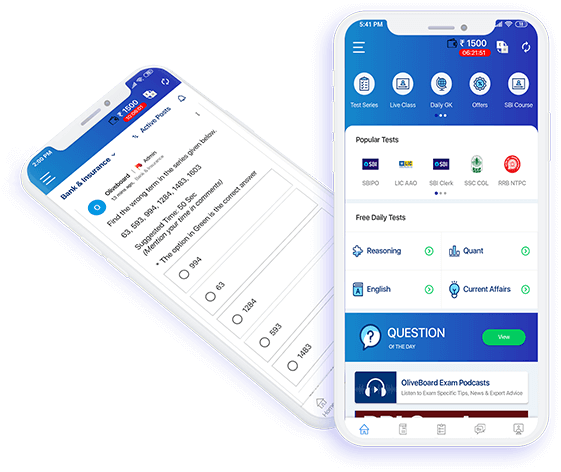 Video Lessons, Textual Lessons & Notes
Topic Tests covering all topics with detailed solutions
Sectional Tests for QA, DI, EL, LR
All India Mock Tests for performance analysis and all India percentile
General Knowledge (GK) Tests
Free videos, free mock tests, and free GK tests to evaluate course content before signing up!
BPSC AAO Syllabus For Mains Exam
After the declaration of results and merit list for the BPSC Prelim Exams, the BPSC Mains Exam is conducted. Here, the candidate is tested over three compulsory subjects and one optional subject. Each paper is allotted duration of 3 hours. This Exam consist of a maximum of 1000 marks distributed as below:
| | | |
| --- | --- | --- |
| Subject | Maximum Marks | Duration (Hours) |
| General Hindi | 100 | 3 |
| General Studies (Paper 1) | 300 | 3 |
| General Studies (Paper 2) | 300 | 3 |
| Optional Paper | 300 | 3 |
General Hindi
General Hindi is a Compulsory Subject for the BPSC Mains Exams. All the grammar aspects of the Hindi language will be tested here covering the formation of sentences, interpretation, essay-writing, etc. The distribution of marks will be as below:
Grammar – 30 Marks
Essay Writing – 30 Marks
Sentence Formation/ Syntax – 25 Marks
Conclusion/ Summary Writing – 15 Marks
General Studies – Paper 1
Modern History of India and Indian Culture
Modern History of India and Bihar from the nineteenth century
Freedom Struggle
Topics like, Santhal Uprising 1857, Birsa Movement, Quit India Movement, 1942, Champaran Satyagraha
Art and culture, including Mauryan Art, Pal Art, Patna Qulam Painting
Current Events of International and National Relevance
Expansion of Western and Technical education
Statistical Analysis and Study of Graphs and Diagrams
Conclusions from Statistical Diagrams and Charts
Interpretation of Statistical data in terms of deficiencies, limitations, and inconsistencies.
General Studies – Paper 2
Indian Polity
Political System of India
Political System in Bihar
Economy and Geography of India
Planning and development questions over social, economic, geographic, and physical aspects of India and Bihar
Relevance of Science and Technology in Indian Development
Applied aspects of Science and Technology in India and Bihar.
Optional Paper
Among the total of 34 optional subjects provided for the BPSC Mains Exam, applications for the post of BPSC AAO are allowed to select out of 4 optional subjects. The syllabus and details of them are given below:
1. Commerce and Accountancy
Accounting and Finance
Part 1: Accounting, Auditing, and Taxation
Accounting as financial information
Methods of accounting
Current Purchasing Power accounting
Advance company problems like amalgamation, reconstruction, holding, and subsidiary companies accounting – Shares and Goodwill Valuation.
Controllership Functions – Property control and Legal Management.
Income Tax provisions
Income Tax Authorities
Cost Accounting
Marginal and Standard Costing
Variance Analysis
Budgetary Controls
Responsibility Accounting
Cost Control and Cost Reduction
Pricing Decisions
Inventory Valuation
Reconciliation of Financial and Cost Accounts
Significance of Audit and Attest Functions
Audit of Financial Statements
Valuation and Verification of assets and liabilities
Audit of banking and insurance companies
Duties and Liabilities of Auditor
Audit Report
Part 2: Business Finance and Financial Institutions
Financial Management
Cash flow and Fund Flow
Accounting Ratios
Capital Structure and Cost of Capital
Sources of Finance
Working Capital
Credit Management and Credit Policy
Tax concerning Financial Management
Indian Money Market
Indian Banking System
Functions and Working of All India Financial Institutions
Negotiable Instruments Act, 1881
Organization Theory and Industrial Relations
Part 1: Organization Theory
Concept of Organization
Single and Multiple Goals
Formal and Informal Organization
Evaluation of Organization Theory
Organizational Behavior
Theory and Styles and limitations
Part 2: Industrial Relations
Nature and Scope of Industrial Relations
Labor in India
Trade Union movement
Prevention and settlements of industrial disputes in India
Wage Policy
2. Economics
National Income
Market Forms
Consumer Behavior
Investment Decisions
Banking
Taxation System
International Trade
Agriculture Production
Industrial Production and Policies
Budgetary and Fiscal Policy
Indian Trade
Balance of Payments and Foreign Trade
Monetary Policies
Economic Growth and Development
Land Reforms
3. Mathematics
Linear Algebra
Vector analysis
Tensor Analysis
Statics
Dynamics
Hydrostatics
Probability and Statistical Methods
Interpolation and Numerical Differentiation
Integration functions
Equation of Continuity
Mathematical Programing
Deterministic Replacement Models
Theory of Queues
4. Statistics
Probability
Variance
Simple and Composite Hypothesis
Linear Inference and Multivariate Analysis
Sampling theory
Engineering Statistics
Linear Programming Problems
Queues
Quantitative Economics
Demography and Psychometry
We hope that you have understood the BPSC AAO Syllabus details. Make sure to read newspapers, magazines, etc for knowledge on current affairs and events so that you stay updated with the latest information. Plan your study schedule so that you can cover the complete syllabus.
FAQs
What is the BPSC AAO Syllabus for the prelims exams?
The BPSC AAO Syllabus for prelims exam includes General Studies, Maths, and Mental Ability.
What is the BPSC AAO Syllabus for the mains exams?
The BPSC AAO Syllabus for mains exam includes General Hindi, General Studies Paper I & II, Optional Paper – (Economics/ Mathematics/ Commerce/ Statistics)

Oliveboard is a learning & practice platform for premier entrance exams. We have helped over 1 crore users since 2012 with their Bank, SSC, Railways, Insurance, Teaching and other competitive Exams preparation.