Static GK is an important segment in the general awareness section of various Rajasthan government exams. Awareness about the culture of Rajasthan will not only help you in answering the general awareness questions but also expand your knowledge about the state. This can also be beneficial in group discussions and interviews. Being home to the fierce Rajput kingdoms, Rajasthan has one of the oldest and longest dynasties of India -The Mewar dynasty. With its 5000-year-old history and rich culture, it can get very difficult to get a complete picture of all the traditions and cultural practices of Rajasthan. To help you revise this topic quickly and thoroughly, we have compiled the important details of the ''Culture of Rajasthan'' in an E-book. In addition to this we have also covered one more topic of Culture of Rajasthan i.e राजस्थानी लोक-कथाओं से संबिधत Qs in PDF. Download the ebooks from the below download links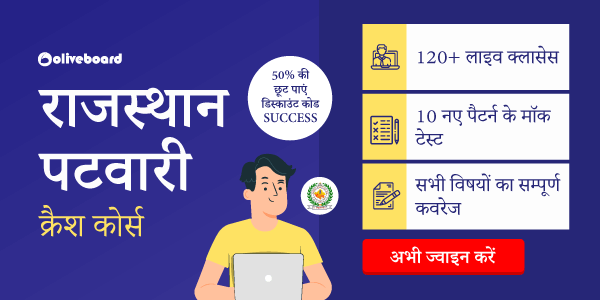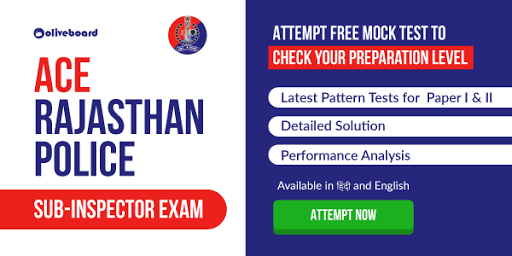 In this blog, we cover the culture of Rajasthan important for various state government exam in a pdf.
Use the link to download the free E-book from your Oliveboard dashboard.
राजस्थानी लोक-कथाओं से संबिधत Questions
Culture of Rajasthan Free PDF
How To Download The Free ebook?
Click on the given download link. You will be taken to Oliveboard's FREE Ebooks Page. Alternately, you can download the Oliveboard Android App to access these on your smartphone.
Register/Login on to the Free E-Books Page of Oliveboard (It is 100% free, You just enter your valid email id and a password.
After Login you will be redirected to the dashboard as shown below. Click on the free ebooks section at the left botton as shown below: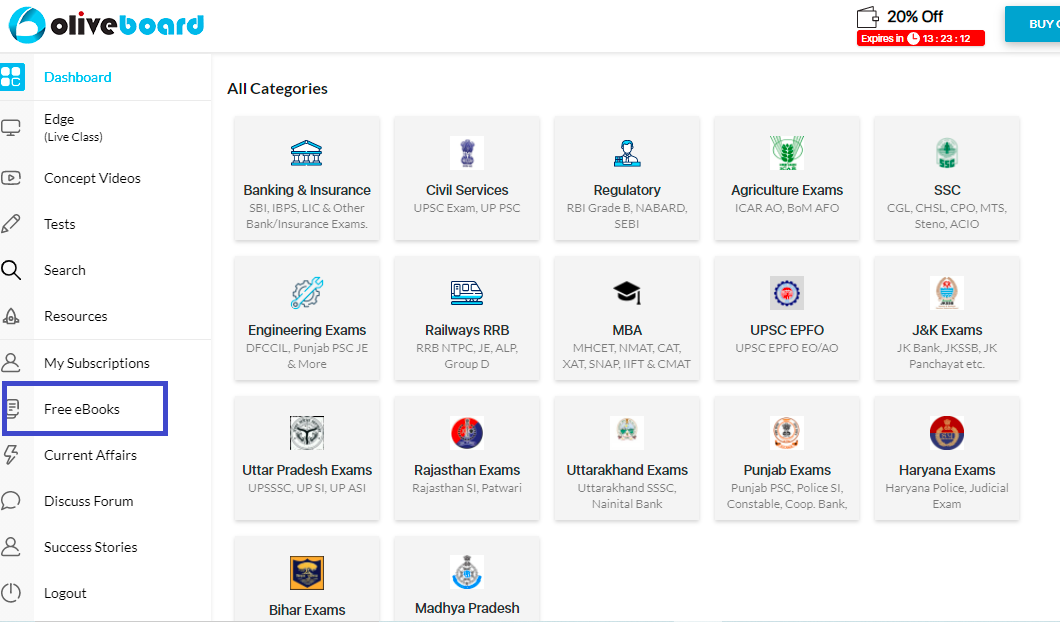 4. Now press Ctrl+F and type "Culture of Rajasthan".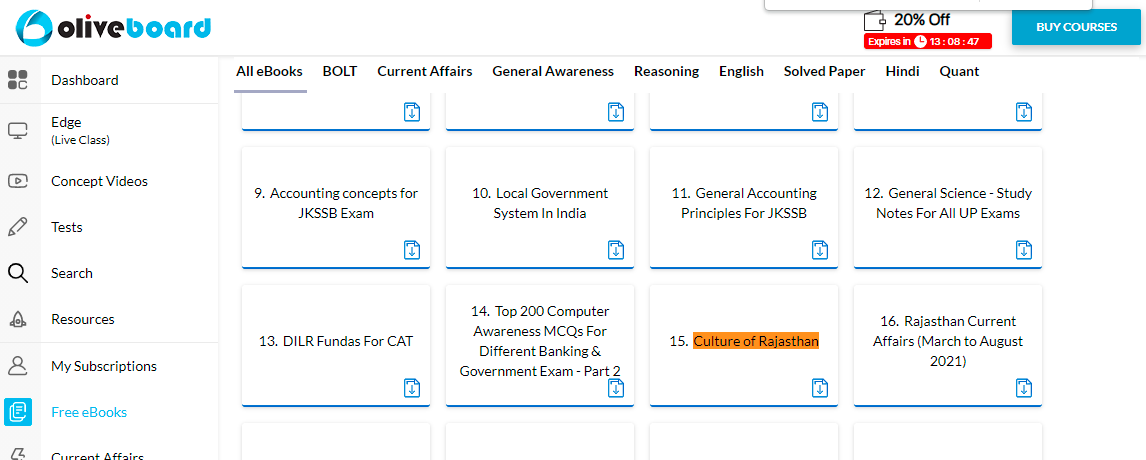 5. You will be able to download the ebook.
Sneak peek into the Free E-book
Culture of Rajasthan- An overview
Being a princely state, Rajasthan is known for its royal grandeur and royalties. It attracts tourists from all over the world with its beautiful traditions, festivals, folklore and handicrafts.
The fairs and festivals in Rajasthan are as follows :
| | | | |
| --- | --- | --- | --- |
| FAIR AND FESTIVAL | LOCATION | TIME | FEATURES |
| Baneshwar Fair | Dungarpur | January- February | Biggest tribal fair of India known as ''the Kumbha mela for the tribal'' .The tribal population consists mostly of Bhils from the districts of Dungarpur, Udaipur and Banswara |
| Camel Festival | Bikaner | January | 2-day festival organised by the Department of Tourism of Rajasthan dedicated to camels. Camel trading, camel races, cultural performances |
| Chandrabhaga Fair | Jhalawar | October- November | Devotees take a dip in the river Chandrabhaga which is considered holyA livestock and cattle fair |
| Desert Festival | Jaisalmer | February | Puppet shows, camel races and camel polo matches and competitions. Cultural events, folk music and dance |
| Dussehra | Kota | October | Burning of 75 feet tall effigies of demons |
| Elephant Festival | Jaipur | March | Elephant polo, elephant racing, and a game of tug-of-war between elephants |
| Gangaur Festival | Jaipur | March | Dedicated to Goddess Gauri, the festival is celebrated by the female folks |
| Gogaji Fair | Gogamedi, Churu | August – September | Celebrated mainly by the Dogra communityIt is dedicated in honour of Gogaji, a Rajput prince who could control snakes and reptiles |
| Kite Festival | Jaipur, Jodhpur | January | Celebrated on the occasion of Makar SankrantiOrganised by department of tourism |
| Kaila Devi Fair | Karauli | March – April | It is held in the honor of the deity Kaila Devi Ritual of 'Kanak-Dandoti' observed |
| Kali Teej Fair | Bundi | August | Procession of Goddess Teej Cultural activities |
| Kolayat Fair | Bikaner | November | Devotees take a holy dip in the Kolayat LakeAlso known as 'Kapil Muni Fair' |
| Mahavir Ji Fair | Karauli | March – April | Held in the honor of the 24th Jain tirthankara, Shri Mahavir Swami |
| Marwar Festival | Jodhpur | October | Most popular festival in Rajasthan. Music and dance of the Marwar region is the main theme of this festival. Camel tattoo show and other competitions |
| Mewar Festival | Udaipur | March | It is observed to welcome the arrival of Spring. Women carry images of Lord Shiva (Isar) and Goddess Parvati (Gangaur) in a procession and immerse them in the middle of Pichola Lake |
| Nagaur Festival | Nagaur | February | Known as Cattle Fair of Nagaur, it is the second largest cattle fair in the country. Mirchi Bazaar (largest red chili market of India) |
| Pushkar Fair | Pushkar, Ajmer | November | One of the world's largest camel fair. Several competitions and exhibition cricket match is held |
| Rajasthan International Folk Festival | Jodhpur | October | India's first annual folk festival which celebrates the traditional folk music and arts which sees performances by more than 250 musicians from all over the country and the world. |
| Abhaneri festival | Abhaneri, Dausa | September | Cultural activities, puppet shows and exhibitions |
| Ramdevra Fair | Ramdevra, Jaisalmer | August- September | Celebrated after Baba Ramdev Ji, a saint who took "Samadhi" in the year 1458 AD |
| Ranakpur festival | Ranakpur, Pali | December | Organised by Department of Tourism.Fun activities and cultural festivities. |
| Summer festival | Mount Abu | May | Sham-e-Qawwali features some of the best folk singers in the country.Various racing events and display of fireworks |
| Teej Festival | Jaipur | August | Refers to all the monsoon festivals in the state. Royal procession of Goddess Teej. Traditional sweet Ghewar is a highlight |
| Urs Fair | Ajmer | June | Commemorates the anniversary of the death of Sufi saint Moinuddin Chishti, the founder of Chishti Sufi order in the Indian Subcontinent |
Glance of the Free E-book pdf
Advantage of "Culture of Rajasthan" PDF
Rajasthan has a rich culture of festivals, fairs, music, dance and handicrafts that have developed to emulate the everyday joys and struggles of its people. Learning about such a vast and varied topic is difficult and time consuming. With a compilation such as this E-book, it is easy to have a quick overview of all the important cultural practices and traditions. This will help you revise the topic quickly and even help you with the last minute revisions.
Oliveboard Bolt series E-books: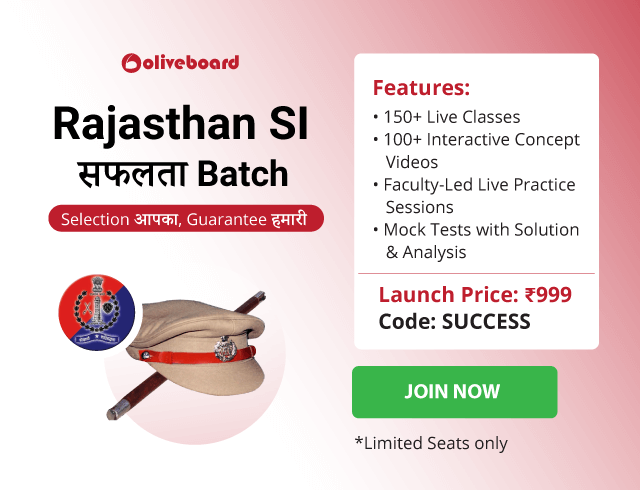 Culture of Rajasthan – FAQs
How can I download the Culture of Rajasthan PDF?
Register from the link here and download the Culture of Rajasthan PDF.
What topics are included in the Culture of Rajasthan PDF?
Topics included are Fairs and festivals, Traditional dance and music, Handicrafts and Paintings.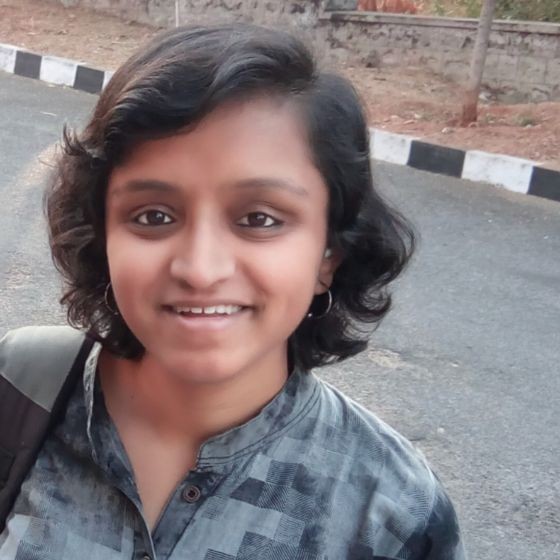 I have been creating exam related content for 3 years now. Having appeared for UPSC, SSC, Railway and Banking Exams myself, I understand and create relevant content, important from exams point of view. I am currently creating content for SSC, Railway, J&K and Law entrance exams. During my free time, I love bingewatching shows or read novels.
  Oliveboard Live Courses & Mock Test Series