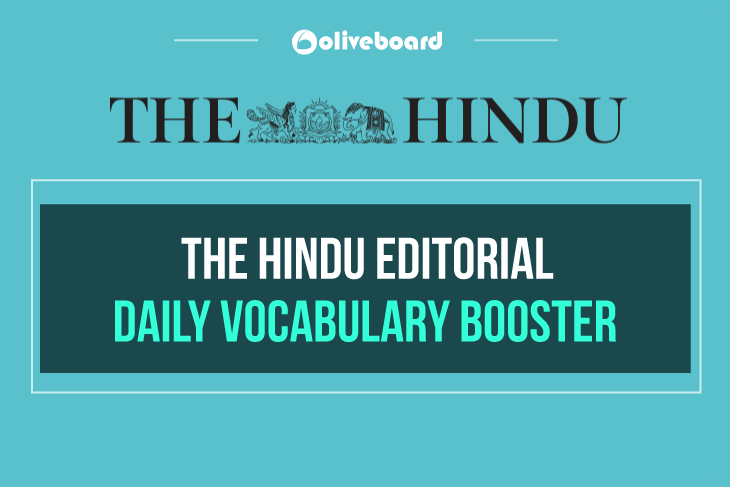 The Editorial section of the Hindu newspaper is treated as the Bible by the various exam aspirants be it Bank Exam aspirants, SSC aspirants or UPSC aspirants. Not only does it give the editor's views on the latest happenings in India and the world, but it also helps enhance English vocabulary for the ones who read it daily. In this blog of "The Hindu Editorial Daily Vocabulary 7 November 2019", we have come up with a list of difficult words, their meanings, synonyms, antonyms and the correct usage of the words taken from today's Hindu Editorial. Read along to understand it better. 
Check Out Oliveboard's Subscription Platform to Access Online Classes & Tests
The Hindu Editorial Daily Vocabulary 7 November 2019
Words
Meanings & Synonyms
Antonyms
Usage
Debilitating

Make someone very weak and infirm;

Weakening, Enfeebling, Enervating, Enervative, Devitalizing

Restorative

Chemotherapy exhausted and

debilitated

him.

Déjà vu

A feeling of having already experienced the present situation

 

I entered the room and immediately felt a sense of

déjà vu

.

Outrage

An extremely strong reaction of anger, shock, or indignation;

Indignation, Fury, Anger, Rage, Disapproval, Wrath, Shock

Delight, 

Pleasure

These murders have provoked

outrage

across the country.

Overhaul

To repair or improve something so that every part of it works as it should;

Fix, Improve, Modernize, Rebuild, Reconstruct

Break, 

Damage, 

Destroy, Hurt

 

The government has recently

overhauled

the healthcare system.

Resentment

Bitter indignation at having been treated unfairly;

Irritation, Pique, Displeasure

Contentment, Happiness

 

She bitterly

resented

her father's new wife.

Scapegoat

A person who is blamed for the wrongdoings, mistakes, or faults of others, especially for reasons of expediency;

Whipping boy, Victim, Aunt Sally, Fall guy, Patsy

Exonerate, Compliment, Praise, Commend, Laud, Pardon

 

The CEO was made the

scapegoat

for the company's failures.

Scuffle

Engage in a short, confused fight or struggle at close quarters;

Fight, Struggle, Tussle, Brawl, Fracas, Rumpus, Melee

Calm, Peace, Quiet, Tranquillity, Agreement, Harmony

 

Two police officers were injured in

scuffles

with demonstrators at Sunday's protest.

Siege

The surrounding of a place by an armed force to defeat those defending it;

 Attack, Bout, Case, Fit, Seizure

Peace, Accord, Armistice, Conciliation, Concord

 

The castle was under

siege

for months.

Spectacular

Beautiful in a dramatic and eye-catching way;

Striking, Picturesque, Eye-catching, Breath-taking, Arresting

Dull

He scored a

spectacular

goal in the second half.
We hope that you find the blog "Daily Vocabulary 7 November 2019" and its contents beneficial. Stay-tuned to Oliveboard for more such articles.
IBPS PO Mains Course 2019 – Live Classes || Starting 4 Nov 2019
This course is a sequel to the IBPS PO Prelims course. For the aspirants who have cleared the prelims examination and are preparing for the Mains Exam, this 4-week course will take care of your revision in all 4 sections: GA, English, Quant, and Reasoning. The classes will be of Mains level and will surely give you the edge. Descriptive English is included.
Subscribe to Edge & join the Course Here
Also, Check-Out -: