The Employees Provident Fund Organisation (EPFO) as announced 280 vacancies for the post of EPFO Assistant Section Officer (ASO) in the recently released 2019 recruitment notification. All the candidates who are interested in becoming an EPFO ASO should be aware about all the details of Employees Provident Fund Organization, its History, Vision, Objectives, Functions, Services, etc. In this blog, we are going to provide you all this information which will not only help the candidates who have applied or are interested in EPFO Assistant Exam, but also those who are not aware about EPFO.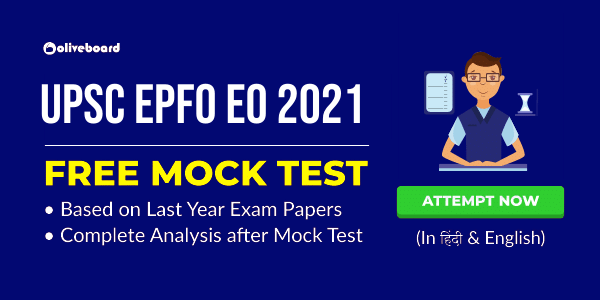 History of EPFO -: What, When and How?
EPFO was formed by the Employees' Provident Funds Ordinance on the 15th November, 1951. The Ordinance was replaced by the Employees' Provident Funds Act, 1952.
The Act was to provide the employees in factories and other establishments with the facility of Provident Funds for their post-retirement welfare and benefit. The Act is now referred as the Employees' Provident Funds & Miscellaneous Provisions Act, 1952 which extends to the whole of India except Jammu and Kashmir.
EPFO is one of the world's biggest Social Security Organizations. As per the 2015-16 annual report, It maintains 17.14 crore member accounts.
EPFO is a Statutory Body and is under the administrative control of the Central Government's Ministry of Labour and Employment.
The Employees' Provident Funds & Miscellaneous Provisions Act, 1952 and all the schemes under it are administered by the Central Board of Trustees – Employees' Provident Fund. It is a Tripartite board consisting of Central & State Government representatives, Employers and Employees.
 Attempt and Analyze a FREE Mock Test for 2019 EPFO Assistant Exam

Vision of EPFO
Employees' Provident Fund Organization has a vision to reposition itself as a world class Social Security Organization providing futuristic services meeting the growing requirements of all categories of its stakeholders. EPFO Vision 2030 envisages:
Universal Social Security Coverage on mandatory basis by way of Provident Fund, Pension and Life Insurance for all workers of the country

Online Services for all EPFO benefits with State-of-the-Art Technology

Implementation of policies for a benefit structure with adequate support level of social security
(Source -: https://www.epfindia.gov.in/site_en/)
Preparing for EPFO Assistant Exam? Attempt and Analyze a FREE Mock Test to know where you stand
Objectives of EPFO

EPFO functions to achieve the following Objectives -:
Give hassle free and stream-lined service with maximum output through all the EPFO offices

Provide safe, secure and user-friendly on-line services

Updating ember accounts in real-time on monthly basis

Provide simple and 24×7 Online access to member account

Ensure one Employee one EPF account

Reduce the time for settlement of claims from the present 20 days to 3 days

Facilitate the ease of compliance

Encourage and promote voluntary compliance

Keep up the vigil and ensure proper compliance by all establishments

Further improvise easy interaction with EPFO to obtain information or seek redressal
(source -: EPFO website)
Take a FREE Mock Test for EPFO Assistant Exam Now
Schemes and Services provided by EPFO
EPFO Schemes -:
Employees Provident Fund (EPF) Scheme 1952: Funds accumulated from monthly deductions from salary can be used by the members through partial withdrawals for education, marriage, illness and house construction. Full accumulated amount + Interest can be withdrawn by the member post-retirement or by their families in case of member's death.
Employees' Pension Scheme (EPS) 1995: Under this scheme a monthly benefit (Pension) for superannuation/retirement, disability, survivor, widow(er) and children is provided.
Employees Deposit Linked Scheme (EDLI) 1976: A Benefit amount of 20 times of Salary (Up to ₹6 Lakhs) is provided to the family of the deceased member.
Attempt and Analyze a FREE Mock Test for 2019 EPFO Assistant Exam
EPFO Services -:
UAN – Universal Account Number: It is a 12 digit unique number allocated to every member. Multiple member ID's of an employee through his/her career are clubbed under one UAN. This allows simple transfer of EPFO account on change of jobs.
UMANG APP: It is the Unified Mobile Application for New-age Governance (UMANG). EPF members can avail online services like digital EPF passbook, Updating of personal details, etc through the UMANG App.
Online Certificate of Coverage for International Workers: EPFO members working in countries having Social Security Agreements with India can avail this service.
Online Withdrawal and Transfer of EPF amount – With the help of UAN all the PF members can easily withdraw their EPFO amount online. Transfer of EPF amount from previous to current Member ID also can be done Online.
Apart from the above there are numerous other services provided by EPFO to its members. You can check them out on their Website – https://www.epfindia.gov.in/
Preparing for EPFO Assistant Exam? Attempt and Analyze a FREE Mock Test to know where you stand
That is all from us in this blog on History, Vision, Objectives, Schemes and Services of EPFO. We hope the information provided above is useful for your EPFO Assistant 2019 Exam preparation.
Keep checking this space for all the EPFO Assistant Section Officer Exam and other Government Exam updates, Study Materials and Mock Tests.
If you wish to get in touch with your fellow competitors for preparation of Bank & Govt. Exams, you can visit Oliveboard's discuss forum.
Want more? You can access Oliveboard's Mock Tests, study materials, Podcasts, Word lists, etc. from your phone. Download Oliveboard Mobile App and prepare on the go!