Employees' Provident Fund Organisation (EPFO) has recently announced 2189 vacancies for the post of EPFO Social Security Assistant (SSA). The online preliminary exam is scheduled to be held on 31st August and 1st September 2019 while the EPFO SSA Mains date has not been announced yet. As the vacancies are more, expect the competition to be tough and for that, you have to be thoroughly prepared. Preparation is always stressful if not proceeded in the right direction with the right approach. But right mentoring at the right time with the right resources always do wonders. Here we have shared EPFO SSA Preparation Tips and Strategy to take performance at the peak on the D-Day.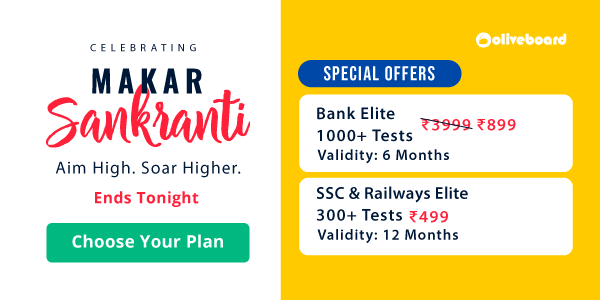 Attempt EPFO SSA Free Mock Test on Oliveboard
General EPFO SSA Preparation Tips & Strategy
Start Early – Do not procrastinate that you have a lot of time and will prepare later. Considering the level of competition, the earlier you start, the better it is for you. "Starting Earlier" not only means "Start Preparing Now" but it also denotes "Studying in Early Hours of the Day". It is scientifically proven that our mind is fresh and can grasp more things in the morning. Hence, wake up early to get maximum benefit.
Understand the Pattern & Syllabus – Go through the paper format and detailed syllabus to know the weightage of each section and the demand of exam.
Make a Timetable with an Achievable Goal – It is really important to organize your studies and proceed as per plan. Decide in advance what topics you'll be completing on a particular day and tick it once you are done.  But the target should be achievable. Don't jam-pack your schedule with so many topics that you end giving it up the next day. Based on your strong and weak areas, devise a strategy and proceed accordingly. Don't forget to practice questions of what you have prepared.
Attempt EPFO SSA Free Mock Test on Oliveboard
Apply Pomodoro Technique – When you sit to study, put a timer of 25 minutes. Study with full concentration for 25 minutes, then take a 5 minutes gap and do anything except studying. Listen to music, have a walk, or do some light exercise because you need to give some rest to your eyes and brain. After this, again study continuously for 25 minutes and repeat the same for 5 minutes. This technique is very effective to improve concentration and learning efficiency.
Practice Online – As the exam will be conducted in online mode, it is important to practice online as well. Remember that Preparation and Practice must go hand in hand. Once you have prepared a topic, go on practicing the Topic Test but in a time-bound manner. You can follow it up with EPFO SSA English Sectional Test to practice all the topics together.
Attempt EPFO SSA Free Mock Test on Oliveboard
EPFO SSA Quantitative Aptitude Tips & Strategy
Revise important formulae of all the topics esp. Profit/Loss, SI/CI, Mensuration, etc.
Attempt the Free Mock Test provided here, and thoroughly Analyse your performance.
Based on the analysis, work on your weak areas and fine-tune the topics you are good at.
Solving question is one thing but solving it before others is what you need to master. Watch here the Quicker Quants Sessions to learn the tricks to solve lengthy questions in a few seconds.
Also learn squares, cubes, square roots and cube roots from at least 1-30. This would save a lot of your time during the exam.
Data Interpretation is calculative but very scoring. Before practicing DI, be very thorough with various other concepts like that of Average, Percentage, Profit/Loss, SI/CI, etc. because it'll include questions from these areas. Watch "DO or DI" sessions to clear all your concepts.
Practice various types of DIs like Tabular, Bar Graph, Pie Chart, Caselet, Mixed DI, etc. Attempt Free Data Interpretation Test here of 3 different difficulty level.
Attempt EPFO SSA Free Mock Test on Oliveboard
EPFO SSA Reasoning Tips & Strategy
Reasoning is very dynamic in nature. With every new exam, the bar is getting higher and new patterns are getting introduced. Hence, you need to stay updated with the latest trends.
Puzzles and Seating arrangement is very scoring but time-consuming. Solve 2 Puzzles & Seating Arrangement daily of all types – linear, circular, facing inside/outside; floor, box, calendar/month-based puzzles, etc. to get command over it.
Solve easier topics first like direction sense, blood relation, inequalities, etc.
Clear all the concepts from Reasoning Puzzle Mania Book and watch Online Videos about New Pattern questions and the tricks to solve them.
Practice Topic Test once you have completed a certain topic and Take Sectional Test to practice the whole Reasoning Section.
Analyze your Test and check the solution part of questions that you left/skipped or attempted wrong.
Based on the analysis, then, devise a strategy of how you are going to attempt the section in the exam. Meanwhile, keep working on in improving the areas you are weak at and polishing what you already are good at!
Attempt EPFO SSA Free Mock Test on Oliveboard
EPFO SSA English Tips & Strategy
This is one such section which candidates fear the most. Although it is very scoring, we hardly pay proper attention to it. Here are a few tips for English to clear EPFO SSA Exam 2019.
Revise the Grammar rules. You can refer to High School's Wren and Martin for that.
Read as much as you can from a variety of sources to develop understanding and enhance vocabulary.
Summarize the important news articles in your own words. This not only will help you in General Awareness section but will also help you in Descriptive Writing practice & revise quickly from those Notes before the exam.
Practice at least 2 Reading Comprehension daily. For free RC Quiz, click here.
Note down new words along with its meaning if you come across any word that you are not aware of.
Cloze Test will check your knowledge of comprehension in terms of grammar, vocabulary and its usage. Make sure you practice quite a good number of it. For Free Cloze Test Series, Click here.
Learn at least 5 Idioms & Phrases on a daily basis and note it down – Download PDF of 100+ Verbal Phrases
Attempt EPFO SSA Free Mock Test on Oliveboard
EPFO SSA Mock Test Series
To take your preparation a step ahead from others, Oliveboard has come up EPFO SSA Mock Test Series that includes not just EPFO SSA Practice Tests, but also PDFs, 200+ concept videos, Topic tests, sectional tests, GK Tests and a lot more. After every test, Analyse your performance with Oliveboard's Analytics Feature to know your strong and weak areas. Take a Free Mock Test and decide yourself. Check out the details:
That's all from us in this blog. We hope these EPFO SSA Preparation Tips and strategies help you perform well in the exam. If you have any query, you can ask directly from our Expert Faculty in our Telegram Group.
Also Check Out -: