The Current Affairs & General Knowledge section of CLAT consists of questions that are focused on the candidate's understanding of current events, general knowledge, and examination of legal information provided in the passage.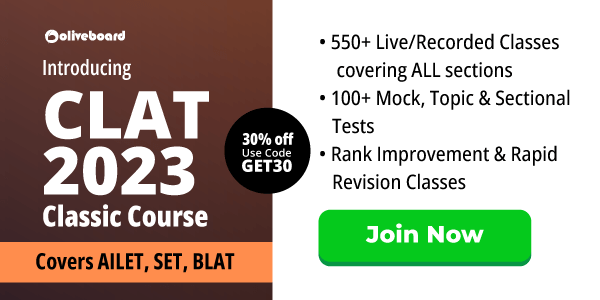 According to the latest syllabus listed on the Consortium website, the Current affairs & General Knowledge section of CLAT contains about 34-39 questions out of 150. This means that the section constitutes roughly 25% of the paper, which is significant. Hence, scoring at least 28+ in the Current affairs & General Knowledge section of CLAT is essential to reach a decent score and rank overall.
Now, the Current affairs & General Knowledge section of CLAT 2022 (UG), as per the prescribed syllabus, is dominant in terms of current affairs rather than static or legal GK. Let's take a deeper look!
Understanding CLAT
Common Law Admission Test, or CLAT, is a centralized national level entrance test for admissions to an integrated (5 years) undergraduate degree in Law (BA LLB, BBA LLB, BSc LLB, etc) in twenty-two National Law Universities (NLU) in India (except NLU Delhi which conducts a separate entrance, AILET). The test can be taken after the Higher Secondary Examination or the 12th grade and is conducted by the Consortium of NLUs nationally, every year.
Generally, the battle of CLAT is a 120-minute field wherein the candidate has to solve 150 questions spread across five areas – English Language, Current Affairs (including General Knowledge), Legal Reasoning, Logical Reasoning and Quantitative Techniques. Each question is a one-marker objective type. A negative marking of 0.25 mark per wrong answer has also been kept.
| | |
| --- | --- |
| Subject Areas | Approx. number of questions (Weightage) |
| English Language | 28-32 questions or roughly 20% of the paper |
| Current Affairs, including General Knowledge | 35-39 questions, or roughly 25% of the paper |
| Legal Reasoning | 35-39 questions, or roughly 25% of the paper |
| Logical Reasoning | 28-32 questions, or roughly 20% of the paper |
| Quantitative Technique | 13-17 questions, or roughly 10% of the paper |
General Knowledge for CLAT
As per the official syllabus listed on the Consortium website, the General Knowledge section of CLAT 2022 will include a series of passages of about 450 words each. The General Knowledge section of CLAT contains about 34-39 questions out of 150, or roughly 25% of the paper
Each passage will be followed by four or five questions that will require you to:
Recognize and deduce the rules and principles outlined in the passage.;
Use such rules and principles accordingly to various factual situations, and
Recognize how modifications to rules or principles can affect their application to different factual situations.
Latest trends and Sub-themes for the General Knowledge section of CLAT
As per the trends being followed in the CLAT examination since 2020, The Current affairs & General Knowledge section questions are designed to assess the depth of understanding of important themes and events, rather than superficial knowledge based on facts or trivia. The in-depth analysis of news or opinions is now playing a key role in acing the paper. There is a change in pattern from straightforward on-point questions to understanding the essence of a passage and indicating the reasons.
As per the Learning Tools and Materials listed on the Consortium Website, the following resources can be beneficial while building your approach to this section. The passages of this section are usually based on the latest current events or opinions and the focus is on more recent and current events. However, the questions may test you on historical information related to such events and their significance to better gauge your understanding of the causes of such current events.
Clearly, the goal isn't to see how well you can memorize the text and answer questions that test your recollection; instead, make sure you understand the passage's basic theme or point of concentration since this will help you recall any related information you've read or come across during your preparations. You will be expected to
understand and decode the information set out in the passage.
analyze the meaning of certain statements made in the passage, so as to relate to information associated with such statements.
For example, in a passage related to climate change you may be asked the difference between weather and climate. 
Thus, if we try to summarize the subtopics for the Current affairs & General Knowledge section of CLAT, they can be as follows: –
National and International Developments

Science and Technology
Convention and Summits
Awards and Honours
Environment and Sustainable development

Domestic and International Affairs
Sports
Books
Art and Culture
Significant historical event (on this day)
Preparation Strategy for the general knowledge Section of CLAT
The Current affairs & General Knowledge section is the quickest to solve and carries the most marks. It helps to make up for the fact that you don't have enough time to finish the rest of the paper. With correct preparation, aspirants should aim to score anywhere between 28-32 marks in the section to have a competitive edge.
Tips for prep
Choose a decent Newspaper: It's all about developing a habit, and the newspaper can be a very potent tool to cover most of the bases for this section. Typically, you may not be able to complete the whole newspaper; all you have to do is focus on a few specific pages such as Editorials, Sports, Economy & International news. (Tip: You can avoid local area news pages totally) These pages will help you stay updated with the current happenings in the country and worldwide. In this process, you will develop a habit of finding the additional information from the passage given. You can take the help of any of the following newspapers to prepare for this section :
· The Hindu
· The Indian Express
· The Times of India
Make timely notes: It is critical to take short notes on current events and general knowledge section of CLAT when preparing so that you can refer to them during the revision process. Making your own notes can also help you learn more quickly and generate self-confidence, which will help you perform well in the exam. (Tip: Try to keep notes concise, making bullet points can be more helpful).
Pick the right study materials: It is critical to select the ideal study material for smooth preparation. There is a whole slew of study material both online and offline. On the other hand, choosing the best and most accurate can assist you in better preparation. As a result, select study material most appropriate for your level of knowledge and follow the current exam pattern. The following are some important books that students can refer to:

Pearson General Knowledge Manual
Lucent's General Knowledge
Manorama Year Book
India Year Book
Pratiyogita Darpan
In terms of online resources you can refer to sites like Gktoday.in, mrunal.org and official PTI website etc.
Solve previous year papers and take mock tests: The analysis of previous year question papers will give you an idea about the latest trends. Likewise, taking mock tests will not only help you comprehend the types of questions that will be asked on the exam and improve your precision, but it will also enhance your confidence in your ability to ace the exam. You can practice with the help of a mock exam series, either online or offline. The more questions you come across the easier it gets to prepare for the general knowledge section of CLAT.
Get into the habit of knowing the Why's: Remember, the latest pattern also tests your ability to know the causes or effects of a particular event. So, it would help if you made an effort to understand the world's affairs. It will make the topic easy to remember.
Revision: Current Affairs and GK cover such a broad range of topics that you're likely to forget everything even if you read everything but revise nothing. As a result, in this section, you must revise what you've read on a regular basis. Take some interest in what you're reading and discuss with other aspirants about latest current events. You can also make it a habit to study in small groups and share notes. This not only leads to incremental growth of knowledge but an easy way to cover the topics for the general knowledge section of CLAT.
Tips for D-day
Have a quick overview: On exam day, just relax and go through the notes you have prepared during your preparation.
Focus on the keywords: Use your memory and focus on the keywords for eg. Indian missiles are majorly named after core elements of nature such as Prithvi or Agni. This section is fairly on point, so the keywords can help you in eliminating other options.
Give it a cursory look at the last minute: Go through the section in the beginning once and mark all the answers that you know. Also, give it another try at the end for 5 minutes to see if something strikes your mind afterwards.
For more help with your CLAT preparation, tune in to Oliveboard. For tips and tricks on preparing for other law entrances, check this. Ciao! 

Oliveboard is a learning & practice platform for premier entrance exams. We have helped over 1 crore users since 2012 with their Bank, SSC, Railways, Insurance, Teaching and other competitive Exams preparation.
Oliveboard Law Exams – Live Courses & Mock Test Series