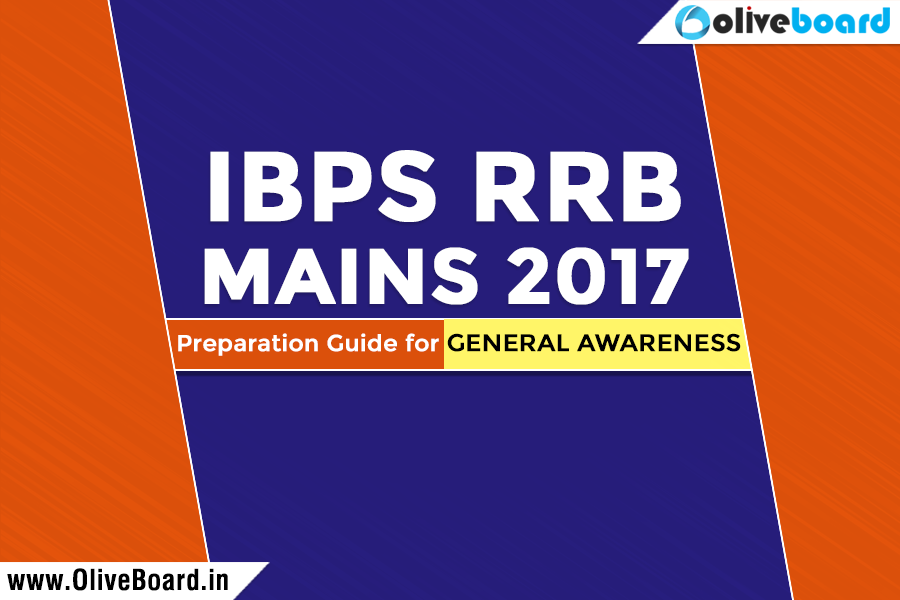 The Institute of Banking Personnel Selection (IBPS) conducts the IBPS RRB Officer and IBPS RRB Assistant Exams to recruit Officers and Office Assistants in Regional Rural Banks (RRBs) respectively. The IBPS RRB 2017 Mains exam are approaching; RRB Officer Mains is scheduled on 5th Nov and RRB Assistant Mains is on 12th Nov. General Awareness is one of the important sections in RRB exams as well as in banking, insurance and other competitive exams. Here's a preparation guide for general awareness to ace the section in the upcoming IBPS RRB Mains.
Why is General Awareness important?
Provide 100% accuracy (unless you indulge in blind guesswork)
Are highly time-efficient (no calculation or revision required)
Highly scoring
Helps you score the overall cut-off
The major challenge that one face while preparing for General Awareness is that he or she doesn't know what to prepare. The study materials available in the market is huge and there's always more to know. It's natural for candidates to get intimidated with this section. Therefore, here are some tips on how to prepare for general awareness.
IBPR RRB Mains 2017 Marks Allotted & Previous Year Cut-off
No. of Questions: 40
Maximum Marks: 40
The previous year cut-off for IBPS RRB Mains Officer was 19.50 (General) and for Assistant was 6.50.
IBPS RRB Mains Syllabus – General Awareness
Financial / Banking Awareness
Expect 14-16 questions from this section
Banking and Economy
Roles and functions of institutions like RBI, NABARD, SIDBI, etc
Currencies of various countries
Exchange rate
Banking related facts etc.
Current Affairs
Expect 10-12 questions from this section
Banking and economy related news
Books by famous personalities
Mergers of banks
Government schemes and policies etc.
Static G.K.
Expect 5-7 questions from this section
Indian states and their culture
Country and currency
National parks
Constituencies etc.
Economy
Expect 5-6 questions from this section
Indian economy
Financial organization
Budget
GDP growth rate etc.
Note: The number of questions mentioned above are based on previous years' exams and might vary.
How to prepare for Static GK & Current Affairs
Expect general questions from geographical features from India and around the world
Read about world organizations like IMF, World Bank and political global groupings like UN and regional groups like ASEAN, SAARC etc.
You can expect questions around headquarters, chairpersons, major events etc of such organizations
Read up the Indian and World history, especially Indian history after the 1857 revolution
Expect questions from Indian and world economy with a special focus on India's macroeconomic indicators like inflationary trends, GDP etc
Go through the Indian constitution and political system including political parties, pressure groups etc. Questions from major Articles, Schedules and Amendments can be expected. Read through the roles and responsibilities across Parliament, State Legislature, Supreme Court, High Court etc.
Read all the latest newspapers especially the last 4 months
Download news app or new shorts to get updates on all current news
Go through all the recent events in the banking sector like changes in banking procedures, RBI rules etc.
Tips to crack the General Awareness Section
Read the newspaper daily. If in English, this will help you in the English language section also
Practice with various mocks across static GK, current affairs, banking awareness, Indian and global economy etc.
Make notes of important events in history and politics and revise again and again
Follow General Awareness pages in Facebook and subscribe to YouTube channels that share GK updates
Watch headlines to break the reading monotony while picking up important information from television
Work out online quizzes; these let you test your knowledge and stimulate your mind to learn more objectively. You can install some app and can play small quizzes while at travel or leisure
Study according to the exam that you're preparing for. If you are planning on appearing for Bank exams, then you must focus further on banking related terms. Also pay attention to sports, awards & honours etc.
Refer to limited but good GK books
You can refer to Oliveboard's daily GK videos
Recommended Study Materials for General Awareness Section
Newspapers: Most commonly perused newspaper for competitive exam purposes is "The Hindu"
Books: NCERT books ( up to class 10 ) are considered the best for the preparation of static GK topics such as History, General Science etc. For brushing up current affairs, one can also use yearbooks like Manorama
E-books: You can refer to various e-books that are available on the internet as free resources if you make sure that the source is reliable. Some of Oliveboard's e-books for general awareness preparation are mentioned below:
Hope this helps!
All the best for the upcoming IBPS RRB Mains 2017 exam!
  Oliveboard Live Courses & Mock Test Series