Agriculture and Rural Development is an important part of NABARD Grade-A and Grade-B Exams. The section comprises various topics related to the country's financial system. To score good marks in the paper, candidates require extensive knowledge in the field of agricultural finance. To help you prepare better, we have come up with free NABARD agriculture notes. Here we discuss the different institutional financing agencies that credit finance to farmers to meet their short-term and long-term needs. Read below to know all about it.
Have a look at the NABARD Gr. A Complete Course Material Here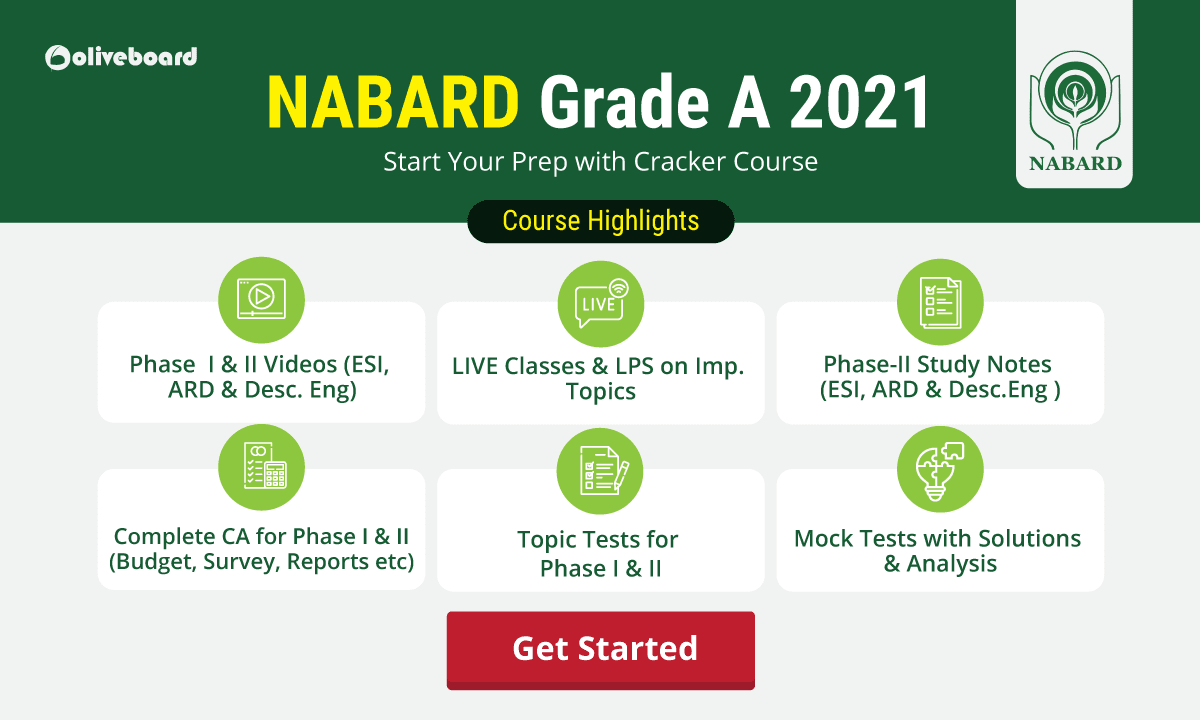 Institutional Financing Agencies
What are Financial Institutions?
Financial institutions are responsible for supplying money to the market or to individuals in the form of loans/credit for a certain period. The loan or credit taken by the farmer can be used to meet their short-term, medium-term, and long-term needs.
Institutional Financing Agencies for Agriculture Sector
Agricultural finance, particularly institutional agricultural finance, has gained more importance than ever before. To increase productivity and production, a variety of fertilizers, seeds, fungicides, and insecticides need to be used. Some people may not have the resources to purchase them, this is when they turn to certain institutions to finance their needs.
Get Complete ESI & ARD Notes for NABARD Gr. A Exam Here
The institutional sources of agricultural finance are –
1. Co-operative Societies
The best and cheapest source of India's rural credit is co-operative finance. The Primary Agricultural Credit Societies, popularly known as the PACS, cover about 86% of the villages and account for approximately 36% of the country's total rural population. Around 88,000 PACS provided a loan of Rs.6461 Crores to the farmers in 1993-94 to meet their medium-term and short-term needs. In 2006-07, the amount increased to Rs.42480 Crores.
2. Land Development Banks
Land Development Banks are facilitating long-term loans to the farmers for almost 15-20 years against the mortgage of land for purchasing modern implements, repaying old debts, and improving the condition of land permanently. Currently, there are 733 primary and 19 central Land Development Banks in India.
3. Commercial Banks
Initially, commercial banks played a marginal role in advancing credit to the rural population of India. In 1950-51, the commercial banks advanced only 1% of agricultural credit. However, after the nationalization of commercial banks in 1969, these financial agencies started extending financial aid both indirectly and directly for medium and short periods. These banks started to meet the credit and other requirements of the farmers and sponsored many regional rural banks to extend credit to small, marginal farmers and rural artisans in order to save them from the clutches of village moneylenders. As of 2006-07, the commercial banks' share in total institutional agricultural credit is about 69%.
4. Regional Rural Banks
Regional Rural Banks (RRBs) came into operation in 1975 with the objective of supplementing the co-operatives and commercial banks in supplying credit to the rural sector. Since 1975, the RRBs are advancing loans directly to small, marginal farmers, rural artisans, and agricultural labourers for productive purposes. The RRBs have disbursed an amount of Rs.20435 Crores to agricultural credit, which is only 10.05% of the total institutional agricultural credit.
Get Complete ESI & ARD Notes for NABARD Gr. A Exam Here
5. Government
Another important source of agricultural credit is the Government of India. The Government sanctions loans to the agricultural sector during distress or emergency like floods, famine, etc. The interest rate charged against these loans is a nominal 6%.
The motive of institutional financial agencies is to assist farmers in increasing their productivity and maximizing income without exploiting them.
Apart from institutional financing agencies, the non-institutional financing agencies too have been a major source of rural credit in the initial times. These include –
6. Moneylenders
Professional and Agriculturist moneylenders have been supplying a substantial portion of agricultural credit. However, due to their indulgence in malpractices such as charging exorbitant interest rates (as high as 24%) on loans, manipulating accounts, and so on, the share of moneylenders in total farm credit sharply declined 69.7% in 1951-52 to only 7% in 1995-96.
Get Complete ESI & ARD Notes for NABARD Gr. A Exam Here
7. Traders & Commission Agents
Traders and Commission Agents also advanced loans to the agricultural sector for productive purposes before the maturity of crops. Later, they would force the farmers to sell their crops at extremely low prices, and charge a hefty commission. This type of loan is advanced for cash crops. The share of these traders gradually increased from 5.5% in 1951-52 to 8.8% in 1961-62, and then declined to 5% in 1996.
8. Landlords
In India, marginal as well as small farmers, tenants are taking loans from landlords to meet their requirements. However, this source also comes with many shortcomings. Sometimes, landless workers are forced to work as bonded labourers. The share of landlords to rural credit increased from 3.3% in 1951-52 to 14.5% in 1961-62, and then drastically dropped down to 10% in 1995-96.
Thus, the non-institutional sources of agricultural credit have been facing serious loopholes, which is why institutional financing agencies are a more secure source of credit for farmers and agriculturists.
NABARD lecture notes will help broaden your perspective on the different sources of rural credit, the current scenario of Indian agricultural growth and development. Before you appear for the upcoming exams, make sure you go through the notes and statistics carefully. Online test papers and mock test series will help you prepare better for the same.
Get Complete ESI & ARD Notes for NABARD Gr. A Exam Here
---
NABARD Grade A Online Course 2021
» Oliveboard offers the best NABARD Grade A Online Coaching for you all which will help you crack the exam with ease in your first attempt.
» NABARD Grade A Online Course would include Online Video Lessons, Detailed Study Notes, All-India Mock Tests, and much more for your exhaustive preparation.
» Oliveboard's NABARD Grade A Online Course 2021 will be your one-stop destination for all your preparation needs.
Why Join Oliveboard?
» Structured preparation @ one place.
» Strengthen your concepts using Videos & Notes.
» Have a grip on topics through Topic Tests.
» Improve speed and accuracy through Full-length Mock Tests.
Course Details
»Phase  I & II Videos (ESI, ARD & Desc. Eng)
» LIVE Classes & LPS on Imp. Topics
» Phase-II Study Notes (ESI, ARD & Desc. Eng)
» Complete CA for Phase I & II (Budget, Survey, Reports, etc)
» Topic Tests for Phase I & II
» Mock Tests for Phase I & with Solutions & Analysis
As they say, start early and stay ahead!
Start Your Preparation with Cracker Course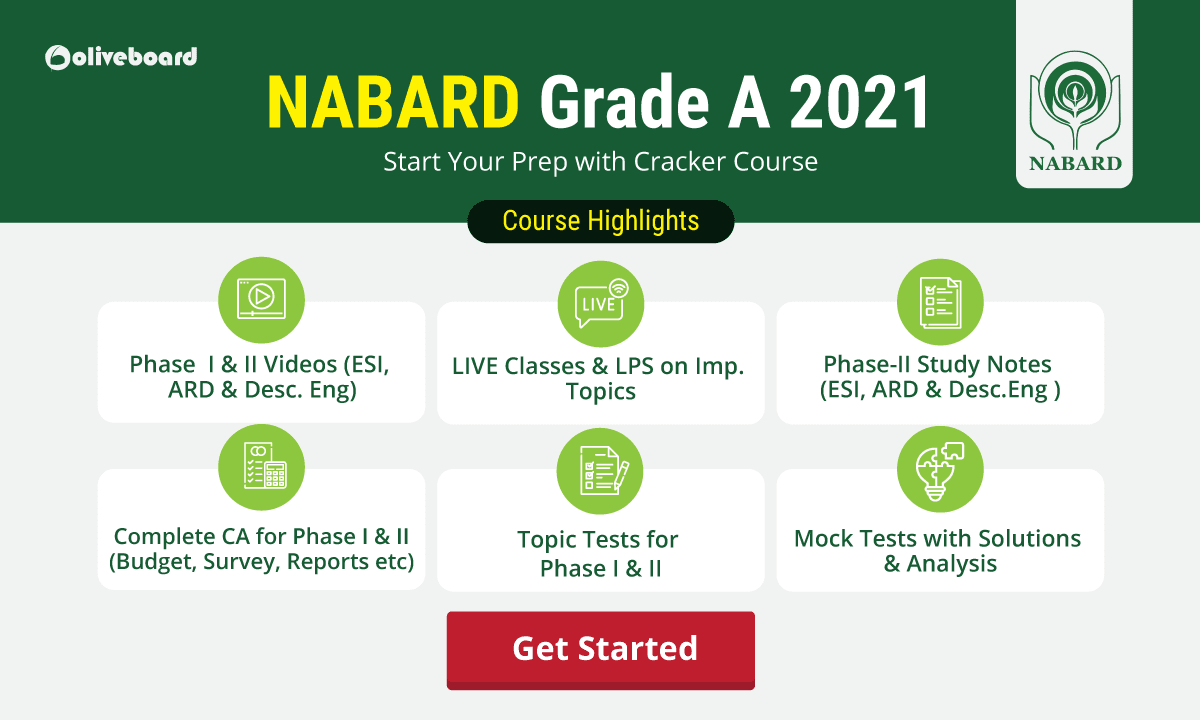 ---
Read More Agriculture and Rural Development (ARD) Study Notes :
That is all from us in this Free ARD Notes blog on Institutional Financing Agencies. Keep checking this space for NABARD Exam updates, Study Materials, and Mock Tests.
If you wish to get in touch with your fellow competitors for preparation of Bank & Govt. Exams, you can visit Oliveboard's discussion forum.
Want more?
You can access Oliveboard's Mock Tests, study materials, Podcasts, Word lists, etc. from your phone. Download Oliveboard Mobile App and prepare on the go!