JAIIB FULL FORM – JAIIB exam is conducted by the Indian Institute of Banking and Finance (IIBF) for banking and finance professionals to stay abreast of stiff competition. JAIIB is an abbreviation of Junior Associate of Indian Institute of Bankers. In this flagship course, there are three papers that are grouped into modules and chapters. A number of national banks and members of the institute are eligible to sit for this online test. A notification is published on its website which indicates whether the test is to be conducted in Hindi or English online or in offline mode in selected centers.
JAIIB Full Form
One of the most popular exams taken by banking professionals, JAIIB stands for Junior Associate of the Indian Institute of the Bankers.
The exam is conducted by the Indian Institute of Banking and Finance (IIBF). The exam tests a candidate's fundamental knowledge of banking as a profession. Many aspects of banking must be understood, including banking and financial services, customer relationships, financial technology, and accounting.
Each Sunday, one paper is given, so three papers are given in a series. The papers contain about 120 questions of an objective nature. They are two hours long and comprise 100 marks. Passing a topic or paper requires a minimum score of 50 out of 100.
What is JAIIB?
With many opportunities to grow, banking is a fine career option. Technology has led to major structural changes in the country's finance industry, which it dominates. During the biannual examination, a banker is asked to demonstrate his/her complete understanding of technical and operational concepts. According to the IIBF website, the first exam in 2021 took place in May, with the next one scheduled for November. Registration will take place around September this year for the next JAIIB exam.
What are the benefits of taking the JAIIB examination?
The following benefits come with passing the JAIIB examination:
Those who pass the JAIIB exam can get one increment per year as bank junior associates in any Indian bank and as officers in national banks.
A large amount of technical training is provided by the JAIIB exam, which covers all aspects of Indian banking. In a short period of time, professionals with this kind of knowledge are better equipped to perform their duties efficiently and to grow their careers.
Taking the JAIIB exam can open doors to jobs in banking and finance, foreign exchange, as well as a treasury.
DOWNLOAD THE OLIVEBOARD APP FOR ON-THE-GO EXAM PREPARATION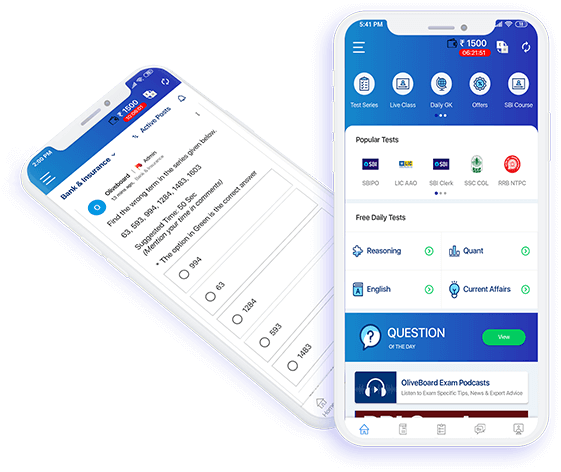 Video Lessons, Textual Lessons & Notes
Topic Tests covering all topics with detailed solutions
Sectional Tests for QA, DI, EL, LR
All India Mock Tests for performance analysis and all India percentile
General Knowledge (GK) Tests
Free videos, free mock tests, and free GK tests to evaluate course content before signing up!
JAIIB Exam Syllabus
Paper 1: Principles & Practices of Banking
Topics covered in the first paper are divided into different modules:
Module A – Indian Financial System
Module B – Functions of Banks
Module C – Banking Technology
Module D – Support Services – Marketing of Banking Services/Products
Module E – Ethics in Banks and Financial Institutions
Paper 2: Accounting & Finance for Bankers
It demands a higher level of numeracy and a thorough understanding of all accounting standards. The modules are:
Module A – Business Mathematics and Finance
Module B – Principles of Bookkeeping & Accountancy
Module C – Final Accounts
Module D – Banking Operations
Paper 3: Legal & Regulatory Aspects of Banking
Laws in banking are laid out in the third paper of the syllabus for the JAIIB. It is available as follows:
Module A – Regulations and Compliance
Module B – Legal Aspects of Banking Operations
Module C – Banking Related Laws
Module D – Commercial Laws with Reference to Banking Operations
JAIIB Exam Time Limit
It is possible to pass the JAIIB exam four times in two years with the IIBF. You can use the credits from any of the three papers within the period of two years.
JAIIB Exam Registration Fees
1st attempt – Rs. 2,700 + GST charges
2nd attempt – Rs. 1,300 + GST charges
3rd attempt – Rs. 1,300 + GST charges
4th attempt – Rs. 1,300 + GST charges
Top Courses for JAIIB Examination
With the self-paced courses below, you can prepare for the JAIIB exam with mock tests and banking concepts.
Conclusion
A comprehensive exam like the JAIIB will require a thorough knowledge of the topics covered. After passing, the qualification will surely boost your career.
FAQs JAIIB Full Form
What is the full form of JAIIB?
JAIIB stands for Junior Associate of Indian Institute of Bankers which is an exam designed for business and finance professionals and is conducted by IIBF (Indian Institute of Banking and Finance).
How many questions are asked in JAIIB?
There is a total of 120 questions in the JAIIB exam and the total marks are 100. Take jaiib mock test to assess your prep.

Why should I take the JAIIB exam and how will it add benefits to me?
If you are planning to take a promotion or want to aim an increment in your current clerical banking job, the JAIIB exam can turn out as a stepping stone.
What are the fees for taking the JAIIB exam?
For taking the first attempt, candidates need to pay Rs. 2700 + GST for enrolling. The payment can be made online through credit/debit cards and net banking.

Oliveboard is a learning & practice platform for premier entrance exams. We have helped over 1 crore users since 2012 with their Bank, SSC, Railways, Insurance, Teaching and other competitive Exams preparation.