5-Year or 3 Year Law degree: "The toughest part about making a decision isn't making the decision. It's living with it." Making a decision as tough and equally important as choosing the right course for you should be informed, well-thought-out, and strategized. Because a degree course isn't just about your next 3 or 5 years, it is about the choice you are making for the rest of your life. However, it isn't a luck or chance thing either. In terms of time, effort and money cost, becoming a lawyer is a massive task. You can beat the odds of making a wrong move by relying on your gut instincts coupled with the right information and word of seniors.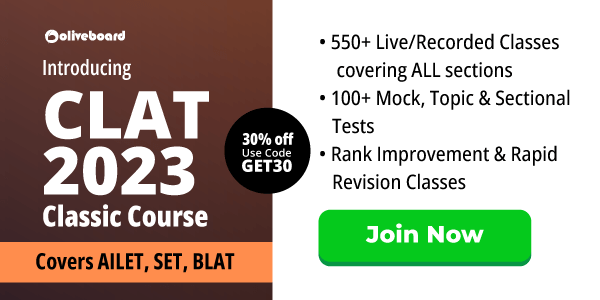 BUT remember! This decision is yours and yours alone to make. At Oliveboard we only strive to help you reach that decision! In this blog, we'll first explore what both the degrees entail and then cull out some data points to help you find the most suitable degree course for you.
Note – Essentially, Law is a post-graduate degree, i.e., can only be pursued along with or after you're done with your graduation. Hence, at the outset, a 5-year integrated degree in law saves 1 year of your time. But there are so many factors at play before you make that decision.
A 5-year Integrated Degree in Law
If you're in the 10th, 11th, or 12th standard, or basically younger than being in the 12th standard, now is the right time for you to ponder whether a 5-year integrated degree in law is the right fit for you. This course includes a graduate program such as BA, BBA, B.Com, B.Sc, etc. along with the core subjects of law like Constitutional law, CrPC, CPC, Contract, etc.
Benefits of 5-year Integrated degree in law
Early Entry into the career – If as a student in your school days you are extremely clear of your vocation and have your eyes set on this goal, start early! As Napolean Bonaparte says, "set your mind on a definite goal and observe how quickly the world stands aside to let you pass." The 5-year integrated degree in law will ensure that you're starting early and have that early bird edge over others. You will also be saving 1 year. This is because if you move ahead with the 3-year degree course, you'll be spending 3 years in first getting a Bachelor's degree and the next 3 years will go into law, thereby making it a total of 6 years before you can begin practicing as a lawyer. 
Entry to Premium Institutions, NLU – A huge edge in the field of law is obtaining a degree from one of the premier institutes, the National Law Universities. Fortunately or unfortunately, these institutions, at present, offer only a 5-year integrated degree in law. The career avenues that these law schools open up are humongous, starting from in-house legal counsel in ICICI bank or HSBC to starting an international career at Allen and Overy or Herbert Smith Freehills.
Exposure to law-related co-curricular – Another added benefit of starting early with a 5-year integrated degree in law is getting early exposure to career-defining co-curricular activities like – moot court, MUNs, and Internships. Bar Council of India mandates 20 weeks of internship during the 5 years. Some early professionals also get the advantage of exploring their areas of interest before settling into a niche area of law.
Entry points for 5-year Integrated degree in Law
You can appear for the entrances listed in the following matrix after your 12th board from any stream. After cracking any of these entrances you'll gain a ticket to 5-year integrated courses in law – B.Sc. LL. B., B.A.LL. B., B.Tech. LL. B., etc.
Exam
College
CLAT
22 NLUs (except NLU Delhi)
Note – Some other colleges & universities like IPU, Private colleges like NMIMS, etc. might accept the CLAT Scores.
AILET
NLU Delhi(Some other colleges might accept the score
LSAT
Jindal Global Law School, NMIMS, IFIM, etc.
SLAT
Symbiosis Law School (Pune, Noida, Hyderabad)
Central University Entrances
1. Allahabad University2. Aligarh Muslim University3. Calcutta University4. Mahatma Gandhi University, etc.
A 3-year LL. B. degree
If you're already enrolled in a graduation course like B.A., B.Sc., B.Com, B.B.A, etc, and thinking about becoming a lawyer, you have plenty of options of law schools that offer the 3-year LL. B. degree. The course for this degree focuses entirely on core law subjects like Constitutional law, mercantile law, etc. The idea is that the students must have read other subjects during their graduation years.
Benefits of 3-year LL. B. degree
You get to explore your career options – Before committing to the law profession, which requires immense willpower and dedication over the years, you should have the option to have explored other career avenues as well. Getting a bachelor's degree gives you a taste of real life.
You become more mature before making a life-altering decision – Decisions are a pervasive part of our lives. However, you tend to become better at evaluating the immediate and delayed benefits of each option you choose from.
You'll be able to navigate and choose internships better – Finding a niche and building your profile or resume in that specialization is the best thing you can do for your law career.
The one-year difference doesn't really matter – These days most people cannot clear CLAT in one go i.e straight after class 12th. They drop a year to secure a place in their choice of NLU. So the issue about saving one year is automatically deducted.
Entry points for 3-year LL. B. degree
If you're an aspirant of 3 year LL. B. degree, find more details in the matrix attached below –
| | |
| --- | --- |
| Exam | College |
| DU LLB entrance | Delhi University(CLC, LC I, LC II) |
| MAH-CET | GLC Mumbai |
| CBT & PI | Rajiv Gandhi School of Intellectual Property Law, Indian Institute of Technology, Kharagpur |
| UET | Banaras Hindu University |
Which is better for advancing in a legal career?
Honestly? Doesn't matter. Both the degree options are really good should you wish to enter the legal domain or prove your mettle as a law professional. Here is the simplest mantra – Like Orson Welles says – "There's only one person who's going to decide what I'm going to do and that's me." At the end of the day, it doesn't matter which college you come from or what degree you obtained. Your skills and expertise will be of prime importance.
Several Indian Lawyers like Menaka Guruswamy (instrumental for the decriminalisation of homosexuality), Vrinda Grover (identified by TIME magazine as one of the 100 most influential women in 2013), Meenakshi Lekhi (part of the Drafting Committees for Bills like 'Women's Reservation Bill' and 'Sexual Harassment of Women at Workplace (Prevention, Prohibition and Redressal) Bill'), etc and Indian Judges like Krishna Iyer J., Bhagawati J., etc have gone the extra mile to make India a better place with more inclusivity, diversity, accessibility, and adaptability. You can do it too!
Find us to help answer more questions you have. Stay tuned to Oliveboard for more. Ciao!

Oliveboard is a learning & practice platform for premier entrance exams. We have helped over 1 crore users since 2012 with their Bank, SSC, Railways, Insurance, Teaching and other competitive Exams preparation.
  Oliveboard Live Courses & Mock Test Series
Oliveboard Law Exams – Live Courses & Mock Test Series