You must have read or heard about the Long term repo operations in the news about the Reserve Bank of India. Let us understand everything about the long-term repo operations introduced by RBI and their utility. These are a part of current affairs for RBI Grade B & SEBI Grade A Exams. Let us get started.
LONG TERM REPO OPERATIONS (LTRO)
What are Long Term Repo Operations (LTRO)?
The Reserve Bank of India (RBI) introduced long-term repo operations (LTRO) and revised its liquidity management framework to facilitate the transmission of monetary policy actions and the flow of credit to the economy.

LTRO was first introduced by the European Central Bank (ECB) during its sovereign debt crisis that began in 2008.

Funds through LTRO are provided at the repo rate.

It means that banks can avail one year and three-year loans at the same interest rate of one day repo.

Loans with higher maturity period like 1 year and 3 years will have a higher interest rate compared to short term (repo) loans.

LTRO scheme will be in addition to the existing Liquidity Adjustment Facility (LAF) and the Marginal Standing Facility (MSF) operations.

LTROs will be conducted on CBS (E-KUBER) platform.

The operations would be conducted at a fixed rate.

In the latest LTRO (Feb-March 2020), the total amount of liquidity injected through these operations would be up to ₹ 1,00,000 crores.

The minimum bid amount would be Rupees one crore and multiples thereof. The allotment would be in multiples of Rupees one crore. There will be no restriction on the maximum amount of bidding by individual bidders.
Liquidity Adjustment Facility
The LAF consists of overnight as well as term repo auctions. Progressively, the Reserve Bank has increased the proportion of liquidity injected under fine-tuning variable rate repo auctions of range of tenors.

The aim of term repo is to help develop the inter-bank term money market, which in turn can set market-based benchmarks for pricing of loans and deposits, and hence improve the transmission of monetary policy.

The Reserve Bank also conducts variable interest rate reverse repo auctions, as necessitated under the market conditions.
 Marginal Standing Facility (MSF)
A facility under which scheduled commercial banks can borrow an additional amount of overnight money from the Reserve Bank by dipping into their Statutory Liquidity Ratio (SLR) portfolio up to a limit at a penal rate of interest.

This provides a safety valve against unanticipated liquidity shocks to the banking system.
Benefits of using LTRO
It will increase the liquidity in the banking system by Rs 1 lakh crore.

LTRO helped RBI ensure that banks reduce their marginal cost of funds-based lending rate, without reducing policy rates.

These efforts are being carried forward with a view to assuring banks about the availability of durable liquidity at a reasonable cost relative to prevailing market conditions.
SOURCE: The Hindu, LiveMint, RBI Notifications, Indian express
Get RBI Grade B Current Affairs Here
---
We hope that now the term long-term repo operations (LTRO) is well understood to you. Keep visiting Olivbeoard for more such informative content. 
Meanwhile, if you are someone who is preparing for exams like RBI Grade B or SEBI Grade A, then you have come at the right place. Oliveboard offers comprehensive online courses for both RBI Grade B & SEBI Grade A exams. Have a look at the offerings of these courses below.
RBI Grade B 2020 Online Course 
Oliveboard has come up with RBI Grade B Online Cracker Course for RBI Grade B 2020 Exam. Oliveboard's RBI Grade B Online Course 2020 will be your one-stop destination for all your preparation needs
What all the course offers you:
Course Details
RBI Grade B Cracker is designed to cover the complete syllabus for the 3 most important subjects: GA for Phase 1 and ESI + F&M for Phase 2 exam. Not just that, it also includes Mock Tests & Live Strategy Sessions for English, Quant & Reasoning for Phase 1. The course aims to complete your preparation in time for the release of the official notification.

Features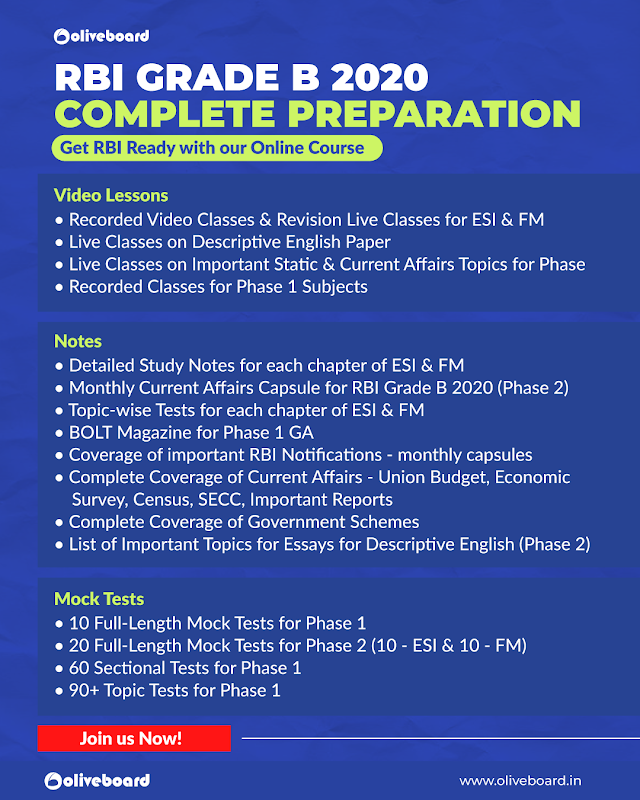 Use Coupon Code 'MY20' to avail a 20% discount on RBI Courses!
---
SEBI Grade A Online Course
For your Complete Phase 1 and Phase 2 Preparations
SEBI Grade A Cracker is a course designed to cover all the subjects under Phase I and Phase II exams.
For Paper 1 of the Phase I exam all essential subjects like Quantitative Aptitude, Reasoning, and English will be covered through video lectures.

For Paper 2 of both Phase 1 and Phase 2, the complete syllabus will be covered through video lessons, and notes.

The course will also have strategy sessions and past year paper discussions.

This course has been designed in such a way that it can be covered well before the examination.
Enroll for SEBI Grade A 2020 Online Course Here
Course Features