IBPS SO Marketing Officer Job profile : As you prepare for the IBPS SO exam, it is advisable to know about the job profile and the various responsibilities which you may need to fulfill in case you get selected for the post. The following article is intended to acquaint the aspirants with the various responsibilities of an IBPS SO Marketing Officer in a bank.
An IBPS Marketing Officer plays an important role in a bank. Increasing the sales of the bank to make it profitable, maintaining its brand value and identity among the prospective customers, taking care of advertising and social media are some of the major responsibilities of an IBPS SO Marketing Officer.
An IBPS Marketing Officer is expected to coordinate with all other departments of the bank and develop various marketing strategies and plans to boost up sales and profits. He/she is also supposed to be well versed in Marketing and Data Analysis tools.
The job and responsibilities of a bank's Marketing officer is similar to that of a marketing officer in any private sector company. Just like in private sector companies the IBPS Marketing Officers will have targets to achieve and their performance is periodically reviewed.
The IBPS Marketing Officers achieve these monthly targets with the help of branch managers and other staff members of the bank.
Some of the other responsibilities of an IBPS Marketing Officer in a bank are:-
Managing Social Media and Social Media Marketing Tools
Undertaking Marketing campaigns and organizing marketing events and promotional activities
Coordinating with other departments of the bank to introduce various offers for the customers which can act as an effective marketing tool
Managing advertisements online and offline
Communicating with Public relation professionals
Preparing advertising budgets and coordinating with ad agencies
Managing Press releases, bulletin board ads and other similar tasks
Supervising all the marketing and promotional activities in the given state/region
Conceptualizing and designing ads to effectively communicate the bank's message to the masses
Supervising and creating drafts for various forms of communication and coordinating with ad agencies
Developing marketing strategies and increasing profits and sales for the bank
Ideating new products and services for the bank
Preparing and managing advertising budgets
Managing various marketing channels such as billboards, television commercials, posters, signage, etc.
Helping the PR department to foster a positive image of the bank
Ensuring the promotional activities are in compliance with the federal and state regulations
Guiding the implementation of new products and services in the bank
Monitoring sales performance and providing sales training at different branches of the bank
Selection procedure for IBPS SO Marketing Officer:
IBPS SO Exam –> Personal interview –> Final allotment
Salary Scale of an IBPS SO Marketing Officer (Junior Management Grade Scale -1)
| | | |
| --- | --- | --- |
| Basic Pay | Annual Increment | Number of years |
| 14,500 | 600 | 7 |
| 18,700 | 700 | 2 |
| 20,100 | 800 | 7 |
| 25,700 | – | – |
The take home salary of an IBPS SO Marketing Officer scale 1 after his/her appointment will be approximately between Rs.30,000-38,000/-
Scope of work of an IBPS SO Marketing Officer:
IBPS SO Marketing Officers have good job stability. It's a great opportunity for people who want to work and build their career in specific areas in banks. After the initial few promotions the Marketing Officers have a chance to get into General Banking.
Promotion of an IBPS SO Marketing Officer will be based on their seniority, performance, length of service, educational qualification and the respective banks' promotion policy.
Career progression of an IBPS SO Marketing Officer: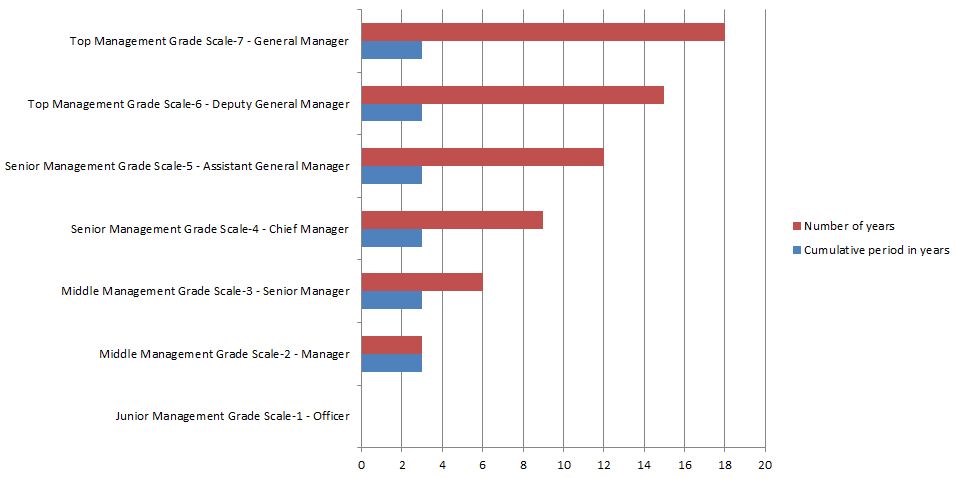 We hope the above information on IBPS SO Marketing Officer job profile guides you in making the right choice for your career field.

The most comprehensive online preparation portal for MBA, Banking and Government exams. Explore a range of mock tests and study material at www.oliveboard.in