Questions on Medieval Indian History are commonly asked in different SSC, Railway & other government exams. It is one of the most important sections of Indian history. Get complete study notes on Medieval Indian History in this blog.
Slave Dynasty/ Mamluk Dynasty:

After the death of Muhammad Ghori, Delhi came under the control of his general Qutub-ud-din Aibak, and thus started the rule of the Slave Dynasty in India. Aibak ruled from his capital Lahore. He was a great builder and started the construction of Qutub Minar. But in 1210 AD, he died of injuries received in a polo match and it was Iltutmish who completed Qutub Minar.
Iltutmish was the real founder of the Slave Dynasty. He was a great expansionist and consolidated territories. He ruled from Delhi and successfully protected Delhi during the Mongol invasion under Genghis Khan. He set up a group of forty nobles known as Chalisa or Turkan-i-Chihalgani. After Iltutmish, Razia Sultana was the next main ruler. Later Nasir-ud-din Mahmud became Sultan. But during his tenure, the main power remained in the hands of Balban. After the death of Mahmud, Balban took over and consolidated the administrative setup of the empire and completed the work started by Iltutmish. Slave dynasty rulers conquered southern territories, but never crossed the Vindhyan range. The last ruler of the Slave Dynasty ruler was killed by Jalal-ud-din Khilji.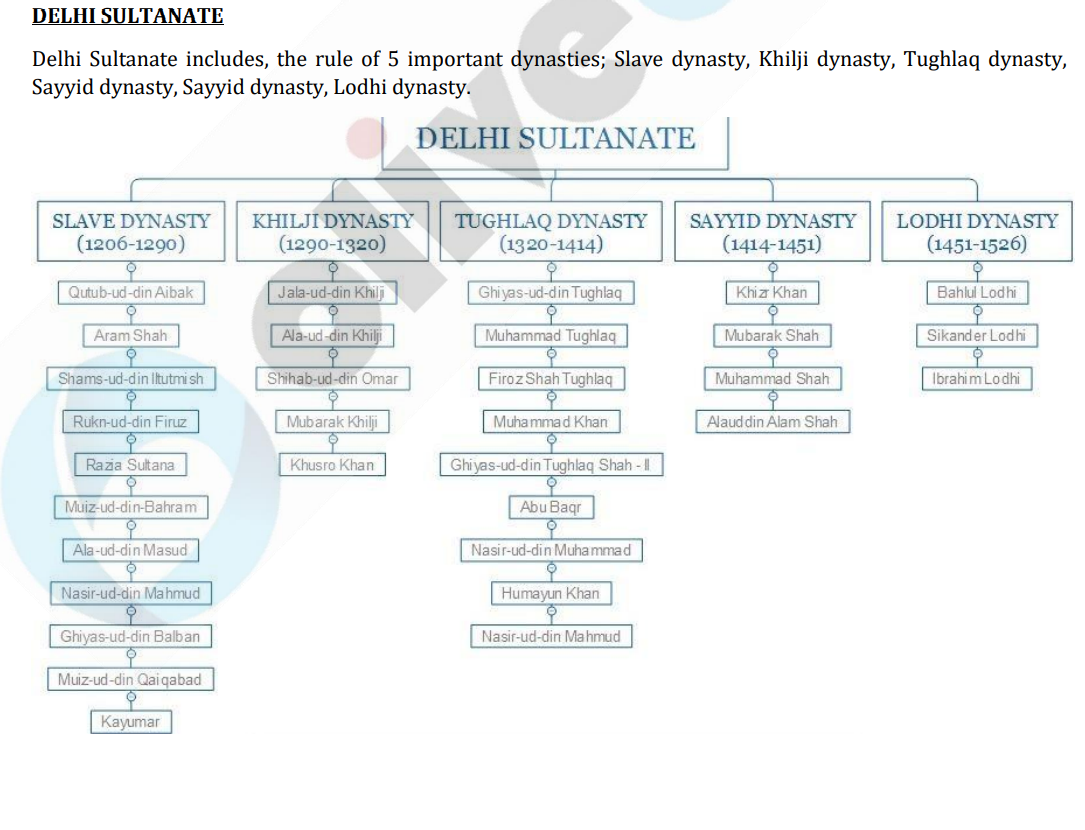 Medieval Indian History- Khilji Dynasty:

Jalal-ud-din Khilji, the founder of the Khilji Dynasty was a weak ruler
and he adopted a lenient policy towards the Mongols. But his successor Ala-ud-din Khilji was an expansionist and during his time, the empire expanded both northward and southward. He defeated Yadava Dynasty rule and crossed the Vidhyan range. Mongols (who tried to invade India) were successfully repulsed. After his death, the other rulers were inefficient and the Khilji dynasty came to an
end by 1320.
How To Download The Free e-book?
Click on the link given above
Register or Login to your Oliveboard Dashboard
Click on "click here" as shown in the image below to download file.

Step 2: Register/Login on to the Free E-Books Page of Oliveboard (It is 100% free, You just enter your valid email ID and a password to be able to download the free Medieval Indian History Notes pdf.
Step 3: After Logging in, you will be able to download the free e-book.
Ebooks
You can download 200+ ebooks important for SSC, Banking, Railway, Insurance, and other government exams here.
Oliveboard Bolt series E-books:
Oliveboard Live Courses & Mock Test Series