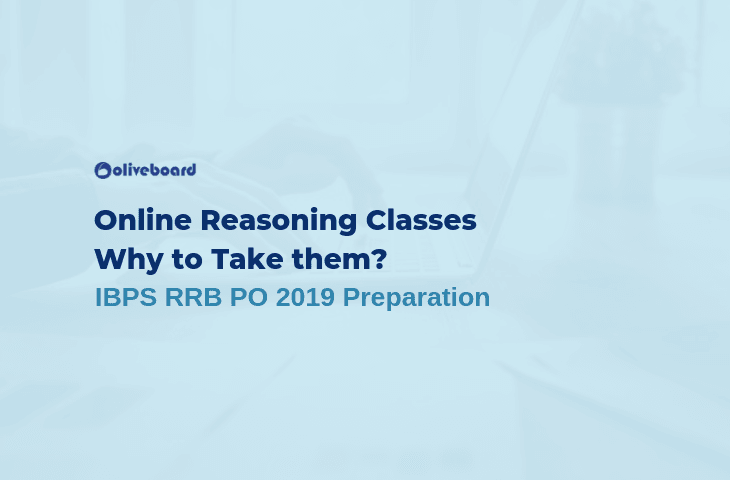 Every year lakhs of students all over India apply for various Banking Exams with hope of getting a secure job in Banking sector. The Banking Exam fever is currently very high because of the announcement of various banking recruitment like IBPS RRB PO, SBI PO, SBI Clerk, etc. Among the lakhs of aspirants only few succeed in Banking Exams. One of the main reason for success in such exams is the Reasoning Section. How well one performs in the reasoning section during the exam determines her/his success or failure. To perform well in the reasoning section, a candidate will have to prepare well for it. In this online age, where almost all the exams are conducted online, the exam preparation also needs to be done Online. Hence, In this blog, we are going to talk about Online Reasoning Classes for Banking Exams like IBPS RRB PO 2019. We try and help you understand the importance of Online Reasoning Courses like IBPS RRB Cracker Course and why every serious aspirant should enroll for such a course.
Why to take Online Reasoning Classes for Banking Exams preparation?
Following are the reasons why every serious aspirant should be taking Online Reasoning Classes for preparation of Banking Exams like IBPS RRB PO 2019 -:
1) Online Preparation for Online Exams -: If the Exam is to be conducted Online, then the preparation for an important section like Reasoning should also be done online. It will help you understand the system and get you accustomed to the online portal as well.
2) 24×7 Access – Anywhere, Anytime -: With online Reasoning classes, students can learn from anywhere, anytime through their mobile phones and laptops freeing them from the rigid classroom schedule.
3) Access to Best Faculty -: Online preparation allows aspirants all over India, irrespective of their location to get access to best reasoning faculty from all over India. Learning from the best faculty will help students learn the best tricks for solving reasoning puzzles and other questions.
4) Easy to Learn and Remember Tricks and Explanations with the help of Animation
5) Special Doubt Clearing Sessions with Faculty -: Where the Faculty helps clear the student's doubt directly. This makes the student preparation full proof and takes her/him closer to success.
6) Competition with Fellow Aspirants -: The live Practice sessions conducted as part of the Online Reasoning Classes allows students to compete with their fellow aspirants.
IBPS RRB Cracker – Best Source for Online Reasoning Classes for Banking Exams
Oliveboard, India's Leading Banking Exam preparation portal has launched the IBPS RRB Cracker course for Officer and Assistant Exam 2019. The course will comprehensively cover all the sections of IBPS RRB Exams Syllabus including the Reasoning section. The full features of the course have been listed below for your reference -:
Live Classes for All IBPS RRB syllabus Topics
Section-wise Live Practice Sessions
Covers Full Syllabus of both Scale 1 Officer and Assistant Exams
Day-wise Study Plan
It will cover both the Prelims and Main Exam preparation for IBPS RRB PO and Clerk Exams
Best Faculty for Each Section
Read about the course features in detail here
Enroll Now
Online Reasoning Classes – IBPS RRB Course Demo Class
Following the Demo Reasoning Class by India's Top Reasoning Faculty – Mukesh Sir. This is part of the IBPS RRB Cracker Course for PO 2019 Exam. IF you wish to learn from more such classes, enroll for the IBPS RRB Cracker course now.
That is all from us in this blog on Online Reasoning Classes for Banking Exams like IBPS RRB 2019 PO (Officer Scale 1) Exam. Keep checking this space for IBPS RRB PO, IBPS RRB Clerk and other Bank Exam updates, Study Materials and Mock Tests.
If you wish to get in touch with your fellow competitors for preparation of Bank & Govt. Exams, you can visit Oliveboard's discuss forum.
Want more? You can access Oliveboard's Mock Tests, study materials, Podcasts, Word lists, etc. from your phone. Download Oliveboard Mobile App and prepare on the go.
  Oliveboard Live Courses & Mock Test Series