RBI Assistant and LIC Assistant are two of the most sought after job in this country. Every year lakhs of candidates appear for these exams in hope of realizing their dreams of joining these ace institutions. There is no doubt that both these are few of the finest and prime institution to work with. Candidates appearing for both these examinations share one of the very common thought, RBI Assistant vs LIC Assistant, which one to chose and Why? In this blog, we will compare both the position s on few parameters that will give you a better understanding of the various point that are to be kept in mind while making the choice for joining one of these institutions. So, Without any further ado, let's start with the blog.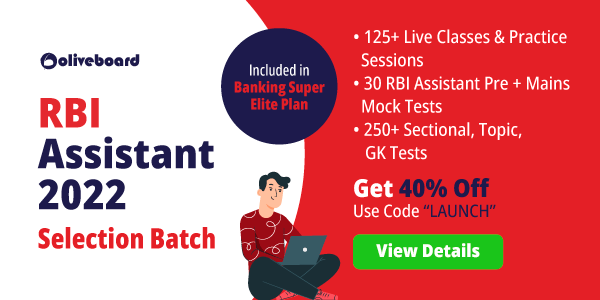 Join Edge & Prepare For Upcoming Exams
Also Read About Following:
RBI Assistant vs LIC Assistant – Few Highlights
| | | |
| --- | --- | --- |
| Exam | RBI Assistant | LIC Assistant |
| Conducting Body | Reserve Bank of India | The Life Insurance Corporation of India |
| Selection Stages | 3 (Prelims, Mains, Language Proficiency Test) | 2 (Prelims & Mains) |
| Exam Type | Online | Online |
| Post Offered | Assistant (Clerical Level) | Assistant (Clerical Level) |
| Participating Organisations | Reserve Bank of India | Life Insurance Corporation Of India |
We will better understand these 2 exams on the basis of the following aspects:
Exam Pattern
Pay Scale
Job Profile
Career Prospectives
Difficulty Level
Join Edge & Prepare For Upcoming Exams
RBI Assistant vs LIC Assistant – Exam Pattern
RBI Assistant
LIC Assistant
PRELIMS

 

·         There will be 3 sections namely English language, Reasoning ability and Quantitative ability in the test with a total timing of 1 hour. 0.25 negative marking is there.

·         Candidates will have to clear the sectional as well as the overall cutoff in order to appear for the next level of the exam. Total marks for the exam will be 100.

PRELIMS

 

·         There are 3 sections in this exam with time allotment of 20 mins to each section and an overall time of 1 hour. Negative marking of 0.25 is there.

·         Candidates need to clear sectional and the overall cutoff to appear for the mains exams. Total marks for this exam also account for a total of 100 but merit is declared from 70 marks as marks in English/Hindi language are not included in cutoffs.

MAINS

 

·         The candidates will be tested in 5 sections of this exam namely Computer, English Knowledge, Bank/economy/general awareness, numerical ability and computer aptitude. Total time allotment to the exam is 2 hours.

·         Candidates will have to clear the sectional as well as the overall cutoff in this exam also clear the level. A negative marking of 1/4th is there in the exam.

MAINS

 

·         In this exam candidates are challenged in 4 sections with an additional descriptive writing section at the end. The sections are as follows – Reasoning and computer aptitude, General/Financial Awareness, General English, Quant. A negative marking of 0.25 is there.

·         Candidates will be judged for the selection of the Assistant position based on Prelims score and the performance in the mains. LIC does consider Hindi language as a part in North region
RBI Assistant vs LIC Assistant – Pay Scale & Allowances
RBI Assistant
LIC Assistant

Basic Pay – 13150/- INR
Pay Scale – 13150-750(3)-15400-900(4)-19000-1200(6)-26200-1300(2)-28800-1480(3)-33240-1750(1)-34990(20 years)
·

Gross Salary

– 36091/- INR

Basic Pay

– 14,435/- INR
 

Pay Scale

– 14435-840(1)-15275-915(2)-17105-1030(5)-22255-1195 (2)-24645-1455(3)-29010-1510(2)-32030-1610(5)-40080
  Gross Salary – 30,000/- INR

Other Perks and Allowances

 

Housing accommodation
Book grant, newspaper and briefcase
Reimbursement of vehicle maintenance expenses
Leave Travel Concessions for the employee's family once every two years
Interest-free Festival Advance
 Reimbursement of medical expenses for hospitalization and OPD treatment
 Advances and loans at concessional interest rates for car, housing, education, personal computer, consumer articles, etc.

Other Perks and Allowances

 

Dearness Allowance
House Rent Allowance
Travel Allowance
Local compensatory allowance.
Grade allowance.
Graduation Increment
RBI Assistant vs LIC Assistant – Job Profile
RBI Assistant
LIC Assistant
JOB PROFILE

 

 Maintaining files
 Data Entry
 Replying and maintaining Email logs
 Respond to RTI Queries
 Currency Issue & Circulation
Verification of Banking Documents

JOB PROFILE

 

 File Handling
Customer Service
Query Handling
Single Window Operator
Cashier

 

Career Growth Prospects

 

After completing two years of service period as an RBI Assistant, if you qualify the examination, you will be promoted to be Grade A Officer or the Assistant Manager, which is the lowest grade in the hierarchy of Officer Cadre. After that, if you apply again for the promotion test, you will be promoted to Grade B or Managerial Level, then likewise to Grade C or Assistant General Manager, Grade D or Deputy General Manager, Grade E or General Manager and finally to Grade F or Deputy Governor

 

Career Growth Prospects

 

LIC Assistant are also transferred from one department to other internally depending upon the requirements as well as the interest of the employees.
LIC Assitant conducts departmental tests for the promotion to higher posts.
Employees get promotions based on their years of service, experience, and performance.
RBI Assistant vs LIC Assistant – Exam Difficulty Level
The Exam difficulty level of these 2 exams is more or less similar to one another. Both of these exams test the student's capability, time management, and stress handling skills. It is all about the accuracy in these exams for the number of questions that you attempt. Higher accuracy means more the chances of your selection. Both the exams do not cater to the interview round for the final selection and hence the marks scored in both prelims and mains are of utmost importance for the position in these reputed institutes. The competition in these 2 exams is extremely tough given the number of vacancies that are made available every year. The Premierity of the exams is definitely undeniable.
Oliveboard does provide you complete solution to this problem as well. Join our Online Course and Learn with the experts. Give yourself the confidence and the real-time test experience by taking the mock. Register to take the Free RBI Assistant Mock Test and LIC Assistant Mock test on Oliveboard. Also, Enroll for the course and ace the exam. Let us see a few highlights of the course. Join Edge and be a part of more 50K students trusted learning platform. Edge provides a one-stop solution for all the exam-related study materials. Join Edge once and access all the courses for upcoming exams anywhere, anytime.
That is all from us in this blog for RBI Assistant vs LIC Assistant, here we have factored the major parameters that sets these 2 examinations apart from each other. Hope that this blog helps you make a clear and better choice. Aspirants aiming for RBI Assistant should immediately get on with their preparations and start with the thorough prep. Subscribe Now and realize your dream of becoming an assistant in a reputed firm.
RBI Assistant  – Online Course & Mock Tests
Mock Tests are undoubtedly the best way to prepare for any examination, be it from scratch or master any topic. It is very important to know where you stand before starting an approach to soothe yourself. Mock Tests not only analyze your performance but also provide you with a better self-analysis. We, at Oliveboard, are here to do just that. We are bringing a full-fledged online course RBI Assistant Selection Batch 2022 to help with the preparations for the RBI Assistant exam. This course would cover all the basics for every section from scratch which will help you stay in the race with those who have already attempted the test before.
Course Highlights:
100+ Live Classes For Learning & Concept Building
25+ Live Practice Sessions for Real-time Practice
All the Live classes will have to-the-point, crisp and relevant study content
Live Classes will cover the entire syllabus of Preliminary and Mains exams
Exclusive Classes for General Awareness in detail for Mains
Questions are divided into Easy, Moderate, and High Levels for each chapter
Live Classes for doubt clarification where you can clear all your queries related to any subjects
RBI – Assistant 20 Prelims Mock Tests
RBI – Assistant 10 Mains Mock Tests
High-Level DI [10 Tests], High-Level Reasoning [10 Tests], English Test [15 Tests]
GK Tests [120 Tests]
Sectional Tests [60 Tests]
Topic Tests [99 Test]
Also, Check:
DOWNLOAD THE OLIVEBOARD APP FOR ON-THE-GO EXAM PREPARATION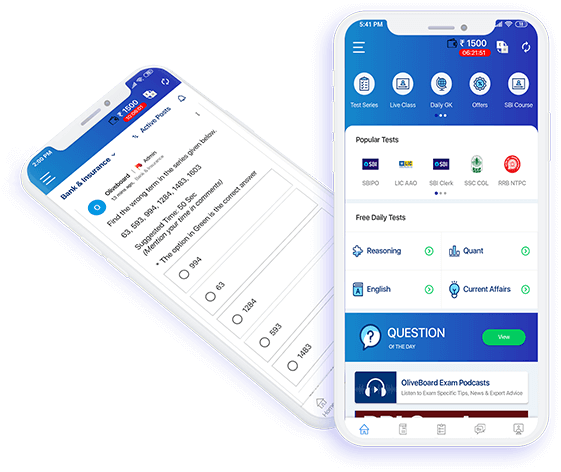 Video Lessons, Textual Lessons & Notes
Topic Tests covering all topics with detailed solutions
Sectional Tests for QA, DI, EL, LR
All India Mock Tests for performance analysis and all India percentile
General Knowledge (GK) Tests
Free videos, free mock tests and free GK tests to evaluate course content before signing up!

  Oliveboard Live Courses & Mock Test Series