The Reserve Bank of India releases the RBI Grade B notification every year for the recruitment of Grade B officers (Managers). It is considered the most prestigious job in the banking sector and lakhs of aspirants take this exam every year with a dream of becoming an RBI Grade B officer. But only a few manage to fulfil this dream. One of them is Hardik Mehta who went on to score All-India Rank 1 in RBI Grade B 2016 exam. Let us read what he has to say about his journey in this blog post and get inspired.
RBI Success Story – Hardik Mehta
Here, let's get more insights on RBI Grade B by the 2016 AIR 1 Hardik Mehta himself:
Hello everyone,
Before I provide the details on how I went about my preparation, here is some information about my background before joining the RBI – I have done my MBA (Banking Management) from Symbiosis School of Banking & Finance, Pune. I was the topper of the Management Aptitude Test (MAT) conducted by AIMA. Apart from this, I have also cleared UGC-NET (Management) in my first attempt, pursued CAIIB (Treasury Management, 1st Class), and scored over 90% in various NCFM Certifications on Capital Markets, Options, Commodity Markets, Banking, etc.
---
My Strategy for RBI Grade B 2016 Phase 1
I attempted 70 questions of GK in flat 10 minutes. 25 questions in English took another 10 minutes. The remaining time was used to shuttle between the Quant & Reasoning sections. For Phase 1, I was dependent solely on Oliveboard's Mock Tests. I found the level of tests very difficult and hence every time there was a lot of learning and scope for improvement. For GK, I used to read newspapers like The Telegraph(Calcutta), Economic Times, Mint Business Newspaper, etc.
The maximum time of your preparation should be dedicated to the General Awareness topic and you should try to maximize your score here because it covers a major portion of the Phase 1 exam. Your next focus should be on the English section. The remaining time should be dedicated to Quant and Reasoning. If you attempt 20-25 standard mock tests, you will be able to clear this part of the exam.
Since Phase 1 is just an eliminator exam, your score here does not hold much importance later. Hence, I would recommend you to focus more on Phase 2 and the Interview than on Phase 1.
You can refer to the following study material for Phase 1:
Quant – How to prepare for quantitative aptitude for the CAT & also soon to be released "Teach Yourself Quantitative Aptitude" by Shri Arun Sharma.
English – How to prepare for Verbal Ability and Reading Comprehension for CAT by Arun Sharma & Meenakshi Upadhyay
Reasoning – Oliveboard
General Knowledge – The Telegraph (Calcutta), Economic Times, Mint Business Newspaper.
Mock Tests – Oliveboard
---
My Strategy for RBI Grade B 2016 Phase 2
For Phase 2, I had appeared for mock tests of Oliveboard. Oliveboard mock tests for phase 2 also were very informative, descriptive and they did provide an edge in preparation as score analysis was done on the spot.
Kudos to Oliveboard's technical team for providing an in-depth analysis of the candidate's performance. I also remember that RBI made a last-minute pattern change to Phase 2 just 10 days before the exam. I was really glad that Oliveboard in the first week of September 2016 had redesigned the mock tests as per the new pattern for RBI Grade B Exam (Phase 2). It showed that their think tank was very much keen to ensure that their students should get the knack of as many different types of questions as possible.
I would recommend that candidates first learn the basics of finance, economics & management and then appear for a few quality mock tests to determine where they stand as compared to others.
The candidate should not approach one topic at a time. After building a strong foundation, they should appear for sectional Mock tests and once the entire syllabus is covered, only then they should go for the complete mock test.
For example, if you are reading a newspaper, do not read it just for the sake of it. Instead, try and understand each word to build your base.
Taking mock tests is a very important part of phase 2 exams. Again, just taking too many mock tests is not going to help. You should be analyzing each test as and when you take it up and accordingly work on your weaknesses and sharpen your skills.
ESI section should be read in bits and parts because you need to understand the nitty-gritty and every term used in the content.
Candidates can refer to the following materials for Phase 2 preparation:
ESI:
Indian Economy by Ramesh Singh
2. Indian Economy by Mishra & Puri
Newspapers are a good source for current affairs but the static concepts are not covered. Hence, you must read the books thoroughly.
News Channels – Business News Channels; Listen to experts' views and analyze the news yourself. Try and think about what could be tomorrow's headline.
Financial Management by Prasanna Chandra
2. Financial Management by I M Pandey
3. Finance for Non-Finance by Vishal Thakker
4. Ratios Made Simple by Robert Leach
5. Beginners can refer to Day to Day Economics by Satish Deodhar (IIM-A Publication).
Books by McGraw Hill Publication:
How to Read Balance Sheet
2. How to Read Cash Flow
3. How to Analyze Financial Statements
There is a UGC Net Management book by Arihant Publication which is extremely useful for MCQs (Finance and Management).
While reading the books, make sure you're aware of all the technical terms. If you are not aware of something, do google it or find another source to know what it exactly means, and then move ahead.
---
RBI Grade B Interview Strategy
As far as the interview was concerned, my MBA course had helped me to some extent. Besides that, I followed the RBI website closely. Other things I did were:
Read a lot of books on Finance, Economy and Banking.
Read newspapers to stay updated with current affairs.

Followed various websites like ICRA, CRISIL, and multiple rating agencies

Watched Business news channels and also read Business magazines.

Read newspapers like Economic Times, Business Standard, Business Line, Mint, etc.
All aspiring candidates must also listen to the governor's speeches in the last couple of years on major economic decisions. You should also have a knack for RBI reports (Quarterly, Half Yearly, and Annual)
RBI Grade B preparation is not about the number of hours you put in, it's more about how strong your fundamentals are. You can also clear the exam if you spare two hours every day meticulously. Sometimes, even five hours won't be enough if you're not concentrating.
So just forget about the past and make optimum use of the chance that you have got. Never over/underestimate yourself. Take a lot of Mock tests which will help you have a good grip on the exam and you won't feel the pressure on the main day which is very important. One thing can be judged in various ways, so be prepared for all possibilities.
Aspirants who have exposure to the Banking and Finance sector will be comparatively easier for them than people who do not have it.
Analyze yourself, keep calm and hold your nerves. This will help you to efficiently capitalize on your knowledge.
All the best!
Click here to take a FREE RBI Grade B Mock Test.
---
Download PDF eBooks Here
Download the Free eBooks PDF for your RBI Grade B preparation.
---
DOWNLOAD THE RBI, NABARD, SEBI Prep App FOR ON-THE-GO EXAM PREPARATION
The app provides comprehensive study material in form of online courses to ace these examinations.
The study material ranges from online LIVE classes, video lectures, study notes, revision sessions, past year papers, topic tests, the objective plus descriptive mock tests, mock interviews and much more.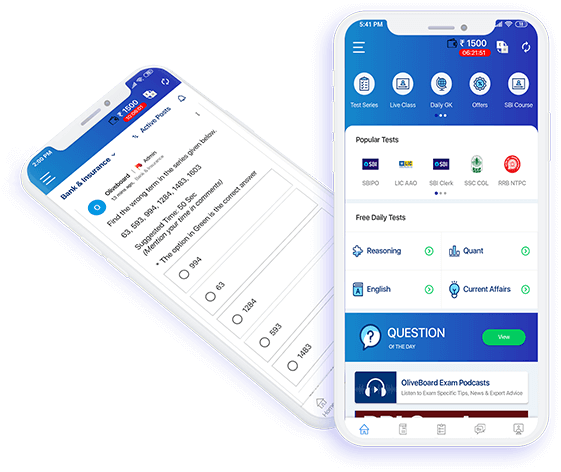 List of Exams
1) RBI Grade B Generalist Posts
2) SEBI Grade A Generalist Posts
3) SEBI Grade A IT Officer Posts
4) NABARD Grade A Generalist Posts
5) NABARD Grade A IT Officer Posts
6) NABARD Grade A Agriculture Officer Posts
7) NABARD Grade B Posts
8) SIDBI Grade A Officer Posts
9) FSSAI Recruitment – For Technical officers, Food Safety Officers and Assistants
Get free video lessons, mock tests and GK tests to evaluate course content before signing up!

---
RBI Grade B Crash Course 2023 by Oliveboard
If you are someone who is aiming to crack RBI Grade B Exam and are confused about how to go about the preparation, Oliveboard has come up with RBI Grade B Online Complete Plan to help you ace the RBI Grade B exam for sincere aspirants. Read below what is included in the Course.
Oliveboard offers the best RBI Grade B Online Coaching that can help you prepare comprehensively for the exam. Oliveboard's RBI Grade B Online Complete Plan 2023 will be your one-stop destination for all your preparation needs.
Go through free RBI Grade B study materials PDFs and take up RBI Grade B Free mock tests online.
1. Course Details
RBI Grade B Cracker is designed to cover the complete syllabus for the 3 most important subjects: 1. GA for Phase 1, 2. Objective Paper for Phase 2 + 3. Descriptive Papers for Phase 2 exam.
Not just that, it also includes Mock Tests & Live Strategy Sessions for English, Quant & Reasoning for Phase 1. The course aims to complete your preparation in time for the release of the official notification.
1.1. Features:
RBI Grade B 2023 Cracker Course Offerings:
Foundation LIVE Classes

for ESI & FM


ESI & FM Videos + Notes + 75+ Topic Tests



Phase-I CA Capsules (RBI BOLT)





Phase-II CA Capsules + Desc. Eng Prep





40 Objective Mock Tests (Phase 1 & 2)





10 Descriptive Mock Tests with Evaluation





Descriptive Model Q&A





ESI & FM Revision Sheets



---
1.2. How to Enroll for the RBI Grade B Online Course 2023?
Sign up or log in using the link given below. You will be redirected to the payments page. Read the course offerings and subscribe to RBI Grade B 2023 Complete Plan.
Now that you are aware of the RBI Grade B Online Classes, why wait?
Get Started with RBI Grade B 2023 Online Complete Plan comprising LIVE Classes, Video Lessons, Detailed Study Notes & All-India Mock Tests for Phase 1 & Phase 2.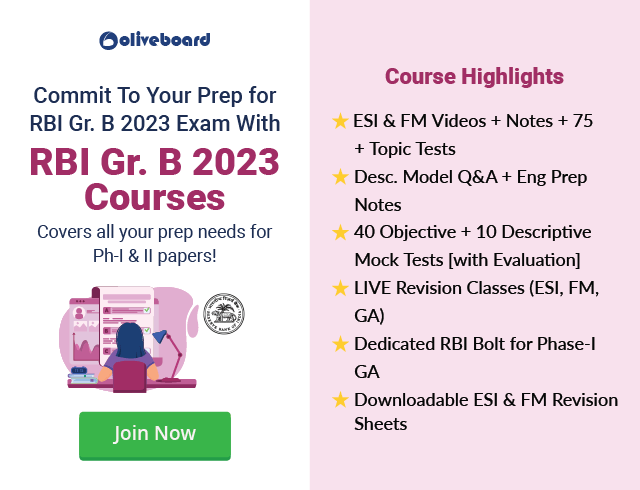 Use Coupon Code 'LAUNCH' & Get 20% off on RBI Courses
---
Connect with us on

The most comprehensive online preparation portal for MBA, Banking and Government exams. Explore a range of mock tests and study material at www.oliveboard.in