"Believe in yourself, work hard, work smart and passionately present your best self to the world." It was the same attitude followed by Aneesh J, who successfully cracked the RBI Grade B 2022 exam. By meticulously planning and judiciously utilizing limited study resources, he successfully cleared all phases of the exam. Aneesh has shared with us all the subject-wise as well as the phase-wise strategies that he had followed during his preparations. Let's read about his pearls of wisdom here in his success story!
Topper Strategy by Aneesh J – RBI Grade B 2022 Success Story
Education and Work Background
"I had done an integrated MA in Development Studies from IIT Madras (2021 Graduate).
I worked in the public policy think tank from June 2021 to April 2022. I had earlier interned with an Agri-fintech startup in the past.
---
My Strategy for Phase 1
General Awareness
I depended entirely on the affairs cloud website and Oliveboard Bolt. I did a holistic preparation keeping in the mind the syllabus of ESI for Phase 2. I devoted my maximum amount of time to GA preparation with 4 full revisions of the last 6 months of Current Affairs.
Quantitative Aptitude and English Language
I did no extra preparation. I solely depended only on Oliveboard mock tests and sectional tests.
Reasoning
I focused only on chapters in which I was strong and ignored the chapters which I was not comfortable with.
I used mock tests extensively to develop a strategy for this section.
Also depended on some banking test books selectively to update me with the latest pattern of questions. I was extensively dependent on YouTube lectures and Oliveboard sectional tests. for the Reasoning section.
Mock Strategy
For the subjects of Quant and Reasoning, identified the questions I could complete in the first iteration, for those that needed a second iteration, I kept them for the last.
Phase 1 Pro Tip
The Phase 1 preparation had to be minimal, just enough to clear the sectional and the overall cut-off marks. My focus was still on completely covering the Phase 2 syllabus.
---
My Strategy for Phase 2
Management
I depended entirely on Oliveboard study notes with some background reading from google.
Finance
I did some preliminary reading from Oliveboard study notes. Subsequently went through some selected videos from Mrunal sir's YouTube channel and gathered some background information from google.
Economic & Social Issues (ESI)
I covered the static part was covered from Oliveboard study notes, Mrunal sir's Youtube playlists and UPSC notes available online (Drishti IAS and Byju's).
Current affairs preparation was integrated with Phase 1 preparation. Didn't prepare government schemes from end to end but instead noted down all government schemes in the news for the last 6 months and prepared notes covering the scheme details.
Also, tried to read the news item published regarding the scheme on the PIB website.
English
No separate preparation was done for the descriptive English paper. I had to integrate descriptive answer writing preparation with my note-making strategy as explained below due to a shortage of time.
Note-Making Strategy
I focussed on making digital notes on google docs and used the Grammarly extension to do a grammar check. This made it possible to update my static syllabus notes with current affairs and also improved my typing speed.
These notes were a self-written summary of ideas mentioned in Oliveboard notes and other sources, which greatly improved my writing skills. This I believe was an efficient way for practicing descriptive writing instead of doing daily practice.
---
DOWNLOAD THE RBI, NABARD, SEBI Prep App FOR ON-THE-GO EXAM PREPARATION
The app provides comprehensive study material in form of online courses to ace these examinations.
The study material ranges from online LIVE classes, video lectures, study notes, revision sessions, past year papers, topic tests, the objective plus descriptive mock tests, mock interviews, and much more.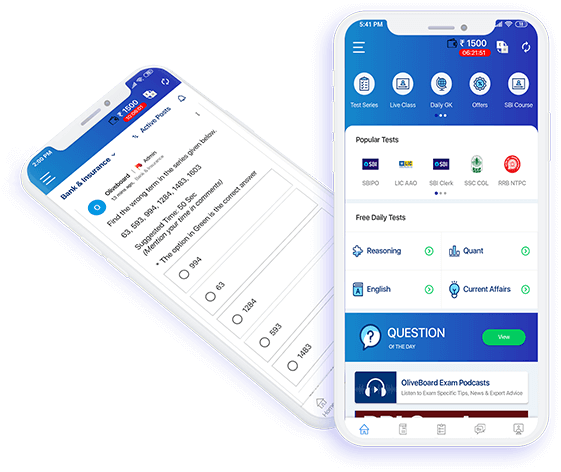 List of Exams
1) RBI Grade B Generalist Posts
2) SEBI Grade A Generalist Posts
3) NABARD Grade A Generalist Posts
4) NABARD Grade A IT Officer Posts
5) NABARD Grade A Agriculture Officer Posts
6) NABARD Grade B Posts
7) SIDBI Grade A Officer Posts
8) FSSAI Recruitment – For Technical officers, Food Safety Officers, and Assistants
Get free video lessons, mock tests, and GK tests to evaluate course content before signing up!

---
My Interview Preparation
I prepared every line given in my profile very well.
I read about the recent developments in the banking and economy space (I am a regular reader of mint newspaper),
Revised ESI and Finance notes once again, and read RBI annual reports, Governor's speeches, and other policy notes on the RBI website.
Also attended two mock interviews – including one with Oliveboard.
---
How did Oliveboard Help in this Journey?
Phase 1: Oliveboard's mock tests and sectional tests helped me sail through the Phase 1 paper with whatever limited time I had. The quality of the questions was quite good and they prepared me very well for the actual exam. Oliveboard's bolt magazine, although quite a lengthy magazine by itself, is brilliant for selective reading.
Phase 2: Oliveboard's ESI & FM study notes were concise and to the point for the most part. These notes helped me stay within the scope of the exam and are more than enough for finance and management preparation. ESI static syllabus is covered very extensively in Oliveboard's notes which provided me with a solid base for extra reading and provided sufficient material for phase 2 descriptive answers.
Interview: The mock interview session with Raja sir and Gopal sir was very insightful. Although the scheduled mock interview time was for 30 minutes, Gopal sir stayed on for another 15 minutes and explained many functions of RBI in detail. He also nudged me to read the RBI website extensively, which ultimately helped in my interview. I can't thank both of them enough for their time and guidance
Last but not the least, all the Oliveboard faculty and staff which whom I came in contact during the last 3 months period were extremely professional and cordial. Thanks to them for their support in this journey.
---
Some Words of Wisdom for Aspirants
Phase 1 has no impact on the final selection. It is just a round before Phase 2. So always keep Phase 2 in mind when you do GA preparation for Phase 1.
Complete the Finance and Management syllabus one time before Phase 1, and start preparing for Phase 2 immediately after the Phase 1 exam. Don't waste valuable time waiting for Phase 1 results.
Even if you are not feeling confident about your preparation, try to give your best with whatever you know. A perfect attempt may never happen.
Get into the habit of making digital notes if you are already not doing it. 200 out of 300 marks in Phase 2 is for descriptive writing and you need good, error-free typing skills to score maximum marks here.
This is all from my side. All the best for your preparation journey!
---
---
RBI Grade B Complete Course 2023 by Oliveboard
If you are someone who is aiming to crack RBI Grade B Exam and are confused about how to go about the preparation, Oliveboard has come up with RBI Grade B Online Complete Plan to help you ace the RBI Grade B exam for sincere aspirants. Read below what is included in the Course.
Oliveboard offers the best RBI Grade B Online Coaching that can help you prepare comprehensively for the exam. Oliveboard's RBI Grade B Online Complete Plan 2023 will be your one-stop destination for all your preparation needs.
Go through free RBI Grade B study materials PDFs and take up RBI Grade B Free mock tests online.
1. Course Details
RBI Grade B Cracker is designed to cover the complete syllabus for the 3 most important subjects: 1. GA for Phase 1, 2. Objective Paper for Phase 2 + 3. Descriptive Papers for Phase 2 exam.
Not just that, it also includes Mock Tests & Live Strategy Sessions for English, Quant & Reasoning for Phase 1. The course aims to complete your preparation in time for the release of the official notification.
1.1. Features:
RBI Grade B 2023 Cracker Course Offerings:
Foundation LIVE Classes for ESI & FM


ESI & FM Videos + Notes + 75+ Topic Tests


Phase-I CA Capsules (RBI BOLT)


Phase-II CA Capsules + Desc. Eng Prep


40 Objective Mock Tests (Phases 1 & 2)


10 Descriptive Mock Tests with Evaluation


Descriptive Model Q&A


ESI & FM Revision Sheets

---
1.2. How to Enroll for the RBI Grade B Online Course 2023?
Sign up or log in using the link given below. You will be redirected to the payments page. Read the course offerings and subscribe to RBI Grade B 2023 Complete Plan.
Now that you are aware of the RBI Grade B Online Classes, why wait?
Get Started with RBI Grade B 2023 Online Complete Plan comprising LIVE Classes, Video Lessons, Detailed Study Notes & All-India Mock Tests for Phase 1 & Phase 2.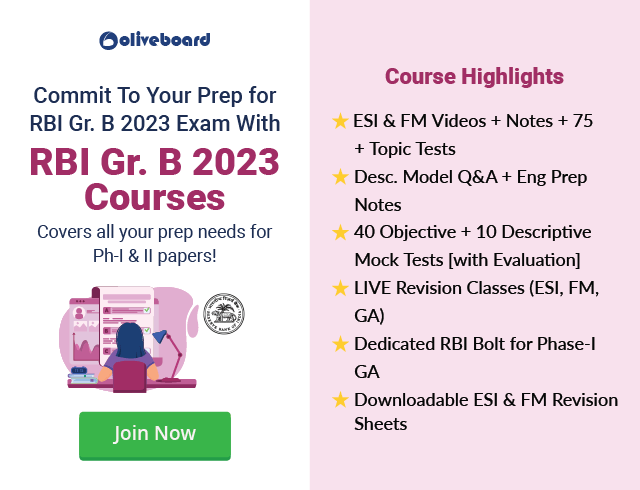 Use Coupon Code 'LAUNCH' & Get 20% off on RBI Courses
---
Connect with us on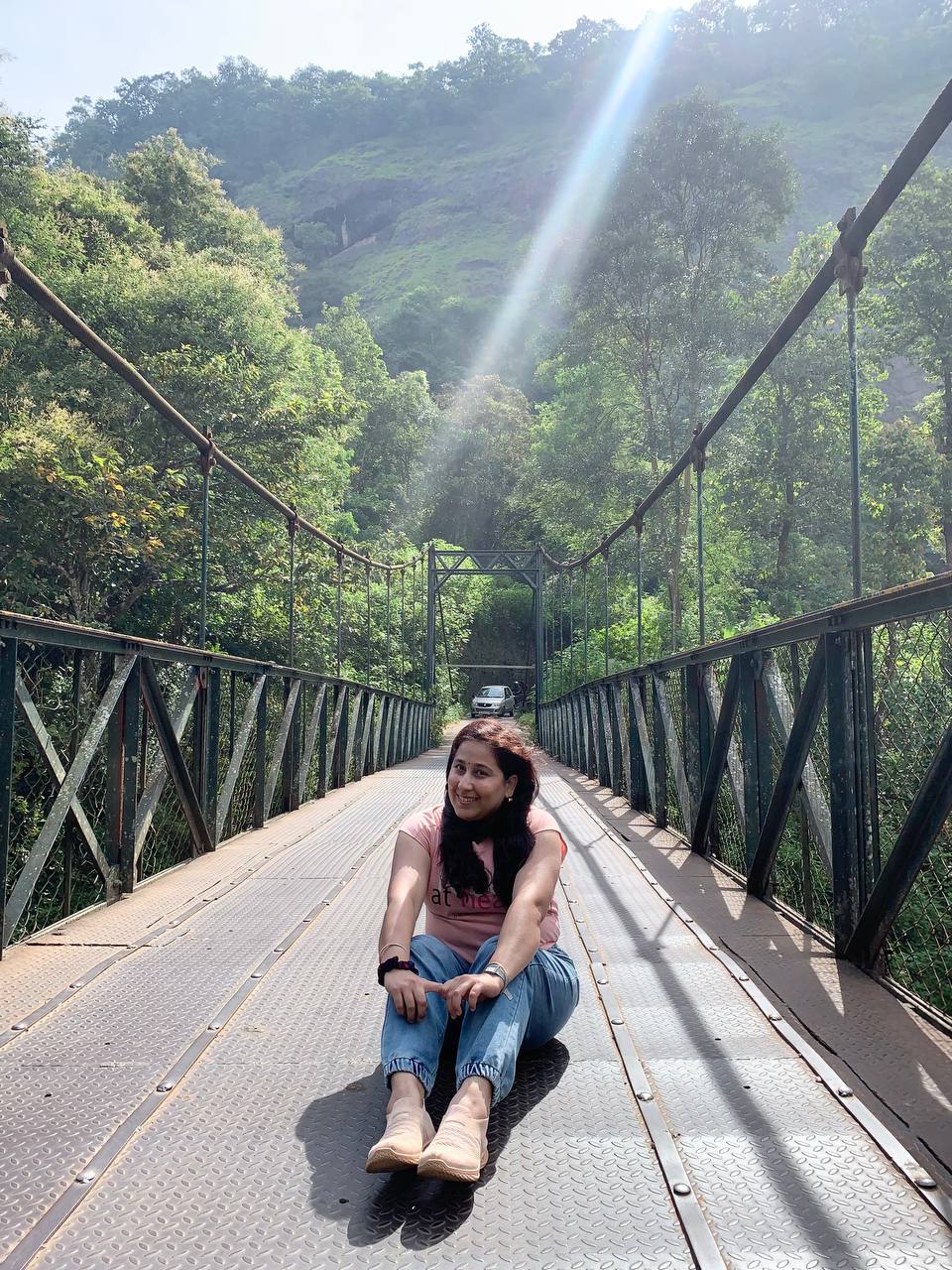 I enjoy creating SEO-friendly, information-rich marketing content. Cooking is therapeutic! I like to cook and eat it too!