SBI Clerk Mains BOLT – SBI Clerk Mains exams is scheduled for 15th January 2023 and to help aspirants ace it with ease, Oliveboard is here with specially designed SBI Clerk Mains BOLT – 2022 containing 500+ General/Financial Awareness MCQs. This eBook can be your one-stop-solutions for most of the General and Banking Awareness sections. Aspirants can download the eBook with the download link given below. Oliveboard users can find the eBook in the eBooks section of their dashboard.
Take SBI Clerk Mains Exam 2022 Free Mock Test
500+ General/Financial Awareness MCQs | Download PDF
Fill in a simple sign up form to Download a PDF of the SBI Clerk Mains BOLT 2022-23 containing 500+ General/Financial Awareness MCQs. If you already have your Oliveboard account, just log in to find all resources here.
Sneak Peek Into

SBI Clerk Mains BOLT – 202

2-23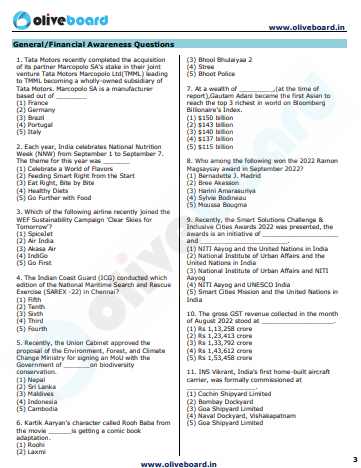 Take SBI Clerk Mains Exam 2022-23 Free Mock Test
What's there in SBI Clerk Mains BOLT 2022-23
Tata Motors recently completed the acquisition of its partner Marcopolo SA's stake in their joint venture Tata Motors Marcopolo Ltd(TMML) leading to TMML becoming a wholly-owned subsidiary of Tata Motors. Marcopolo SA is a manufacturer based out of
(1) France
(2) Germany
(3) Brazil
(4) Portugal
(5) Italy
Each year, India celebrates National Nutrition Week (NNW) from September 1 to September 7. The theme for this year was _
(1) Celebrate a World of Flavors
(2) Feeding Smart Right from the Start
(3) Eat Right, Bite by Bite
(4) Healthy Diets
(5) Go Further with Food
Which of the following airline recently joined the WEF Sustainability Campaign 'Clear skies for Tomorrow'?
(1) SpiceJet
(2) Air India
(3) Akasa Air
(4) IndiGo
(5) Go First
The Indian Coast Guard (ICG) conducted which edition of the National Maritime Search and Rescue Exercise (SAREX -22) in Chennai?
(1) Fifth
(2) Tenth
(3) Sixth
(4) Third
(5) Fourth
Recently, the Union Cabinet approved the proposal of the Environment, Forest, and Climate Change Ministry for signing an MoU with the Government of _______on biodiversity conservation.
(1) Nepal
(2) Sri Lanka
(3) Maldives
(4) Indonesia
(5) Cambodia
To receive preparation material along with other relevant helpful content for your banking and government examinations, you can also subscribe to Oliveboard's YouTube channel. Alternatively, you can download the Oliveboard  App for free study material and other latest updates.
Happy Learning with Oliveboard!
Other Ebooks
You can download 200+ ebooks important for SSC, Banking, Railway, Insurance, and other government exams here.
Oliveboard Bolt series E-books
Free Static GK E-book – More Study Materials

The most comprehensive online preparation portal for MBA, Banking and Government exams. Explore a range of mock tests and study material at www.oliveboard.in
  Oliveboard Live Courses & Mock Test Series