With the SBI Clerk Prelims complete, the focus is now on SBI Clerk Mains which would be conducted post the pandemic conditions are relaxed across the country.  This lockdown has provided you with a good opportunity for the preparations of the exams as an extra bought time could be fruitful for the preparations. In this blog, we will provide you with SBI Clerk mains Exam Strategy, which will help you analyze how you can attempt the exam and what should be your preparations approach.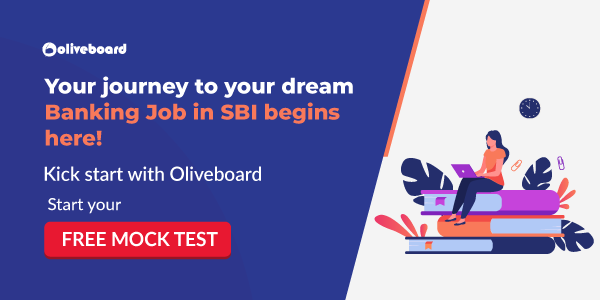 Starting with the idea of the SBI Clerk Mains exam pattern, we will move ahead with the preparation plan for each section:
Register Now & Start Preparing With Oliveboard Mock Tests
Let's start and dive deeper.
1. SBI Clerk Mains 2020 Exam Pattern
SBI had introduced a new pattern of an exam in the year 2018, which made the preparation whole lot easier and direct. Earlier one had to allow them time to each section to attempt the paper but now it is pre-decided.
Let's look at the pattern:
Note: *1/4th of mark assigned for a question will be deducted for each wrong answer
2. SBI Clerk Mains Exam Strategy 2020 – Section-wise Approach
2.1 Reasoning Section Approach – Mains Exam Strategy
This section carries a total of 60 marks for 50 questions that are to be attempted. Remember that this section can help you immensely in increasing your overall marks in the Mains Exam.
Take up a sectional test every 2-3 days so that you get a grip over the entire section and also can draft a rough strategy to solve the entire section in 45 minutes. Analyze the complete sectional test once you are done with the test. Analyzing will give you an idea about the questions that you were not able to solve and also their solutions.
A chunk of the paper would comprise of Puzzles and Arrangement type questions, do practice a few puzzles daily so that you are in a habit of solving them and can do the same in the exam in minimum time.
Attempt Topic Tests whenever you feel you are struggling with a topic in the Reasoning section.
You can refer to the following Free High-Level Reasoning Videos to clear your concepts as well as practice new pattern type questions.
2.2 General/Financial Awareness – SBI Clerk Mains Exam Strategy
The revision will be the key here. Read and revise the current affairs for the past six months prior to the exam.
Take up a lot of GA quizzes. These will help you retain and remember the current affairs.
We are here to help you with free resources that will aid your preparations.
Free Resources 
2.3 English Language – SBI Clerk Mains Exam Strategy
Brush up your Grammar Basics. These will help you solve many of the grammar-based questions with high accuracy.
Keep taking sectional tests to have a grip over the complete section.
After you are done with the above things then you can go for the New Pattern English Tests to practice the latest type questions that are being asked these days in the Banking Exams.
Free Learning Resources
2.4 Quantitative Aptitude – SBI Clerk Mains Exam Strategy
Build Up rock-solid concepts by practicing enough.
Practice each topic in varying difficulty levels to establish a comfort level
Take full-length mock tests to build and refine your exam attempt strategy and understand your strengths and weaknesses.
Start with the practice of basic concepts and topics like Percentage, Profit & Loss, SI & CI, and average.
3. SBI Clerk Mains Exam Strategy – Few Things To Keep In Mind
In the first two sections of GK & English, where time is not much of a constraint, one will need to be thoroughly prepared across all topics. Hence, try and prepare for all topics under GK and English with separate practice for each topic to develop a sense of comfort in solving all types of questions. Try the Free Topic Tests for English Language & GK on Oliveboard. Click here to access them.
Quant + Reasoning: Since speed is the key here, practicing is key to improving your speed. Practice sectional tests with separate timings for each section to see how many you are able to solve. Here it is important that one solves all questions they are comfortable with first and then move onto the more difficult ones to maximize attempts and strategy in limited time. Click here to take sectional tests of 50 questions & 45 minutes for Quant & Reasoning.
Make sure you are taking online tests for practice along with a timer that allows you to monitor not just the time you spend on each section but also the time spent on each question to analyze where you are getting stuck.
Thus, while preparing for mains, your focus should be to maximize scores in each section.
As the Exam Date for SBI Clerk Mains 2020 has just been confirmed as 31st October 2020, don't wait before subscribing to Oliveboard's Complete SBI Clerk Mains Crash Course ONLY FOR ₹1299/- (Course will be delivered in English).
You will be given special guidance from India's Top Faculty. Crisp & precise coverage of the entire Syllabus of SBI Clerk Mains will ensure you crack the last and the most crucial stage of SBI Clerk recruitment.
JOIN THE SBI CLERK MAINS CRASH COURSE NOW
Complete SBI Clerk Mains Online Crash Course 2020
What does the SBI Clerk Mains 2020 Course offer you?
SBI Clerk Mains Cracker Course is a comprehensive course that is split into three major sub-courses:
1. GA & Banking Awareness
2. Core Subjects Cracker via LPS 
The details of each individual course are given below:
1. GA & Banking Special Batch – For SBI Clerk Mains 
Course Start Date: 23rd October 2020
This GA & Banking Special Batch is specifically designed for SBI Clerk Mains Exam.
The course is split into two parts that are Current Affairs and Banking Awareness.
Under Current Affairs, Aditya Sir will cover the major events from November 2019 to Mid April 2020.
It includes all the important event details and the MCQs to bring you up to speed about the world around you.
Under Banking Awareness, Aditya Sir will be covering the finer details of Accounts in the Banking System, like the popular Demand and Term deposits and also lesser-known NOSTRO, VOSTRO and NRE, NRO, FCNR accounts.
The course will also include sessions on Union Budget, Economic Survey 2020, Monetary Policy Updates and Payment Systems.
JOIN THE SBI CLERK MAINS CRASH COURSE NOW
2. Core Subjects Cracker via Special Live Practice Session 
Course Start Date: 23rd October 2020
How is it possible to crack any mains exam without being a master in Quant, Reasoning and English?
To increase your chances of selection in the SBI Clerk Mains, we bring to you SBI Clerk Mains – Core Subject Cracker Course, this is an exclusive course aiming to help students clear the Mains exam by focusing on core subjects that are Quant, Reasoning, and English.
This is a Live Practice Session batch for SBI Clerk Mains students and has been curated to give an edge to our users by providing additional practice sessions apart from the mock tests.
Live Practice Sessions are interactive sessions wherein you will solve questions along with other participants with Live Ranking.
The faculty or expert will be present and will share shortcut techniques & tricks on how to solve every question. This is conducted in a game-like environment with a Live Leaderboard and Points. The faster you answer, the more points you get.
The course will have a healthy mix of video lessons, live classes, and Mock Discussions which will be conducted by our Expert Faculty.
JOIN THE SBI CLERK MAINS CRASH COURSE NOW
Get Free eBooks For All Exams
You can download 200+ ebooks important for SSC, Banking, Railway, Insurance, and other government exams here.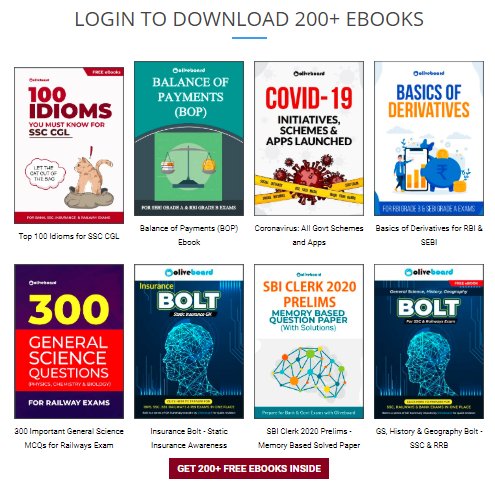 This brings us to the end of this article. We hope that the SBI Clerk mains Exam Strategy shared here helps you in preparing for the exam more strategically. Follow the plan and keep a check on every section equally to ace the exam. Give special attention to the section or the topic you think needs more practice or you are weaker in.
Also, Check:
Oliveboard's discuss forum – For any more query, you can directly join our telegram channel. Our experts will definitely help you.