The SBI Clerk 2021  notification can out anytime in 2021.  If you are aiming to crack the exam in the first attempt it's time to prepare for the examination. For your assistance, today we bring to you the 50 Days SBI Clerk Study Plan 2021 for Preliminary Exam. This plan will help you prepare for the exam in a systematic and structured way ensuring you don't miss any important topics and score well in the exam. Let's glance through the SBI Clerk Prelims exam pattern first and then proceed with the SBI Clerk Study Plan 2021.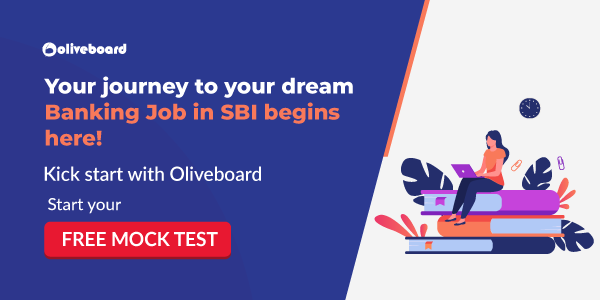 Give Oliveboard's Free Mock Test for SBI Clerk 2021
SBI Clerk Prelims Exam Pattern
Phase-I: Preliminary Examination
Preliminary Examination (online) consisting of Objective Tests for 100 marks will be conducted online. This test would be of 1-hour duration consisting of 3 Sections as follows:
Each test will have separate timing as mentioned above.
There will be negative marks for wrong answers in the Objective tests. 1/4th of the mark assigned for the question will be deducted for each wrong answer.
No minimum qualifying marks for an individual subject as well as for aggregate (overall) are prescribed.
Take SBI Clerk Free Mock Test from Oliveboard
50 Days SBI Clerk Study Plan 2021 – Prelims
You can use this plan to study and revise for the SBI Clerk exam. There is a Practice Test after each topic to ensure that one concept is clear before moving to the next. The SBI Clerk study plan 2021 is designed in such a way that you can easily cover each topic by allotting a sufficient amount of time every day. Make sure to follow the study plan and prepare the concepts in the first half so that the next half can be spent in rigorous practicing.
** You are not bound to strictly follow this study plan. We understand that everyone learns and understand at their own pace. You can anytime customize the plan as per your convenience or availability of time (in case you are a working professional), but try to include the topics daily and gradually try to speed up the process. For this, you can take help of Oliveboard's Study Planner and get a Free Customized Study Plan as per your convenience (by including/ excluding weekends/ weekdays, etc.)
While taking mocks it's advisable to work on your attempt and question selection strategy. Knowing your strengths and weaknesses would be useful in devising these. Taking mocks, in the beginning, would help you gauge the level of your preparation and would help you strategize your further preparation accordingly. As you can notice, the SBI Clerk study plan recommends taking mocks intermittently throughout the course of your preparation and the frequency has increased over the course of time. It is for the following reasons:
Taking mocks will also help you assess your speed and accuracy levels and will help you get accustomed to the duration and pattern of the test.
As the date of exam starts approaching, taking more and more Mock Tests will help you take your preparation to the next level and will prepare you to face the exam pressure confidently on the final day!
To create a customized study plan, click here.
Analyzing Mocks – How to do it properly
In the study plan, mock tests are recommended almost every day, especially towards the end. Analysing mocks is as important as attempting them. Unless you analyse your performance, your preparation strategy won't be fruitful. Here's how to analyse mocks properly.
Review the Wrong Questions. Find where your concept or approach went wrong. Click on "Review Wrong" and this takes you through solutions of only the wrong attempts.
Attempt the Un-attempted ones. You can take an un-timed test of only the Un-attempted questions in the mock test. Click on "Review Un attempted" and this allows you to attempt all the ones left unanswered.
Review the Correct Answers. Check if there were better solutions or approaches to the one you adopted.
Practice tests from your Weak Areas. Oliveboard's Adaptive Engine figures the top three areas that you need to work on the most based on your performance data and gives you lessons and tests on those topics. After each mock test, find new lessons + tests on your weak areas by visiting the"Improve"
Analyze Graphs. These are detailed reports on your time spent & accuracy section-wise, along with bench-marking reports on your score and percentile.
SBI Clerk Mock Test 2020-21
SBI Clerk 2021 Mock Tests will help you prepare for the actual exam because they will give you an idea of how the pressure and situation will be and this will help you feel more confident and more prepared. The SBI Clerk Mock Test Series will also help you in judging and understanding your strengths and weaknesses so that you can work on them better. Check what's in store for you:
Steps to Properly Attempt SBI Clerk Mock Test:
That's all from us in this article. We hope you find the SBI Clerk Study Plan 2021 useful and apply the same in your preparation journey. You can now access Oliveboard's Mock Tests and other study materials directly from your phone. Download Oliveboard Mobile App and prepare on your move. 
Remember that 'success comes to those who work hard. So, start preparing from now onwards to fulfill your dream of clearing the exam.
 All the best!