SBI is the oldest and the biggest Public Sector Bank (PSU Bank) of India. This makes the SBI PO Job Post one of the most sought-after Banking Jobs in our country. Lakhs of students prepare and appear for the SBI PO Exam every year. SBI has released the SBI PO 2019 job notification announcing 2000 vacancies for the post of Probationary Officer. The Online registration starts from 02-April-2019. The SBI PO Prelims Exam will be conducted on 8th, 9th, 15th, and 16th June and the Mains exam will be in the 2nd week of July In this blog, we will discuss all the SBI PO 2019 Reasoning Tips and strategies you need to know to clear the exam in your first attempt.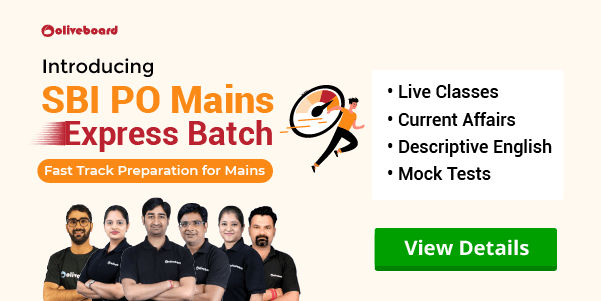 SBI PO Exam has Quantitative Aptitude/DI, Reasoning Ability, and English Language, in both Prelims and Mains phase. Reasoning section is a section which does not have any particular method, you require a great deal of understanding to solve this type of questions, do not worry we will provide you with some SBI PO reasoning tips which will be helpful for your preparation. You are left with just about 2 months to prepare of Prelims exam, hence you need to study smart.
SBI PO 2019: Exam Pattern
However, prior to discussing preparation strategie for SBI PO 2019 Reasoning, let's look at the SBI PO 2019 exam patterns for Prelims and Mains.
SBI PO 2019 Prelims Exam Pattern
Sr. No.
Subject
No. of Questions
Marks
Duration

1

English Language

30

Total Marks 100

20 Minutes

2

Quantitative Aptitude

35

20 Minutes

3

Reasoning Ability

35

20 Minutes

100
60 Minutes
Start Preparing for SBI Prelims with a FREE Mock Test
SBI PO 2019 Mains Exam Pattern
Sr. No.
Subject
No. of Questions
/Marks
Total Marks
Duration

1

Reasoning & Computer Aptitude

45/60

200

60 Minutes

2

Data Analysis & Interpretation

35/60

45 Minutes

3

General/Economy/Banking Awareness

40/40

35 Minutes

4

English Language

35/40

40 Minutes

Total

155
 
180 Minutes
Descriptive Paper Pattern
English Language Descriptive Test: Letter Writing & Essay

Marks: 50 Marks

Duration: 30 Minutes
Start Preparing for SBI Prelims with a FREE Mock Test
SBI PO 2019 Reasoning Tips: Previous year paper analysis   
Analyzing the previous year's question paper is also very important for your SBI PO 2019 preparations hence we have shortlisted the topics of reasoning, which will help you with your SBI PO 2019 reasoning preparation.
SBI PO Prelims Paper analysis
| | | |
| --- | --- | --- |
| Topics | 2017 | 2018 |
| Puzzle Floor | 5 | – |
| Inequality | 5 | 5 |
| Single line question like a puzzle | 1 | – |
| Seating Straight line with age | 5 | – |
| Blood Relation | 1 | – |
| Sequential Puzzle Based on Age | 5 | – |
| Sequential Puzzle Based on Box | 4 | 5 |
| Sequential Puzzle Based months and Date | 5 | 5 |
| Single line puzzle based on age | 3 | – |
| Ranking | 1 | – |
| Direction | 1 | 3 |
| Input-Output traditional | – | 5 |
| Data Sufficiency | – | 4 |
| Coding Decoding New Pattern | – | 4 |
| Parallel Line | – | 5 |
ACE your SBI 2019 with a FREE Mock Test
SBI PO Main Exam Paper analysis
| | | |
| --- | --- | --- |
| Topics | 2017 | 2018 |
| Puzzle Management HIERARCHY | – | 4 |
| Seating Circle with an unknown person | – | 5 |
| Sequential Puzzle Based on month and Date/Age with Calculation | 5 | 4 |
| Matrix | – | 4 |
| Direction with Seating/Coded Direction | 5 | 4 |
| Input-output new pattern with symbols | 2+3 | 3 |
| Data Sufficiency | 2 | 3 |
| Letter of word-based Puzzle | 3 | – |
| New Pattern question based on the clock | 3 | – |
| Straight Line/Parallel Line(shelves) | 3 | 5 |
| LR | 9 | 10-12 |
| Double Square Arrangement | 2 | – |
| Blood Relation to Family Tree | 2 | – |
| Coding Decoding new pattern | – | 4 |
Start Preparing for SBI Prelims with a FREE Mock Test
SBI PO 2019 Reasoning Tips: Important Reasoning Topics
Reasoning section consists of many topics but to give a smart start to your preparation, you need to focus on the important topics and the most scoring ones. To make your preparation smooth along with the SBI PO 2019 reasoning tips we have also listed below the number of marks each important topic carries;
Topics
Weightage

(Approximate)

Inequality
4-5
Blood Relation
2-3

Syllogism

–
Seating Arrangement and Puzzle
15-20
Input Output
5

Coding Decoding

3-4
Direction
1-2
Alphanumeric Series and sequence
1-2

Data Sufficiency

3
Critical Reasoning
3-4
SBI PO 2019 Reasoning Tips: General Tips for Reasoning Section
The first step of any good preparation plan is for the candidate to become aware of their strong and weak areas from the

Reasoning syllabus

. This is essential so that they can allocate their resources (Time and energy) for the preparation of specific topics accordingly.
First, a candidate needs to attempt all the Coding-Decoding,

Inequalities

, Analogies, Ordering and Ranking questions you can find. Attempt these questions in a maximum of 5-7 minutes.
The Next step will be to attempt problems based on Input-Output, Syllogisms, Blood Relations, and Direction.
The Puzzles and Seating arrangement should be assigned a minimum time of 10 min at the end.
Candidates should not just read the concepts from the textbook, practicing the topics learned is also very important. Every reading of a topic must be followed by a practice session where the candidate must solve 10-20 question on the topic learned. We strongly recommend from every topic at least 200 questions needs to be practiced to cover all variations of questions
Solve Online Mock tests. It is the most reliable method of practicing for the exam.  Especially if you practice during actual exam timing every day then it would put your brain in the habit of being at its most efficient level during actual exam time.
Also Online Classes conducted by the Top Faculty at Oliveboard for reasoning would be very helpful. Mukesh Sir conducts the reasoning classes at oliveboard. He gives best shortcut tips to solve difficult problems in less time. Following his tricks could save you a lot of time and result in better score in reasoning. Check out Mukesh Sir's reasoning lecture here
SBI PO 2019 Reasoning Tips: Topic Wise Tips for Reasoning Section
Inequalities are one of the most scoring and easiest section, through which a candidate can gain 5 marks without investing much time. One important variety of question to look for are Coded Inequalities which can help in getting an addition 5-7 mark.
To Solve Seating Arrangement questions, make use of diagrams. For linear arrangements, draw a line then mark positions on it, for circular arrangement draw a circle and a rectangle for the rectangular arrangement problems. Diagrams give you a clear picture of seating positions and would save you a lot of time in solving these questions. Read More about Seating Arrangement problems
For Solving Coding decoding problems, write down all the alphabets from A to Z and then Z to A one below the other. Also, number them. it would help you identify the coding pattern quickly, which in turn will assist with decoding the pattern and arriving at an answer. Read More about Coding Decoding
In Critical Reasoning before answering any question or looking at the answer choices, consider: What would weaken the argument? The conclusion that the statue is a forgery is based on the premise that "an ancient surface usually has uneven weathering" and this one does not. Thus, if the uniform surface was caused by some legitimate force (whether natural or man-made), the argument will be weakened.
That is all in about the SBI PO 2019 Reasoning Tips for the exam. We hope you implement these Tips in your preparation plan to achieve success. All the best for the Exam. Check the link below to start your reasoning preparation for SBI PO 2019 today itself.


The most comprehensive online preparation portal for MBA, Banking and Government exams. Explore a range of mock tests and study material at www.oliveboard.in