Read the success story of Amanjot, who took 2 years to pursue his dream of becoming a banker. He says one should never give up and focus every day on improvement by working consistently.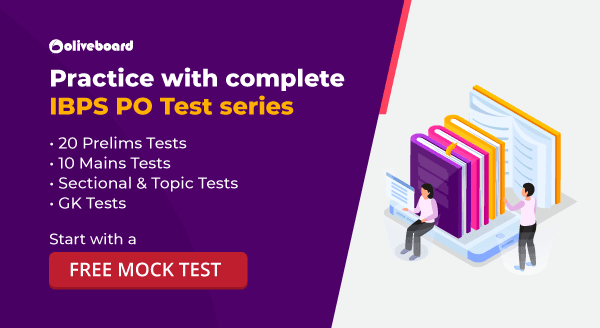 Preparing For IBPS PO Exam? Register now to get a FREE Mock Test
1. Success Story of Amanjot – A Journey Of Clearing IBPS PO 2019
Hi, myself Amanjot Singh, and I am from Ludhiana, Punjab. I did B.Com in 2017 & thereafter I did my M.Com in 2019. Also, I cleared both my groups of Chartered Accountancy Intermediate & completed with my articleship as well. My dream always was to go to the banking sector so I had the option to pursue my CA Finals after graduation or prepare for the banking. Because at that time GST was coming so I thought not to just become a CA with obsolete knowledge, I decided to secure a job & then become a Chartered Accountant. So, even after multiple failures in the banking examinations I never gave up & ultimately cleared many banking examinations.
Just after my graduation in 2017, I cleared the Federal Bank clerk exam but missed out on the interview. Then after a long wait, I cleared the NICL Account Apprentice examination in which again I was put in the waitlist, later on, got posting in Guwahati, Assam. Then I also cleared LIC HFL's Associate exam & got posting at Bhatinda, Punjab. But I joined neither of them. Then finally, came the best day when I cleared both IBPS PO with Oriental Bank of Commerce as well as the IBPS Clerk exam with Bank of India in the unreserved category.
So, I would be joining IBPS PO in Oriental Bank of Commerce which comes now under the Punjab National Bank.
My journey was full of ups & downs. For almost two years I didn't even clear any pre-exam apart from Federal Bank clerk & NICL which were only just one exam, not pre & mains. But thereafter I ramped up my efforts & increased my sitting which earlier was very less. Also, I came to know about the best test series in the form of Oliveboard with a plethora of wonderful questions covering each & every topic. My strategy earlier was to just solve quizzes but that went miserable so after two years I again started from scratch from various video courses & youtube videos. 
2. Amanjot Subject-Wise Preparation Strategy
2.1 Quantitative Aptitude Preparation Strategy
I focussed on tables, cubes, squares & Vedic maths for simplification/approx, number series, quadratic equations, and word problems solving each level of every chapter. For DI, initially, I solved from random sites but after Oliveboard published its book, I preferred it both for pre & mains.
2.2 Reasoning Section Preparation Strategy
Firstly I cleared my concepts of miscellaneous portions of syllogism, order ranking, etc. Then I moved to puzzles, mainly from Oliveboard's Puzzle mania which extensively covers each & every type of puzzle.
2.3 English Section Preparation Strategy
The only focus was on reading so I preferred reading various articles & also, youtube videos for each & every type of question. For descriptive as well, I daily wrote a summary of articles & read pdfs before the mains.
2.4 GA Section Preparation strategy
Even when my pre was not getting cleared I still maintained a daily diary, read newspapers, solved quizzes from Oliveboard & other sites. Also after the end of the month, I always preferred reading bolts by Oliveboard apart from my notes.
Prepare Current Affairs With Oliveboard's Month BOLT:
2.5 Interview Preparation Tips:
Here I watched many youtube videos & read pdfs to know about the prerequisites of it then polished the banking concepts. I also read newspapers, articles to know about the current issues. And most importantly 10-15 days before my interview was scheduled, I gave mock interviews daily.
3. How Oliveboard Shaped Amanjot Preparation?
So, after the whole coverage, I only relied on mock tests, especially Oliveboard which helped me gain insights into areas in which I need to improve. In the end, I just want to say a huge thanks to Oliveboard for playing a predominant role in fulfilling my dream of being a banker.
4. His Tips to Aspirants
My advice to whosoever reading this would be that just never ever give up, just keep learning & no matter how many times you fail, use these failures as stepping stones. Ultimately, the one exam that you'll clear would be the final victory. So, focus on everyday improvement by working consistently.
Go ahead guys, work hard & improve on a daily basis, there's nothing that can not be achieved. Good Luck!!
Register Now & Prepare for the Exam of Your Choice
That brings us to the end of this article. Success Story of Amanjot is a true example of how dedication and proper guidance could help you achieve what you aim for. We hope that this story motivates you and who knows the next success story could be yours.
Also, Check: