"Success is no accident. It is hard work, perseverance, learning, studying, sacrifice, and most of all, love of what you are doing or learning to do". The same is true for Shefeek Jaleeel, who has successfully cleared RBI Grade B 2019 after relentless perseverance and continuous learning from his earlier attempts at the exam. Let us go on to read the Success Story of Shefeek Jaleeel and the strategy that he followed and learn something new today. 
Success Story of Shefeek Jaleeel
I. Introduction & Native State
Hi Everyone. I am Shefeek Jaleeel from Kerala. I have cleared the RBI Grade B exam in 2019.
In this blog, I am briefly sharing my experience with all of you. Please understand this is not a topper strategy. This is only my experience. Everyone has their own unique strategy. It's my humble request to devise your own strategy by taking inputs from others. 
---
II. Brief Background (Education & Employment)
I graduated in Mechanical Engineering in 2012 from TKMCE, Kerala.
Since then I started preparing for the Civil Services Examination. I gave a couple of UPSC Mains and then I shifted my focus to RBI Grade B. This was my 3rd serious attempt at RBI Grade B and 5th overall.
I gave RBI interview in 2017 but failed to clear. 
Work Experience
Syndicate Bank PO (IBPS PO 2015)

FCI AG 3 depot cadre 
---
III. RBI Grade B Preparation Strategy
1. Phase 1 Approach
i. General Awareness
This is the most important section of the Phase 1 Exam. Since GA has a 40 percentage weightage, scoring well in this section will help clear the cutoff.
I used Affairs Cloud's current affairs material as a reference source for GA. I also used GK Today quizzes for supplementing the information. The GA part of the Mock Test Series also helped me in scoring well in this section. I covered current affairs for the last 6 months for the GA section. 
---
ii. English
I relied completely on the test series of Oliveboardand Practicemock for this section. I also practiced from the previous year Bank PO Question set from DISHA publications.

---
iii. Reasoning 
Free YouTube videos helped me to learn the concepts.
For practice, I fully relied upon Oliveboard and Practicemock test series. Disha's publication of the previous year's Bank PO question set is equally used for solving. I did not attempt puzzle questions, as it is difficult for me. 
---
iv. Quantitative Aptitude
Again, I used free Youtube videos for gaining conceptual clarity and Oliveboard / Practicemock test series. Also, Disha's previous Bank PO question set. 
Practicing mock tests and solving plenty of questions is the key to clearing Phase 1. 
---
2. Phase 2 Approach
i. ESI
Since I have a UPSC background, I am aware of the economic concepts. The best source for studying economic concepts is Mrunal economy lectures, Arthapedia and Indian economy.net are also very good sources for gaining conceptual clarity. 
NCERT macroeconomics or Ramesh Singh Indian economy (select chapters) or Sriram IAS Indian economy books or Economy Notes that you can get from online platforms are also good sources for gaining economic concepts. 
Current Affairs and Government Schemes constitute a major portion of the ESI paper. I used PT 365 vision IAS economy notes and my own notes made from affairs cloud for ESI Current affairs. 
Vision IAS government scheme document is used for covering government schemes. IAS parliament government scheme document is also good. (Nowadays RBI is asking random schemes that are not covered in any of the standard sources!) 
---
ii. English Descriptive
UPSC background helped me deal with this paper. As marks are not out yet, I don't know how much I scored on this paper.
I had scored 77 in 2017 RBI Mains.
There are 4 key parameters for scoring in this section.
Content (Hindu/ Indian Express editorials and OPED page will help here)

Avoid grammar and spelling mistakes

Adhere to the word limit 

Take care of your typing speed
---
iii. Finance & Management
This is a difficult subject for almost all aspirants. Nowadays, RBI is asking very few or no numerical questions from the Finance section. The questions tend to be more conceptual, but basic in nature. They tend to put confusing options, so conceptual clarity is the key to clear this paper.
3. Finance Sources Referred 
Prasanna Chandra financial management (selected chapters)

Investopedia

NCFM material (financial module for beginners)

Corporate finance by Westerfield and Ross (select chapters only for numerical). 

Rbi website (important notifications). Google every topic in the syllabus, very good articles are there on the RBI website, which is relevant for the exam.
4. Management
Organizational behavior by SP robbins

HRM by T N Chhabra

I heavily used the internet for this section. Management study guide, what is HRM, are some of the web sources I used. 
I practiced a 5 to 6 mock test of Oliveboard and Practicemock for this paper. 
---
3. Interview Approach
I referred to multiple interview transcripts that are available on the internet for gaining some insights. As the range of marks in the interview awarded by RBI varies between 15 to 45, this phase is crucial to get into the final list. As marks are not yet out, I don't know how much I scored in my interview. 
For gaining knowledge I used the RBI website, working and functions doc by RBI, speeches of RBI Governor and DG s, books written by RBI governors, and other general economy books. I also read Livemint and Business Standard newspaper for preparation.
I attended a Mock Interview conducted by various online platforms. 
What I learned from my journey is that pursuing our dreams requires some sort of calculated risk. Perseverance and determination will drive the luck factor to our side on the D day. We should continue chasing our dream, our passion, and above all enjoy and celebrate our life moments. God bless you all. 
All aspirants please go through the following blog. So useful for RBI Exam preparation.
---
RBI Grade B Preparation & Online Course 2021
Let Us Help You Reach Your Goal! Join Oliveboard for your Complete RBI Gr. B Preparation! Start Early & Stay Ahead of Your Competition!
Go through free RBI Grade B study materials PDFs and take up RBI Grade B Free mock tests online.
RBI Grade B 2021
Crash Course Offerings
Video Lessons & Study Notes

Mock Tests

90+ Video Classes for ESI & FM

LIVE + Revision Sessions for ESI & FM

10+ Descriptive English Classes

Detailed Study Notes ESI & FMCurrent Affairs Capsules & Past Year Papers

6 Descriptive Mock Tests (ESI & FM)

30 Objective Mock Tests (15 – ESI & 15 – FM)

10 Full-Length Mock Tests for Phase 1

Topic Tests for each chapter of ESI & FM (1 Markers & 2 Markers)
 *We will get your ESI & FM descriptive answers evaluated!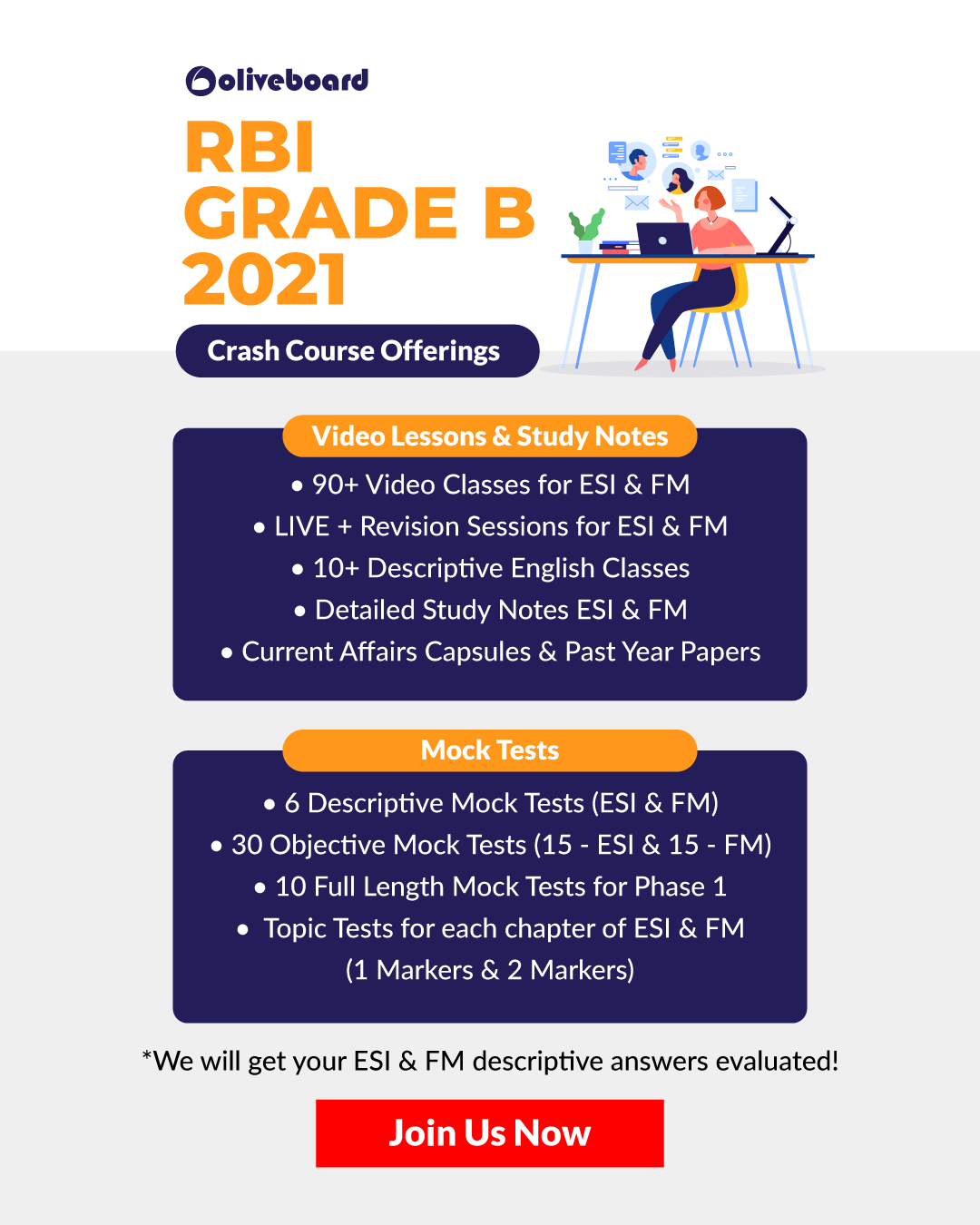 Get Started with RBI Grade B 2021 Online Course comprising Video Lessons, Detailed Study Notes & All-India Mock Tests for Phase-1 & Phase-2. 

Use Coupon Code P30 & Get 30% off on RBI Grade B Course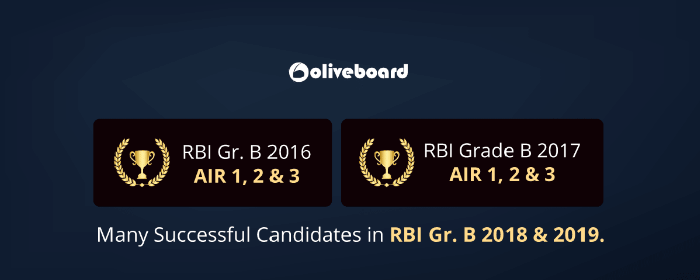 Also, Check