Read the success story of Veerella Ravichandra, a former TCS employee for three years. He left a lucrative job to prepare for RBI Grade B. He appeared for RBI Grade B Exam 2018 and 2021. Go through his preparation strategy for each phase and his perseverance.
Success Story of Veerella Ravichandra
I'm Ravichandra, an engineering graduate (2014) with 3 years of work experience in TCS. I resigned in mid-2017 to prepare for competitive exams. I have appeared for RBI Grade B in 2018 and 2021.
I attempted the RBI Grade B exam in 2018 without much preparation, leading to disqualification in Phase 1. The success in the second attempt (2021) was due to a multitude of factors like – accumulated knowledge over economic, social and financial aspects during the course of preparation, descriptive answer writing practice and a good preparation strategy. 
---
Ravichandra's Subject-wise Preparation Strategy
Strategy for Phase 1:
I focused more on attempting as many mock tests as possible and maintaining good accuracy in reasoning and general awareness. I used memory techniques like mental maps, pneumonic, etc. for remembering the general awareness section.
Strategy for Phase 2:
For ESI
Government schemes, Budget and Economic Survey are the major sources for objective type preparation. For the descriptive part, I prepared a list of probable questions from the syllabus and framed the answers with 3-4 subheads and bullet points under each subhead.
For FM
I revised the management portion multiple times as we tend to confuse and forget various management and leadership theories. Having conceptual clarity in finance helped me in solving MCQs. The technique of anticipating probable questions and preparing the answer structures helps in the descriptive part.
For English
I have prepared content for about 15-20 essays across 3-4 themes based on the previous papers. I used data and examples from current affairs while presenting the essay. In precise writing, I remembered the basic rules and practised 4-5 questions.
Ravichandra's Strategy for Interview
I have read about RBI, its functions, departments, latest statutory reports, speeches, etc. from RBI Website. For gaining knowledge about current events of social and economic importance, I used to read one business newspaper apart from the regular news daily.
I prepared a list of probable questions based on bio-data and practised answers for each of them. Having discussions among peer groups helped me in refining some of my answers. 
I have taken 4 mock interviews to know the gaps in interview preparation.
---
Role of Oliveboard in Ravichandra's Success
The mock tests conducted by Oliveboard for both Phase 1 and 2 are of high quality and follow a similar style and pattern to the RBI. The post-test analytics helped me in identifying strong and weak areas. The mock interview session conducted by Oliveboard with ex-RBI employees gave an insight into the expectations of the board and helped me in improving the structure and delivery of answers.
Ravichandra's Tips for Aspirants
Having an integrated preparation plan for both Phase 1 and Phase 2 is important as it is difficult to master answer writing in a few days. Practising more mock tests helps in building confidence, identifying weak areas and improving scores. Enjoy the process of learning without having undue tensions about final outcome. Begin, Believe and Become. Best wishes for your journey.
Hope this Success Story of Veerella Ravichandra inspires a lot more success stories to come.
---
RBI Grade B Online Course 2022 – By Oliveboard
Oliveboard offers the best RBI Grade B Online Coaching that can help you prepare comprehensively for the exam. Oliveboard's RBI Grade B Online Course 2022 will be your one-stop destination for all your preparation needs for Phase 1 & Phase 2.
Go through free RBI Grade B study materials PDF eBooks and take up RBI Grade B Free mock tests online.
Course Details
RBI Grade B cracker course is designed to cover the complete syllabus for the 3 most important subjects:
GA for Phase 1
Objective + Descriptive portions of ESI for Phase 2 exam.
Objective + Descriptive portions of F&M for Phase 2 exam.
Not just that, it also includes Mock Tests & Live Strategy Sessions for English, Quant & Reasoning for Phase 1.
The course aims to complete your preparation in time for the release of the official notification.

Features
RBI Grade B 2022 Online Course Offerings
Video Lessons & Study Notes
Mock Tests

90+ Video Classes for ESI & FM

LIVE + Revision Sessions for ESI & FM

10+ Descriptive English Classes

Detailed Study Notes ESI & FM Current Affairs Capsules & Past Year Papers

6 Descriptive Mock Tests (ESI & FM)

30 Objective Mock Tests (15 – ESI & 15 – FM)

10 Full-Length Mock Tests for Phase 1

75+ Topic Tests for each chapter of ESI & FM (1 Markers & 2 Markers)
*We will get your ESI & FM descriptive answers evaluated!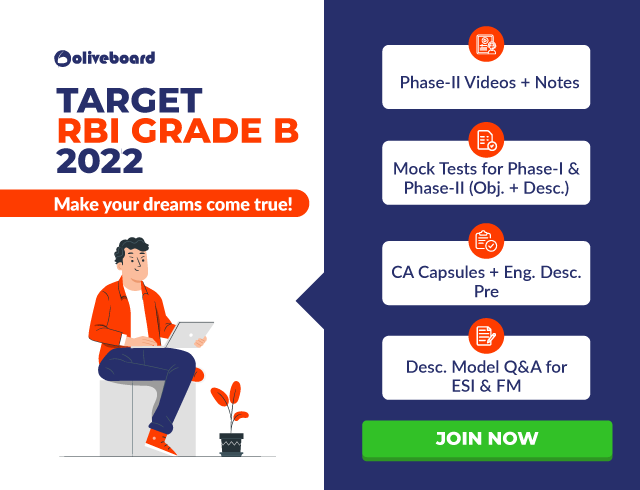 ---
How to Enroll for the RBI Grade B Online Course 2022?
Sign up or log in using the link given below. You will be redirected to the payments page. Read the course offerings and subscribe to RBI Grade B 2022 Cracker Course.
Now that you are aware of the RBI Grade B Online Classes, why wait?
Get Started with RBI Grade B 2022 Online Coaching comprising Video Lessons, Detailed Study Notes & All-India Mock Tests for Phase-1 & Phase-2.
Use Coupon Code LAUNCH & Get 20% off on RBI Grade B Course
Connect with us on:
  Oliveboard Live Courses & Mock Test Series