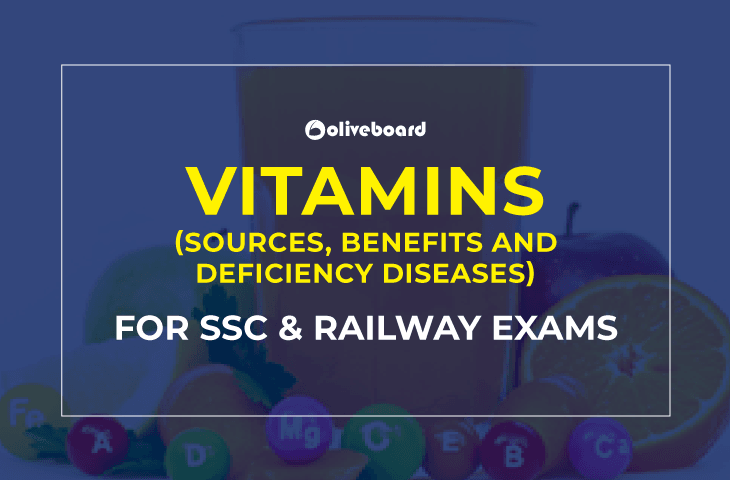 Current Affairs and General Awareness section is one of the most important and high scoring sections of SSC and Railway Exams like SSC-CGL, SSC CPO, SSC CHSL, RRB JE, RRB ALP, etc. Therefore, we regularly provide you with Free Static GK and Current Affairs related E-books for your preparation. In this section, questions related to Vitamins, about their Sources, Benefits and Deficiency Diseases have been asked. Hence it becomes very important for all the candidates to be aware about all the important Vitamins and related facts.
In all the Bank and Government exams, every mark counts and even 1 mark can be the difference between success and failure. Therefore, to help you get these important marks we have created a Free E-book on Vitamins – Sources, Benefits and Deficiency Diseases.
The details of all the important Vitamins is given in this Free E-book on Vitamins – Sources, Benefits and Deficiency Diseases.
Download the FREE E-book PDF – http://bit.ly/VitaminsPDF

Download E-Book PDF
Following is the a glimpse of the E-book content
Vitamins – What Are Vitamins?
Vitamins are the micro-nutrients required for the proper growth and maintenance of our body and organs. They help with the metabolism of proteins, fats and carbohydrates required for the body development. Vitamins are not developed/synthesized inside human body. Hence, our food should have appropriate amounts of vitamins meet the required levels.
Sources of Vitamins
The Following table contains the sources of all the important Vitamins -:
| | |
| --- | --- |
| Vitamin Name | Source |
| Vitamin A (Retinol) |  Dark green and yellow coloured vegetables and fruits, cod liver oil, Milk, Butter and other dairy products |
| Vitamin B1 (Thiamine) | Bread yeast, Sprouts, etc. |
| Vitamin B2 (Riboflavin) | mushrooms, soybean, nuts, green leafy vegetables, Almonds |
| Vitamin B3 (Niacin) | cereals, seeds, meat, fish – tuna, etc. |
| Vitamin B4 (Choline) | Vegetables, whole grains, unadulterated honey |
| Vitamin B5 (Pantothenic Acid) | Brocolli, sweet potatoes, beans, eggs, etc. |
| Vitamin B6 (Pyridoxine) | Pistachio nuts, Sesame seeds, Chicken, etc. |
| Vitamin B12 (Cobalamine) | Fish, Meat, Raw milk, Organic Yogurt |
Download the FULL E-Book PDF
Sample Questions –
Q. Which of the Following is not a benefit of Vitamin E?
(a) Maintaining Cholesterol levels
(b) Healthy Hair
(c) Hormone Balance
(d) Teeth Development
Answer: Option D – Teeth Development
Q. Rickets is cause due to deficiency of which Vitamin?
(a) Vitamin A
(b) Vitamin B
(c) Vitamin C
(d) Vitamin D
Answer: Option D – Vitamin D
Oliveboard SSC Exams E-books:
Oliveboard Bolt series E-books: 
Free Static GK E-book – More Study Materials :
We hope you like the information provided in the above SSC and Railway Exams Free Ebook would be helpful for your preparation. Keep visiting this page to get more E-books on Static GK, Banking awareness and Current Affairs for free. All the best for your exams.