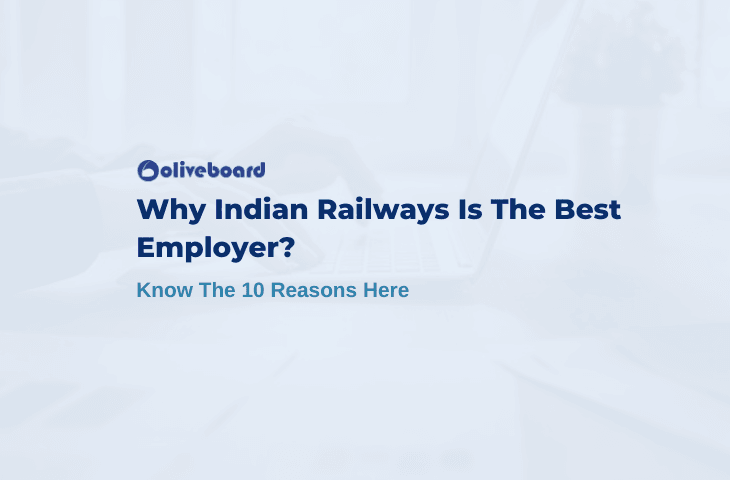 The Indian Railways is one of the world's biggest employer with around 1.4 million people as a workforce. Those who all are appearing for railway exams must be wondering why to join Indian Railways? what are the benefits? and so on. To answer all the questions regarding why join Indian Railways, we are enlisting multiple reasons explaining all the questions regarding why Indian Railway Jobs are the best career choice and why to join Indian Railways? So, let's start with the blog, 10 Reasons Why Indian Railway Jobs are the best.
Prepare For Indian Railways With Best Mock Tests
10 Reasons Why Indian Railway Jobs are the best
Recession-Proof: 
Indian Railways jobs are recession-proof and you won't experience pay cuts and b

eing an employee you don't need to worry about being fired either.
Free Railway Journey:
Depending upon the post employee is entitled to enjoy the benefit of free travel pass every year.
Residential Quarters:
Indian Railway offers residential quarters for their employees with basic amenities provided with a nominal amount.

Residential Quarters are built and maintained by the Engineering department of the Railways.
Subsidized food:
 The Railway employees are entitled to avail the subsidized meals (breakfast and lunch) at the Railway canteens.
Medical Facilities:
Employees and their families are provided free medical facilities at any of the Railway hospitals. Depending upon the severity, the patients will be referred to the Corporate Hospitals too.
Education Facilities To The Children:
Employees staying in railway colonies have access to good educational facilities such as schools and colleges for their children. So it is a good place to start a family.
Jobs for relatives on compassionate grounds:
In case if any employee dies while in service, then a family member can get a Railway job on compassionate grounds, depending upon his/her educational qualification. This ensures financial security to the family.
Study Leave:
Indian Railways provide Study leave to its employees in case if employee wants to pursue higher education.
Secure Employment:
There is no 'Hire and Fire' policy in the Government sector. Once hired, you will be employed till your retirement(60 years of age). The security offered by the Indian Railways is unparalleled.
Pension:
Post-retirement, the retired employees can avail pension facilities.  The Indian Railways offers pensionable jobs to its employees. This ensures the financial security throughout the life.
Prepare For Indian Railways With Best Mock Tests
This is all from us in our blog, 10 Reasons Why Indian Railway Jobs are the best. Stay tuned with Oliveboard for more such blogs and exam related information.
Do check our different courses and start preparing for the exams with the best mock test series on Oliveboard.
Also Check: