Do we hear you've decided to go for CLAT or Common Law Admission test? Good choice! Are you wondering what your next step should be, given there are only 6 months to CLAT 2023? Fret not! Oliveboard has got your back. Remember that the first step to cracking any competitive examination is having a set study map before you even begin, combined with resolve, determination, focus and perseverance for the entire preparation cycle.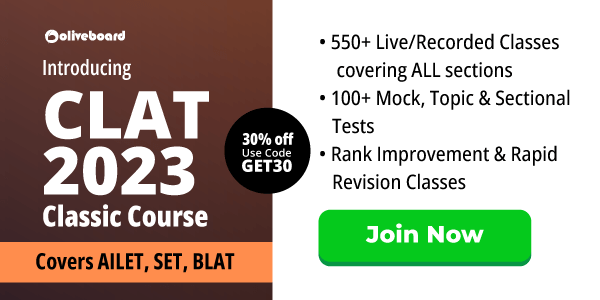 Remember Buster Scruggs and the famous "…when you're unarmed, your tactics might be downright Archimedean."? Let's get you the correct ammunition by planning to pace your prep for the next 6 months to CLAT 2023 with a strategy, study plan and focus on the sectional breakup.
Understanding CLAT 2023
As per the Press Release by the Consortium of NLUs, the Consortium has resolved that CLAT-2023 will be held on 18th December 2022. Hence, in 2022 two CLAT examinations will be held in one year. This means, in a few days (precisely, on the 17th of June), you'll be entering the golden phase of the preparation cycle, the 6 months gap before the d-day.
Let's understand what the exam demands of us!
Common Law Admission Test, or CLAT, is a centralized national level entrance test for admissions to an integrated (5 years) undergraduate degree in Law (BA LLB, BBA LLB, BSc LLB, etc.) in twenty-two National Law Universities (NLU) in India (except NLU Delhi which conducts a separate entrance, AILET). The test can be taken after the Higher Secondary Examination or the 12th grade and is conducted by the Consortium of NLUs nationally every year.
Generally, the battle of CLAT is a 120-minute field wherein the candidate has to solve 150 questions spread across five areas – English Language, Current Affairs (including General Knowledge), Legal Reasoning, Logical Reasoning and Quantitative Techniques. Each question is a one-marker objective type. A negative marking of 0.25 mark per wrong answer has also been kept.
Syllabus of CLAT 2023
Section
Nature of the Passage
Type of Questions
English Language
450 words long Passages derived from contemporary or historically significant fiction and non-fiction writing.
– Read and comprehend the main point discussed in the passage, as well as any arguments and viewpoints discussed or set out in the passage;
– Draw inferences and conclusions based on the passage;
– Summarise the passage;
– Compare and contrast the different arguments or viewpoints set out in the passage, and,
– Understand the meaning of various words and phrases used in the passage.
Current Affairs (including GK)
450 words long passages derived from news, journalistic sources and other non-fiction writing.
– Contemporary events of significance from India and the world;
– Arts and culture;International affairs; and
– Historical events of continuing significance.
Legal Reasoning
450 word long passages related to fact situations or scenarios involving legal matters, public policy questions or moral philosophical enquiries.
– Identify and infer the rules and principles set out in the passage;
– Apply such rules and principles to various fact situations; and
– Understand how changes to the rules or principles may alter their application to various fact situations.
Logical Reasoning
300 word long "short" passages to assess your mental ability.
– Recognize an argument, its premises and conclusions;
– Read and identify the arguments set out in the passage;
– Critically analyse patterns of reasoning, and assess how conclusions may depend on particular premises or evidence;
– Infer what follows from the passage and apply these inferences to new situations;
– Draw relationships and analogies, identify contradictions and equivalence, and assess the effectiveness of arguments.
Quantitative Techniques
"Short" sets of facts or propositions, graphs, or other textual, pictorial or diagrammatic numerical information representations.
– Derive, infer, and manipulate numerical information in such passages, graphs, or other representations; and
– Apply various 10th standard mathematical operations on such information, including ratios and proportions, basic algebra, mensuration and statistical estimation.
Sectional Breakup
| | |
| --- | --- |
| Subject Areas | Approx. number of questions (Weightage) |
| English Language | 28-32 questions, or roughly 20% of the paper |
| Current Affairs, including General Knowledge | 35-39 questions, or roughly 25% of the paper |
| Legal Reasoning | 35-39 questions, or roughly 25% of the paper |
| Logical Reasoning | 28-32 questions, or roughly 20% of the paper |
| Quantitative Technique | 13-17 questions, or roughly 10% of the paper |
Formulating "Study Plan" for 6 months to CLAT 2023
As you only have 6 months to CLAT 2023, you need a dedicated study plan and systematised sectional schedule. If you already have one, you need to calibrate it to get the edge. Divide your 6 months to CLAT 2023 into three parts –
Sl
Goal
Months
Step to be taken
01
Formulating a strategy for d-day
0.5 months or 15 D
– Go through the syllabus once daily. By the end of this month, you should know the syllabus like the back of your hand. 
– Solve full-length Previous Year Question-paper available online. Solving at least 5 should suffice. This will help you assess your level in each subject. Remember that CLAT is an aptitude test and not a test of your prior knowledge. Either you have got the aptitude or you don't. And in both cases, there is nothing to be worried about. You've enough time to build on.  You can also attempt one mock test here. This exercise will help you find your strengths and weaknesses.
– Start developing the habit of reading if you haven't already. For starters, begin reading the English newspaper daily. You could choose from either The Hindu or Indian Express and eventually expand upon reading The Mint, Financial Times, Frontline, New York Times, etc. This step will prove crucial for other parts of your 6 months to CLAT 2023 strategy to work!
– This is the time you should begin expanding your vocabulary as well. Remember "Step 1 – the Syllabus"? Revisit and underline buzzwords like Art and Culture, Finance, non-fiction, public policy, etc. You should start building your vocabulary under each of these themes
– – – Make notes while reading the newspaper.
– – -You can use online Flashcard making tools for faster revision.
– – -Use this book called "Word Power Made Easy" by Norman Lewis.
02
Gaining Conceptual Clarity
2.5 months
– Decide how many hours you need to dedicate daily to complete the entire syllabus within 3 months. Generally, (6-8) hours of dedicated study should suffice.
– Divide each day into 3 or 4 slots, each dedicated to a subject. Decisions like "How many hours to be devoted to which subject or section" should be answered subjectively, according to your strengths and weaknesses.
02
Practice
Parallel
– While gaining conceptual clarity, make sure that you are aiming for enough practice as well. Practice is how you gain efficiency in time management and accuracy in problem-solving.
– After completing each topic, give a sectional test. This will ensure that you are applying the knowledge you have gained.
– Each Sunday should be invested in giving a mock and analysing it. With just 6 months to CLAT 2023, you can't go soft on the practice aspect of the preparatory phase.
03
Get that Edge!
2 mo
– The last 2 months should go to getting that edge for a competitive exam.
– The idea is to enhance time management and accuracy. Do this by focussing on finding faster ways to solve a problem. We'll discuss the strategy for each "subject" in the next section of this blog.
4
Revise
1 mo
– Okay! So you are done reading the entire syllabus once, along with an ample amount of practice. You've already started strong, and you need to finish strong now!
– This 1-month out of the 6 months to CLAT 2023 should be entirely dedicated to revision.
– Revise every subject and topic you've read, 
Let's get into the details of sectional strategy for CLAT 2023!
Preparing for Each Section of CLAT 2023
Now that we have a general study plan for the 6 months to CLAT 2023 let's make it more systematic. Couple of things first –
You'll have to customize each of these sectional prep strategies according to your own strengths and weaknesses.
Figuring out your strengths and weaknesses is no game! It needs to be done strategically using mocks. Here is how!
Take a mock test now. Ask yourself these questions after you have its result –
For questions left unsolved or unmarked – Was it lack of time or lack of knowledge?
For incorrect responses – Was it a silly mistake or lack of knowledge?
For correct answers – Is it possible to do this in a better and faster way?
Now that you are aware of what is or is not working for you, let us delve deeper into the sectional strategy –
Subject/ Section
Sources & Strategy for 6 months to CLAT 2023
English language section(Pillar #1: 6 months to CLAT 2023 strategy)
As the trends from previous years' papers & The Consortium of NLUs website suggest, the passages may be from various topics, including technical and scientific topics, but you will not require any prior knowledge of any specialised areas to understand or analyse the passages.
Hence, reading passages from following sources should suffice
—–Newspapers and dailys like The Hindu, Indian Express, New york Times, etc. 
—–Fictional books of 12th Standard like "Hounds of Baskerville" and "Anne Frank's Diary. Reading authors like Dan Brown and Agatha Christie should also prove beneficial.
—–Non-fictions like Financial Magazines or Yojana and Kurukshetra.You should also aim to diversify your vocabulary.
An excellent source to do that is the "Word Power Made Easy" book by Norman Lewis. This book should ideally be finished twice during your 6 months to CLAT 2023.
Also, you'll need to know the basic rules of Grammar. Wren and Martin has got you covered on that front.
Logical Reasoning(Pillar #2: 6 months to CLAT 2023 strategy)
As per the Learning Tools and Materials listed on the Consortium Website, following resources can be especially helpful while building your approach to this section. First of, the questions in this section will be based on material drawn from sources that include 
— a. Opinion and editorial pieces from newspapers and magazines and 
— b. Essays on moral philosophy available online and in various books
Some passages will be created specifically for the exam. Examples of source material include 
1. books like 
– – – – ethics in the real world
– – – – eighty-two brief essays on things that matter by Peter Singer
2. Articles and editorials like 
– – – – "Reverse Gear" taken from The Economist a leading international newspaper which is also available online
– – – – other examples include "History for Health" published by the Telegraph and "Where I am", an editorial published in the Indian Express.
The questions following the old format, like Clocks, direction sense, etc, can be practiced from a number of sources (pick one or maximum two per topic, out of the listed)
– – – – – Analytical Reasoning (English) by MK Pandey.
– – – – – A Modern Approach to Logical Reasoning by RS Aggarwal.
– – – – – Arihant's A New Approach to Verbal and Analytical Reasoning.
Legal Reasoning
(Pillar #3: 6 months to CLAT 2023)
1. Learn Concepts & Develop an approach – For being able to score well in this section, you need to be very clear with your concepts. Once you're done learning the concepts, you should have developed an attitude and aptitude for solving the questions appearing in the legal reasoning section of CLAT. The approach could be
a) – Since, the principle and facts will not be supplied separately to you as was done in last years (prior to 2020), the first thing you should learn to do is read through the passage carefully, and identify the principles set out in it.
b) – Once you have done this, read through each question carefully to see if it relates to the same facts as are set out in the passage, or a separate set of facts, or, perhaps, the facts set out in the passage with some alterations.
c) – Now that you have both, the principle and the facts identified, try and break down the principle into smaller parts.
2. Comprehensive approach – The Logical Reasoning, English Language and legal reasoning section of CLAT 2023 (UG) are somewhat related, in the sense that they all require you to read and comprehend a passage well. As such, some of the preparation techniques that apply to the English Language and Logical Reasoning sections of the UG CLAT 2023 may also serve you well for this section. See if you want to schedule your preparation time such that you focus on these three subjects as a group.
Quantitative Aptitude(Pillar #4: 6 months to CLAT 2023)
– The first and foremost book or resource material to refer to should be your Class Xth NCERT Mathematics textbook. Not only will it clear all your basics, it practically covers all the topic bases as well. You can expand upon your practice by coupling your textbook with vigorous practice from R.L. Pandey or Arora's textbook on Mathematics for the same standard.
– Also, remember that the diagrammatic representations of the quantitative information for questions appearing in this section are created afresh by the question setters. In fact, some graphs and histograms have also been derived from public sources such as the website of the Reserve Bank of India. Though you might not stand the chance of seeing a repeated graph or table, etc. Hence, keep an eye out for sources like
——-Yojana and Kurukshetra,
——-Graphs, charts, etc utilised in the economy and business section of the Newspaper,
——-Economic Survey released for every Financial Year along with the annual budget.
Now you may have heard or read the suggestion from various sources that you shouldn't be mugging up anything for the quantitative techniques section for CLAT. However, there are a few things memorizing of which might help you increase your accuracy and precision, namely
——–Up to 20 tables, squares from 2 – 30, and cubes for 2 – 20. This will come in handy in both the arithmetic and logical reasoning sections. Though heavy calculations might not be involved anyway, speeding things while maintaining accuracy can never hurt in a competitive examination like CLAT, AILET, etc.
———Variations in the practical use of formulae. To get the proper result in mensuration, for example, the formulae must be used carefully. 
GK including Current Affairs(Pillar #5: 6 months to CLAT 2023)
The Current affairs & General Knowledge section questions are designed to assess the depth of understanding of important themes and events, rather than superficial knowledge based on facts or trivia. The in-depth analysis of news or opinions is now playing a key role in acing the paper. There is a change in pattern from straightforward on-point questions to understanding the essence of a passage and indicating the reasons.Hence, the best strategy here can be to go through the
—–Editorials & Opinions section of the leading dailys like The Hindu, Indian Express, Financial Times, etc.
—–Explained section of Indian Express.
You should also apply your curiosity behind the daily happenings for find out the "Why"s and "How's.
Also, focus on the keywords. For ex, Indian missiles are majorly named after core elements of nature such as Prithvi or Agni. This should help you in eliminating other options.
And that should help you with preparing your 6 months to CLAT 2023! For more help with your CLAT preparation, tune in to Oliveboard. For tips and tricks on preparing for other law entrances, check this. Ciao!

Oliveboard is a learning & practice platform for premier entrance exams. We have helped over 1 crore users since 2012 with their Bank, SSC, Railways, Insurance, Teaching and other competitive Exams preparation.
  Oliveboard Live Courses & Mock Test Series
Oliveboard Law Exams – Live Courses & Mock Test Series