Mock Tests for CLAT Prep: Important or Not? Do you remember chapter 5 of "Honeydew", the language textbook for Standard 8th CBSE, titled "The Summit Within" by Major H.P.S. Ahluwalia? It enlists three qualities necessary to be exhibited by a person aspiring to climb a summit – endurance, persistence and willpower. The same applies to a CLAT (Common Law Admission Test) aspirant! The pathway to your dream NLU (National Law University) flows through an examination, CLAT, which seeks your dedication, determination, focus, endurance and persistence.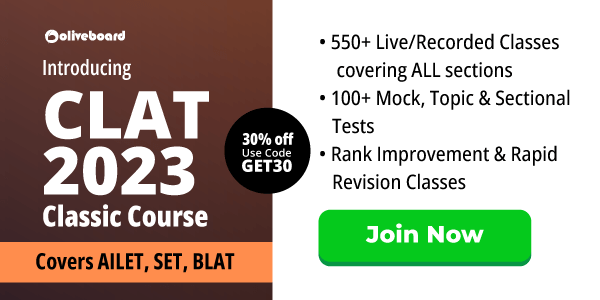 DOWNLOAD THE OLIVEBOARD APP FOR ON-THE-GO EXAM PREPARATION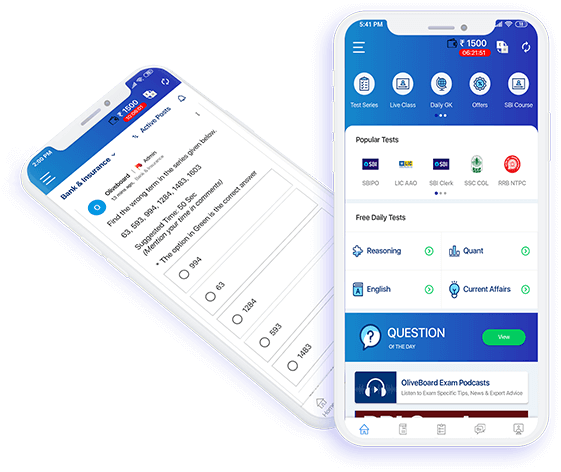 Video Lessons, Textual Lessons & Notes
Topic Tests covering all topics with detailed solutions
Sectional Tests for QA, DI, EL, LR
All India Mock Tests for performance analysis and all India percentile
General Knowledge (GK) Tests
Free videos, free mock tests, and free GK tests to evaluate course content before signing up!
But it is also true that maintaining an optimum level of this five-pronged recipe at all levels of the preparation cycle is a long shot. And this is where a number of interventions step in to help you stay on track, one of them being mock tests. In this blog, we'll do a calculative analysis of whether the Mock Test for CLAT prep are important or not. We'll also touch upon some related questions which might be occurring to you like when could be a good time to start taking mock tests, what is an ideal score and how to increase the marks, etc.
Let's begin with knowing a little about the structure, syllabus and demands of CLAT.
CLAT: The pathway to a premier law institute, NLU
CLAT – UG or Common Law Admission Test (Under Graduate) is the national level examination conducted by the Consortium of NLUs every year for admissions to courses offered by 22 NLUs (except NLU Delhi which conducts a separate examination, AILET) & other universities and colleges throughout the country.
Generally, it is a two-hour (120 minutes) exam consisting of 150 multiple-choice questions worth one mark (1 mark) each. Every incorrect answer results in a deduction of 0.25 mark (-1/4 mark). The question paper is divided into five sections, namely: –
English language
Current events, including General Information
Legal Argumentation
Reasoning logically
Quantitative Methodologies
This exam is highly competitive in nature with approx 77,000 test-takers (as per Wikipedia). The exam itself is very demanding in the nature that it warrants accuracy and time management under pressure. After all, taking a test of 150 questions to be solved within 120 minutes at the UG level is no joke!
Mock tests for CLAT prep
"I fear not the man who has practiced 10,000 kicks once, but I fear the man who has practiced one kick 10,000 times."
– Bruce Lee
To bring an A-level game on the d-day of CLAT, it is important that one has had an ample amount of practice beforehand. This is exactly what Mock tests bring to the table. Taking a mock test in a time-bound manner under a simulated exam-like environment can give you a taste of what it would be like on exam day. It helps you understand the demands of the exam while also giving you feedback on your preparation.
But we promised a calculative analysis of the Mock-test based strategy for CLAT prep, didn't we? Let's understand its pros and cons then.
5 Pros of Taking Mock tests for CLAT prep
Let's you taste the exam before digging into it
The un-inhabitable environment of an examination hall is just too much to bear. The clock ticking above your head! Surmounting heat with every passing minute! A certain type of question in that specific section you probably never came across or hoped wouldn't make an appearance! Do you leave these to chances or prepare for the worst? A sincere candidate would know what to choose.
A quality mock test is designed to give you the taste of the actual examination by replicating the pattern of the paper after a careful analysis of the past year question paper. The syllabus is kept the same and so is the pattern and type of questions asked. (Take a look at this and compare the trends with this free paper.)
This means you get to test and better yourself before the gruelling competition does.
Help curate a strategy that suits your needs and wants
The CLAT examination is all about being able to maintain your cool while solving the optimum within the allocated time frame. You need to be good with your language and reasoning abilities, while also having a knack for quants with a hunger for being updated about your surroundings. These are your "needs" for the exams. Next, your "wants" are to enhance your performance and get the edge over others to convert your dream NLU, hence a great rank. Mock tests help you find this balance.
They keep you on your toes during the preparatory phase like the surprise tests taken by teachers during school hours. They keep you on track by giving reminders of how much is left to be covered. The edge that we just talked about depends on how well you utilise the mocks, analyse them and incorporate the findings in strategy finetuning.
Provides a space for SWOT Analysis
Have you heard of the Pareto principle? Also known as the 80-20 rule, according to the Pareto principle, for any given event, 80% of outcomes (or outputs) result from 20% of all causes (or inputs). Analysing your mock tests is a large part of this 20% input pie. How so?
The score trends of sectional tests or sections in full-length Mock tests will help you identify your areas of strengths and weaknesses. This can help you decide which areas need further work and focus. Your strengths will fetch you 80-90 marks, the rest will almost always lie in your weak areas. And don't forget the cruel fact of negative marking for incorrect responses. The idea of SWOT analysis is to improve upon the areas you are already strong in to ensure maximum score and to avoid negative marking from your weak areas to ensure retaining that maximum you just reached.
They will also help you build your time-management schedule for the D-day, i.e., how much time is to be allotted to which section to reach your optimum.
Aids improvement of accuracy and efficiency
The results from a mock are not merely an indicator of your preparation level but also a major source of feedback for improvement in your future performance.
Once you're done taking your mock and calculating your result, sit with the response sheet to ask yourself these questions –
For questions left unsolved or unmarked – Was it lack of time or lack of knowledge?
For incorrect responses – Was it a silly mistake or lack of knowledge?
For correct answers – Is it possible to do this in a better and faster way?
This 3-step analysis will help you further finetune your strategy of taking CLAT by improving your accuracy and efficiency on the actual exam day.
Gives you the opening for experimentation and technique development
Now, this comes at a later stage of the preparatory cycle. You're done with the entire syllabus. You've taken sectional tests and even some mock tests. You're fairly comfortable with your test-taking strategy. You're finishing on time. But as Derek Dennis has famously, and rightly so, said "…there is always room for improvement. We can't stop working to get better every day."
Now is the time you work on getting that "edge". There is always more than one way to solve a problem. Think creatively. Utilise your mock tests to experiment with the ways and find out the best fit for you. Here you can "make mistakes" and learn from them.
You'll also be able to develop your own techniques for solving problems. For example, there are several techniques used to crack SBI PO or CAT quant section which can be successfully employed in CLAT as well. They are slightly advanced and require practice to perfect. But that's exactly the space provided by mock tests for CLAT prep, right?
Cons of taking CLAT Mock tests
Sets you back by a few thousand
To quote Daisuke Ono from "Attack on Titan", "Everything has a cost."
Buying mock tests might set you back by a few bucks due to the sheer efforts which go into capturing and perfecting the essence of the real examination. The syllabus has to be followed, the pattern replicated and the difficulty level curated. Past trends have to be closely followed. However, investing in mocks, as per the Pareto principle, can be heavily beneficial for your preparation, should you possess the necessary economic standing to afford the same.
We understand that not all have the necessary means to be buying a mock test series. For them, we have come up with an alternative strategy in another blog to help you achieve the NLU dream.
Cons no more
At this juncture, it is essential to point out that there aren't any other cons to buying a mock test for your CLAT preparation.
Hope these pointers help you arrive at your own decision of whether Mock tests for CLAT prep are important or not! Stay tuned for more tips and tricks on CLAT prep. Ciao!

Oliveboard is a learning & practice platform for premier entrance exams. We have helped over 1 crore users since 2012 with their Bank, SSC, Railways, Insurance, Teaching and other competitive Exams preparation.
Oliveboard Law Exams – Live Courses & Mock Test Series