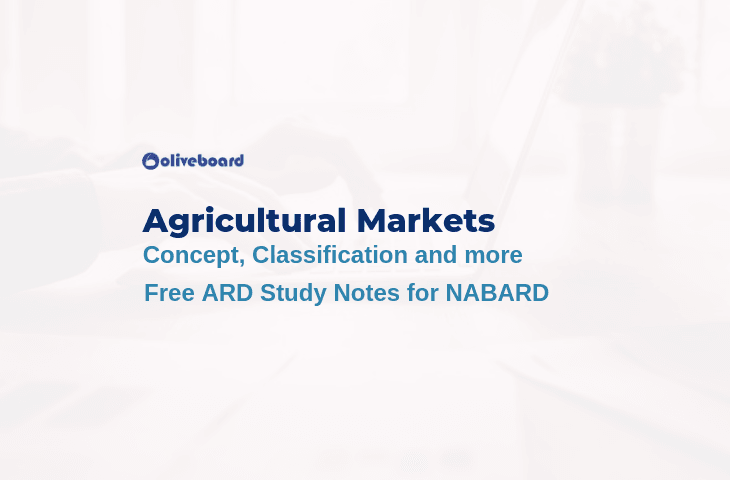 The National Bank for Agriculture and Rural Development holds exams for Grade-A and Grade-B positions every year. This year, the NABARD exams are scheduled in June. One crucial part of the exam is the Agricultural and Rural Development section that deals with rural agriculture, markets, growth and development. Aspiring candidates should refer to ARD Study notes for NABARD to get a comprehensive idea of the topics, which in turn, will help them perform better in the exams. In this section, we discuss Agricultural Markets: Concept, Classification, Factors Affecting Its Growth.
Use Coupon Code "D20" to get 20% Off on NABARD Test Series

What is the Agricultural Market?
Agricultural marketing mainly involves selling and buying of agricultural products. Earlier, when the economy of the village was somewhat self-sufficient, agricultural product marketing seemed easier since the farmers sold their produce to the consumer on barter or cash basis.
Today, agricultural marketing undergoes a series of transfers or exchanges from person to person before it reaches the consumer. Three marketing functions are involved in this – preparation for consumption, assembling, and distribution.
Attempt a Free NABARD Grade A & Grade B Mock Test Now
Classification of Agricultural Markets
Agricultural markets can be broadly categorized into the following –
Wholesale Markets
Wholesale markets sell the goods to the retailer. A wholesaler receives goods in abundance from the manufacturers and distributes the same to different stores, from where consumers purchase the products
Wholesale markets can again be subdivided into –
Primary Markets – These markets are held periodically, usually once or twice a week (e.g. – village markets). The agricultural produces come from nearby villages. These markets sell food grains, vegetables, fruits, and other household requisites.
Secondary Markets – Popularly known as 'mandis', these markets are located at a taluka headquarter or districts. Small, marginal merchants purchase agricultural produces from the primary markets and sell-off in the secondary markets. Some cultivators even sell theirs produces directly in these markets. Each secondary wholesale market covers an area of about 10-12 miles (e.g. – taluka or district markets).
Terminal Markets – These markets are located at a central site, usually in a big city/state that serves as an assembly and trading point for commodities. Terminal wholesale markets are usually seen near or at major transportation hubs.
Attempt a Free NABARD Grade A & Grade B Mock Test Now
Retail Markets
Retail markets are spread all across the town/city subject to municipal control. Generally, these markets deal in all forms of produce and cater to the needs of the urban people as well as of the villagers. Specific retail markets are located at specific localities. For example – vegetables and grains are sold in one locality, while clothes are sold in another locality. The goods or products are sold directly to the consumers.
Fairs
Fairs are usually held at pilgrim centres on auspicious, religious occasions. These markets deal in agricultural produces, livestock etc. For example – the Magh Mela held in Allahabad.
Attempt a Free NABARD Grade A & Grade B Mock Test Now
Factors Affecting the Growth of Agricultural Markets
The growth of Indian agricultural markets depend on certain economic factors, such as the following –
Market Type – The distance of the production site from the market determines the transportation cost. Agricultural crops, vegetables are usually grown near the market site, while sugarcane is grown in urban centres, at places where sugar mills have developed. Similarly, dairy farming develops in the cities, which serve as dairy markets.
Transportation – The development of efficient transportation means to expand the agricultural markets.
Capital – In recent times, agriculture has become mechanized. This involves large capital investments. Purchase of fertilizers, pesticides, machinery and HYV seeds require a lot of money. Unfortunately, most farmers in India live below the poverty line and so are unable to purchase or use such modern agricultural technologies/equipment. This majorly affects the production of agricultural crops. Thus, the availability of capital plays a prominent role in agricultural development.
Labour – The labour supply determines the type and character of agriculture. A huge supply of labour at cheaper rates is required for intensive cultivation. Availability of efficient, cheap labour is important for the cultivation of tea, rice, rubber and cotton.
Government Policies – Government policies have a significant influence on the growth of markets in the agricultural sector. The Govt. may limit the cultivation of a particular crop or force the poor farmers to grow a certain type of crop. For example, the area under oilseeds and sugarcane cultivation in India has increased after the Govt. put greater emphasis on these crops.
Attempt a Free NABARD Grade A & Grade B Mock Test Now
India is primarily an agricultural country. One-third of the country's population is dependent indirectly or directly on the agricultural sector. Indian agriculture accounts for 25% of the country's GDP. With humankind in need of food, much emphasis is put on commercializing agricultural production. Therefore, even distribution and adequate production of food have become a major global concern.
NABARD Grade A Study Material For ARD & ESI – Get Complete Notes
We at Oliveboard have constantly worked for the betterment and interest of our students. To help you with your Exam preparations for NABARD Grade-A we have brought to you a compiled set of notes for ARD & ESI. Click on the link below and study from notes to prepare the particular course for the exam.
GET COMPLETE ARD & ESI STUDY NOTES HERE
NABARD Grade A Study Notes for ESI & ARD (Glimpses of the notes)
The notes will help you cover all the topics as mentioned in the syllabus for ARD & ESI, here we have added a few snapshots of the topics covered: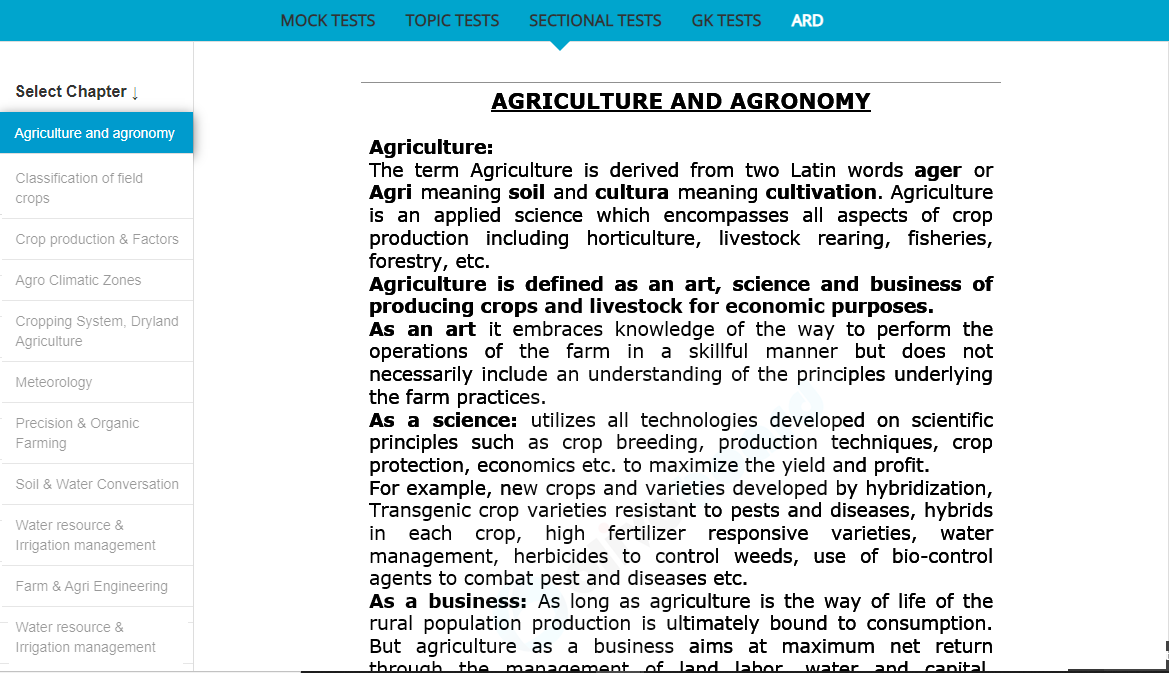 Get Complete ARD Study Notes here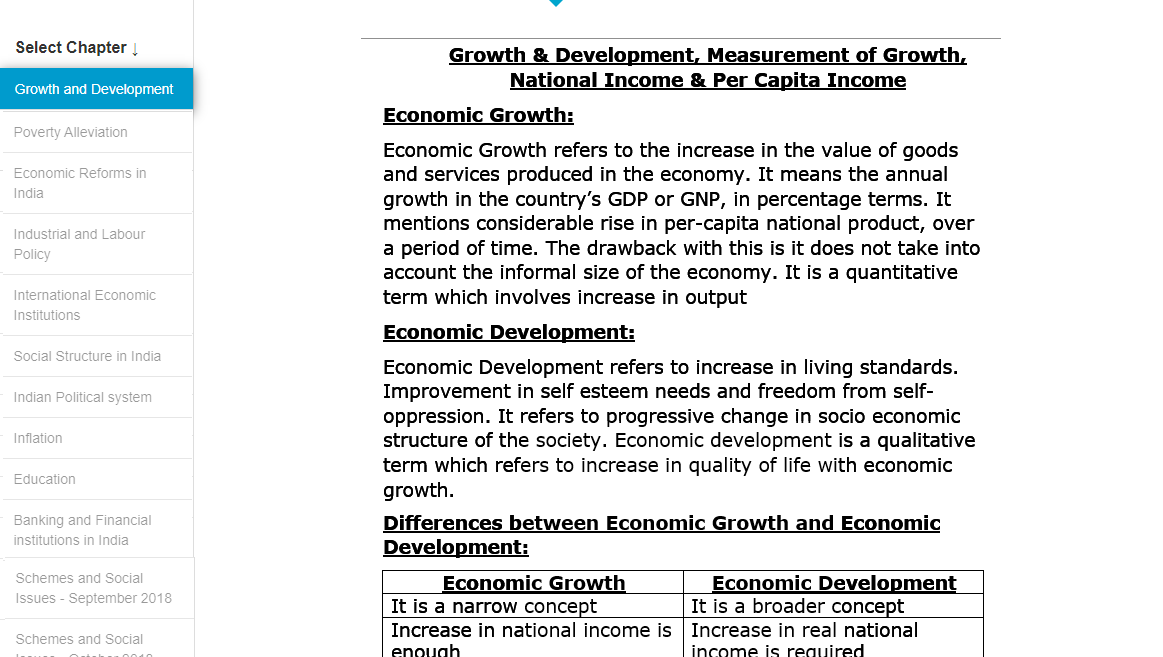 Get ESI Complete Study Notes here
Once you have gone through the notes and understood the basics of Agricultural Markets: Concept, Classification, Factors Affecting Its Growth, do not hesitate to appear for the
online mock tests
.
That will make sure that your exam preparation is at its best.
Read More Agriculture and Rural Development (ARD) Study Notes :
That is all from us in this Free ARD Notes blog on Agricultural Markets. Keep checking this space for NABARD Exam updates, Study Materials and Mock Tests.
If you wish to get in touch with your fellow competitors for preparation of Bank & Govt. Exams, you can visit Oliveboard's discuss forum.
Want more? You can access Oliveboard's Mock Tests, study materials, Podcasts, Word lists, etc. from your phone. Download Oliveboard Mobile App and prepare on the go!
Use Coupon Code "D20" to get 20% Off on NABARD Test Series