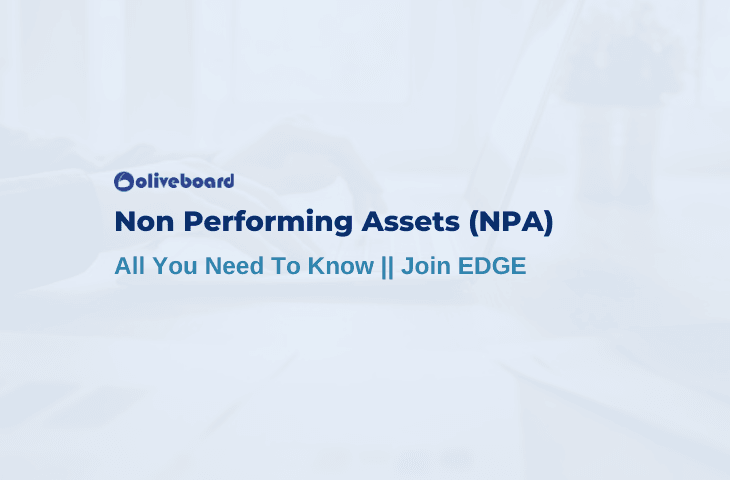 Banking Sector has always been the promising and the most sought after industry. Aspirants from all over India aspire to become a part of this ever-growing and promising industry. But when it comes to knowing about the banks and its terminologies that defines the business for them, there is a slight confusion on the aspirant's end. One such term is Non-Performing Assets (NPA). This sounds like a simple term but has a vast usage in the banking industry and also is one of the most preferred topics for the Examination body of the Banking Exams. Oliveboard is brining know all about Non Performing Assets in the form of live classes. The classes will be available on Oliveboard's Edge platform. Let's read further to know more about the online classes.
All About Non Performing Assets
Non Performing Assets
By definition, Non Performing Assets(NPA) is a loan for which the principal amount as well as the interest amount remains overdue for a period of 90 days. While 90 days of nonpayment is the standard, the amount of elapsed time may be shorter or longer depending on the terms and conditions of each loan. The conditions that are kept for the loan to become an NPA are mentioned on the signed agreement at the time of agreement signing.
Non Performing Assets – Features of Online Classes
Live Classes
Practice Sessions
Interactive Sessions
MCQ's
Everything about NPA starting from scratch will be covered including the measures to curb the NPA and the steps that are taken by the Government. With the RBI Grade B 2019 exam approaching, this topic will be very helpful and knowing about it will eventually help you even in the interviews of the banking exams.
All About Non Performing Assets – Class Schedule
The class will start on the 5th of November on Oliveboard Edge and will feature Banking and Economics Expert Abhishek Sir. Below is the schedule for the classes:
| | | |
| --- | --- | --- |
| Topics | Day/Date | Time |
| Introduction about Non performing Assets | Nov 5, Tue | 1:00 PM |
| Resolution of NPA (Part 1) | Nov 7, Thu | 1:00 PM |
| Resolution of NPA (Part 2) | Nov 8, Fri | 1:00 PM |
| Insolvency & Bankruptcy Code (Part1) | Nov 12, Tue | 1:00 PM |
| Insolvency & Bankruptcy Code (Part 2) | Nov 14, Thu | 1:00 PM |
| MCQ Session on NPA | Nov 15, Fri | 1:00 PM |
Watch the classes on our Edge Platform, get the Oliveboard edge subscription and follow much more than just these classes. If you wish to read more about NPA before actually getting into the sessions, please follow the link here
Do Explore the courses and study material available on Oliveboard for Upcoming Exams.
For more exam related content Join Oliveboard Edge and ace the Exam.
Also Check: