The Banking industry as fast as it is growing, it is attracting more and more aspirants every year. And why not, the benefits and emoluments given by the banks are continually the best in the industry. Due to this increase in the number of appearing aspirants, the competition has undoubtedly increased. In this ever-increasing competition getting the right direction and approach becomes all the more important. We at Oliveboard have always worked for this. Amidst the Coronavirus outbreak, keeping your preparation flow intact at the safety of your home, we are introducing a few new modules on our app which help you keep your studies going.
Here's a Glimpse of the courses that will be running to smoothen your Preparations for upcoming exams:
Lockdown Live Tests – To make this lockdown even more productive, we have introduced this concept. Take Free Online Mock Tests daily and get your all India standing. Analyze your test with the solutions provided at the end. Remember the solutions are accessible only for the same day.

GharPe Coaching 3.0

– Free Online Course On Edge

BANK COMPLETE SERIES

– A Complete Batch with Section-Wise guidance to help you prepare for Prelims & also mains level.
Let's read in detail to understand each of the courses going live.
Join Oliveboard Edge For Complete Exam Preparations
1. Lockdown Live Test – Free All India Daily Mock Test
This is a Daily Free Live test series to help you prepare for your upcoming exams. You will be able to access the Live Tests daily and analyze your performance the same day. Daily new tests are updated on the app/web so that your preparations do not come to a halt.
These Free Live Tests will help you prepare for upcoming exams in a structured manner. Take the free daily live test now and check the level of your preparation.
This can be accessed by clicking on the link provided below.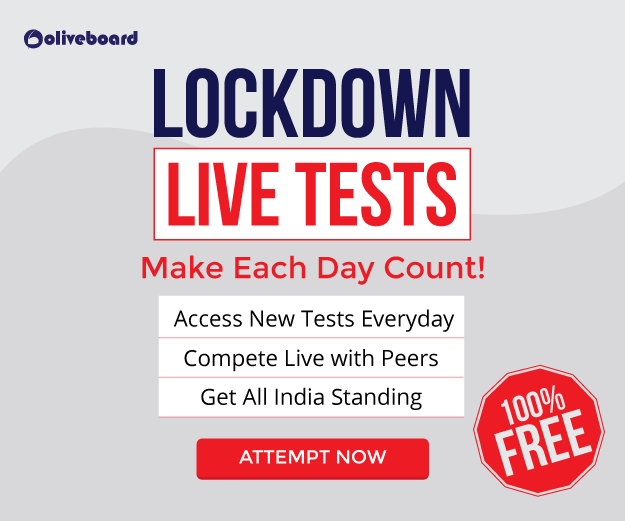 These test will be free and will be available daily to take up. You can compete with your peers and get live standing.
Here are the highlights of the tests that are available on our platform.
1. Compete with Friends – Invite Friends to take Daily Live Tests with you – Invite your friends to take up this Free daily mock test who are also preparing along with you so that you can get a real-time picture of the preparation level.  These Free Tests help one understand where is the preparation lagging and where they need to focus more.
2. Get All India Standing – Compete with not only your friends but aspirants around the country who are taking up the exam which you also are targeting. This would help you understand where do you stand preparation-wise and what are things you need to stumble upon. Also, this competition would be very close to the actual exam as the same people are going to be writing the exams with you. You have a good chance of understanding the challenge and then again challenge it to make the most out of it.
3. Analyze your weakness – Oliveboard provides you with AI-based Analytics of the performance of the test taken. It covers every unique detail like how much time you took on each question, which questions were rightly attempted and which were wrong. How much time did you spent on each question and whether that question was correctly attempted or not? This will help you with an analysis of the weaker areas and will help you step by step to remove the barrier.
4. Improve your score by +10 – As we all know that practice is the only thing that will put your hard work to test and eventually help you realize your goals. Taking Oliveboard Mocks will help increase your score substantially in the coming exams where every single mark becomes of the utmost importance. Our experts have curated that an aspirant increases their average marks by 10 after taking 16 tests on the Oliveboard Platform. Isn't that exciting? So, what are you waiting for, Take A Live Test Now!
5. Understand all PO and Clerk Level Question Types – The tests are a complete mixture of questions from both prelims and mains level for different exams. This would help you understand the level of questions that are asked in the exam. Take A Test yourself and get a complete understanding of the exam and its pattern.
You can click here to access the Lockdown Live Test.

To get the highlights of the tests you can also check the video shared below:
2. Bank Exam Online Course – For Complete Preparations
With SBI Clerk and NABARD Grade A, RBI Assistant already ongoing and a few important ones like SBI PO expected to be announced very soon, it is very important that your exam preparation should not come at a halt. Picking a goal and working towards it should be your priority. And if your goal is to become a part of this ever-growing banking industry then your approach should be strategies. This GharPe Coaching 3.0 is strictly focussed on all-round preparations for all the exams. Get Live Practice Sessions, Live Lectures, mock discussions, and more that will be covered here.
At this point in time, this course would help you prepare for exams like SBI PO & IBPS PO completely free. It will cover all the topics for prelims and mains for these exams.
This course would be completely Free and would help you keep the pace of your study in this coronavirus outbreak. In further to our aim that you should study at the safety of your home, here we bring you a Free Online course for your bank exam prep.
The Course is exclusively available on Our Edge Platform and is Free.
Get Complete Access To This Course and Much more. Join Oliveboard Edge Now
2.1 Online Course Highlights
GharPe Coaching 3.0 – For Bank Exams 2020
Course Start Date: 12th May 2020
Course End Date: 29th May 2020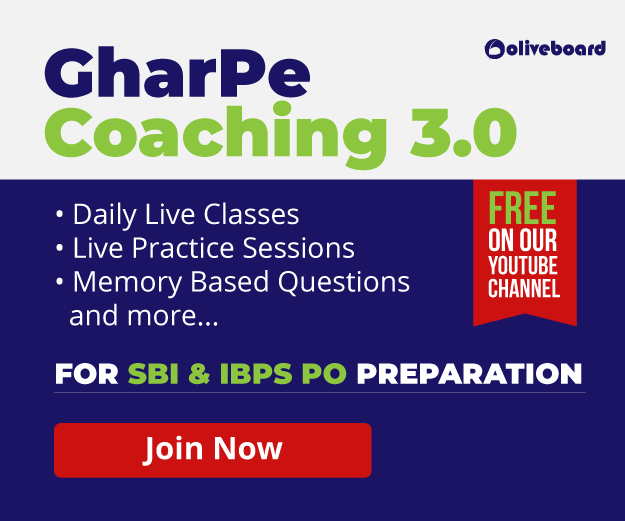 The course is completely free and can be accessed by registering here on our Oliveboard Edge Platform.
There will be a total of 60+ sessions on all the topics combined like the English Language, Quantitative Aptitude, Reasoning Ability & General Awareness.
This count would also include Live Practice Sessions, Live Classes, Advance Level Questions.
 2.2 How GharPe Coaching 3.0 will help you prepare?
Following are the course highlights for the Free Classes being conducted:
2.2.1 60+ Live Classes & Practice Sessions, Covering SBI & IBPS PO Syllabus
Get Access to 60+ hours of live classes and practice sessions that will help you cover the syllabus for upcoming exams like SBI PO and IBPS PO. The course is specially designed to cover all the topics of prelim and mains of SBI & IBPS PO. Click Here and access the class for free here.
2.2.2 Daily Lockdown Live Tests; Covering PO & Clerk Level Questions
Take Daily free mock test and assess your preparations by getting a complete detailed analysis using the AI-based analytics of Oliveboard. It shows complete details starting from the time spent on each question to telling about the scope of improvement. You will be able to work on your weaker areas accordingly.
2.2.3 Doubt Clearing Feature for 1×1 Interaction with Faculty
Taking the online education one step ahead, we have now introduced "I Have A Doubt" Feature. Here you will be able to ask your doubts to the faculty in the live class and will get instant solutions to your doubt. Access GharPe Coaching here.
2.2.4 Weekly Schedule
Here is the schedule for the classes starting on 12th May. The Complete schedule will be updated here soon.
| Date | Timings | Title |
| --- | --- | --- |
| 12-May, Tue | 10:00 AM | Simplification & Approximation |
| 12-May, Tue | 11:00 AM | Error Spotting Part – 1 |
| 12-May, Tue | 12:00 PM | Syllogism Made Easy: All Keywords In One Session |
| 12-May, Tue | 6:00 PM | Word Usage Practise Questions |
| 12-May, Tue | 7:00 PM | High-Level Simplification, Approximation |
| 13-May, Wed | 10:00 AM | Crystal Clear Quadratic Equation |
| 13-May, Wed | 11:00 AM | Error Spotting Part – 2 |
| 13-May, Wed | 12:00 PM | Codes Made Simple: Blood Relation and Direction Sense |
| 13-May, Wed | 6:00 PM | Arrangement Based Puzzles Part – 1 |
| 13-May, Wed | 7:00 PM | High-Level of Quadratic Equation and Quantity Comparison |
| 14-May, Thu | 10:00 AM | Percentage |
| 14-May, Thu | 11:00 AM | Sentence Fillers |
| 14-May, Thu | 12:00 PM | New Pattern Coding-Decoding |
| 14-May, Thu | 6:00 PM | Best 140 MCQs of January 2020 Part – 1 |
| 14-May, Thu | 7:00 PM | Puzzles | Syllogism | Blood Relation | Direction Sense |
| 15-May, Fri | 10:00 AM | May 2020 Complete Current Affairs, 250 MCQs Part – 2 |
| 15-May, Fri | 6:00 PM | Connectors Practise Questions |
| 15-May, Fri | 7:00 PM | Arrangement Based Puzzles Part – 2 |
2.2.4 wondering How To Join?
Here are the steps through which you can start attending the sessions:
For Mobile:
Download Oliveboard App from PlayStore
Register with your Email Id & Phone Number
Go to Edge.
Click 'GharPe Coaching 2.0 & Start Attending Classes
For Website:
Click on the link provided here.
Register with your Email Id & Phone Number
Go to Edge.
Click 'GharPe Coaching 2.0 & Start Attending Classes
It can also be accessed for free On our Youtube Channel.
Here's A Glimpse Of What is GharPe Coaching:
3. Bank Exam Online Course – BANK COMPLETE Series
This series is going to be Live on our Edge Platform for complete preparations of our students. This course will provide you with a zenith of opportunities to prepare for Bank exam of your choice.
3.1 Bank Complete Series – Important Dates
The course will go live starting 20th April 202o on our Edge platform. This will be for the users who have Edge subscription.
Course Start Date: 20th April 2020.
Schedule for the Courses that will be carried out Subject-wise and in phase is below for the mentioned subjects, more details on the upcoming courses will be updated here post the date announcement of the same.
| Course Name | Start Date |
| --- | --- |
| Complete Reasoning Course | 20th April |
| Complete Quant Course | 27th April |
| Complete English Course | 29th April |
3.2 Bank Exam Complete Series – Course Features
A single course for all the Bank and Insurance Exams.
Covering all the prelims as well as mains level.
Complete Video Course.
LPS after each topic.
Customized test after each video lecture.
Integrated Interface for the Doubts in the live class page so each doubt can be addressed.
Strategy sessions.
Mock Discussion.
4. How Oliveboard Edge Helps you Prepare For Exams?
EDGE – The All in one platform for all the bank and government exams preparation is back in it's a new and improved version, i.e. EDGE 2020. The following are all the features which will give your Bank & Government Exams preparation a much-needed edge to help you fulfill your dream of getting a secure job and a bright future.
Live Courses for SBI PO 2020 & All Major Exams
Section-wise Basic & Advanced Level Courses
Special

Short-Tricks Courses

Strategy Sessions with Previous Years' Toppers
Mock-Interview Sessions
New Courses Every Week & much more

The courses are updated on a regular basis and are both topic-wise and subject-wise. All you need is one subscription and you get Unlimited access to all the courses and Live Classes.
Subscribe Now & Get 50% Off Instantly
In addition to this Oliveboard Edge is now inclusive of Mock Tests which helps students check their preparation level and practice exam before the actual exam.
Get All-round Preparations! Subscribe to Oliveboard Edge Now
4.1 Are You Planning to appear for the Upcoming Bank Exams?
We have a solution to your approach. We are Launching Bank Exam Course 2020 – Success At Your Doorsteps. These are free Live Classes on our youtube channel.
These will help you get prepared for the upcoming bank exams. It will cover daily important questions solved by the faculties live.
The course starts on 27th March 2020.
Class Timings are as follows:
Class 1 – 7-8 PM

Class 2 – 8-9 PM
These will be Free classes and will be held daily on weekdays.
Here's the schedule for Week 1:
| Date | Time | Section | Title |
| --- | --- | --- | --- |
| 26-Mar, Thu | 7:00 PM | LPS | Banking and Financial Awareness |
| 27-Mar, Fri | 7:00 PM | Quant | Simplification मतलब कुछ नहीं |
| 27-Mar, Fri | 8:00 PM | English | Introduction |
| 30-Mar, Mon | 7:00 PM | Quant | Percentage हवा में |
| 30-Mar, Mon | 8:00 PM | English | Vocabulary – Approach and Questions |
| 31-Mar, Tue | 7:00 PM | Quant | Profit Loss इतना Easy |
| 31-Mar, Tue | 8:00 PM | English | Reading Comprehension Part – 1 |
| 1-Apr, Wed | 7:00 PM | Quant | Simple Interest & Compound Interest |
| 1-Apr, Wed | 8:00 PM | Reasoning | How To Approach Coded Direction Sense? |
Here's what this course will cover completely:
5. Bank Exam Online Course – FAQs
Q1) What will be the duration of this Bank Complete series?
Ans: The duration of this course is yet not decided although course start date is finalized and is shared above for your convenience.
Q2) Is the Lockdown Live Test Free?
Ans: The lockdown live test is completely free and is accessible on the homepage of our app.
Q3) How can I access the Bank Complete course?
Ans: All you need to do is register here and get access to Free Classes.
Q4)

Who will be taking the classes?
Ans: Oliveboard's Expert Faculty would be taking up the classes for this course.
Q5) Will GharPe Coaching classes be extended?
Ans: As of now, the GharPe coaching class will end on 10th April. Any changes or the extension of classes will be notified appropriately.
Q6) Till when can we access Lockdown Live test?
Ans: Lockdown Live Test will accessible till the time lockdown is imposed.
Q7) Is the BANK COMPLETE series paid?
Ans: Yes, the Bank complete series is paid and is accessible once you register on our Edge platform.
That is all from us in this blog Bank Exam Online Course. Keep checking this space for all the latest Bank exam updates, free study materials and ebooks and much more. All the best with your preparation.
Also, Check:
Oliveboard's discuss forum – For any more query, you can directly join our telegram channel. Our experts will definitely help you.